Indianola's Kael Kolarik has scored 49 touchdowns in his outstanding football career. But No. 49 has a special meaning to it.
Kolarik rushed for a 3-yard score with 3:18 left in the game to deliver the final blow in a stunning 15-7 win over No. 2-ranked Bondurant-Farrar Friday at Indianola.
The senior rushed for 107 yards to help the No. 6 Indians take over the top spot in the Class 4A District 5 standings. Indianola improved to 7-1; Bondurant-Farrar dropped to 7-1 after its first loss.
"It was so special, dude," Kolarik said, emerging from the locker room with shouts of joy. "We work so hard with our offensive line… I just run behind them."
Carlisle beat No. 4 Norwalk 21-14 Friday. The Warriors (6-2) are the only team to beat Indianola this year.
Indianola will host Boone (1-7) next week. The district champion and runners up advance to the playoffs. There's a possibility that a third team will earn an at-large berth.
The Indian defense and special teams contributed mightily toward Friday's victory.
Kicker Stephen Stark booted field goals of 28 and 25 yards and an extra point. He's made six of seven field goals and 37 of 38 extra points this season.
Indianola football wins a big one
Punter Noah Johnston helped his team out by hammering kicks of 57 and 49 yards in the third quarter. He launched the 57-yarder from the back of his own end zone when the Indians were at the 3-yard-line.
Carter Erickson intercepted a pass and the Indians recovered a fumbled kickoff return to set up one of Stark's field goals. The Indians also blocked a punt in the first quarter for a 2-0 lead in the game.
"We beat them in the special teams game," Stark said. "We knew we had to win this if we wanted to win our district."
A year ago, Stark was a talented soccer player who was still learning football. This year, he's been a model of consistent and accurate scoring.
"My plan is to kick in college," said Stark, who attended summer kicking camps in Tennessee, Missouri and Minnesota.
Bondurant-Farrar led 7-5 at halftime.
Indianola blocked a Bondurant-Farrar punt with 29.1 seconds left in the first quarter. The ball bounced out of the end zone for a safety.
Stark kicked his 28-yard field goal with 9:52 left in the second quarter.
Bondurant-Farrar put together an 80-yard drive with 1:45 remaining until halftime. Titus Cram ran for a 2-yard touchdown.
Stark kicked a 25-yard field goal with 10:09 left in the third quarter after the Indians recovered a fumble on the opening kickoff.
There was no more scoring until Kolarik's touchdown run.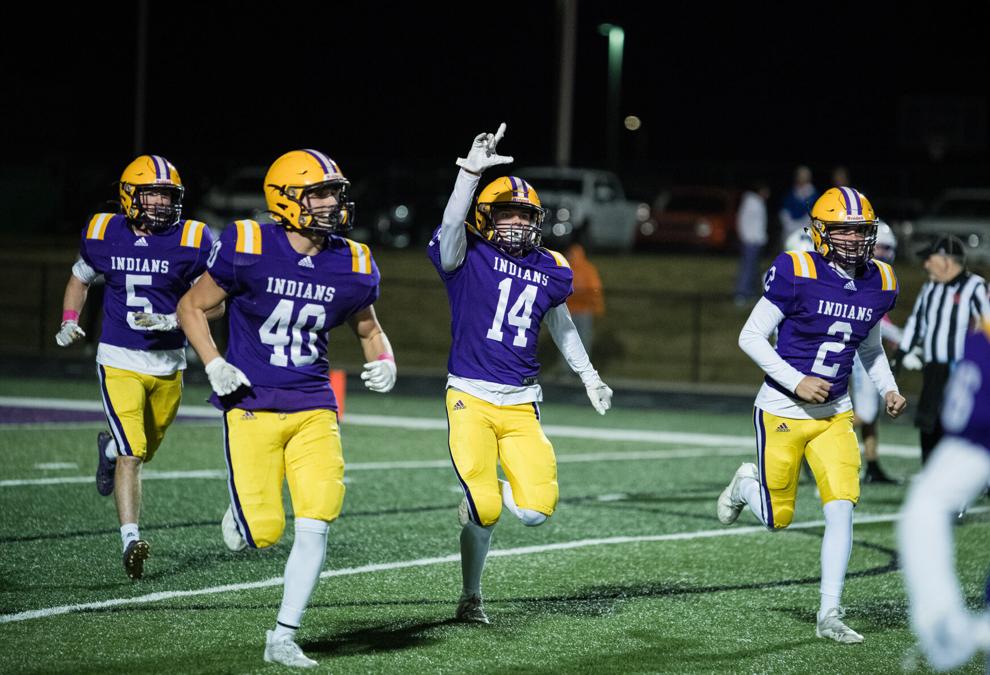 The defense rallied to stop Bondurant-Farrar on three fourth down conversion attempts.
"We came out and played together," said Kolarik, who plays safety.
Quarterback Bennett Brueck threw for 174 yards. Erickson and Colton Gordon both caught six passes.
The Indians hope to beat Boone, but won't overlook a team coming off its first win of the season Friday.
"We won't take anybody for granted," Stark said.
A district championship is a goal. But there's more to the season than next Friday.
"Our goal is to be the state champions," Kolarik said.