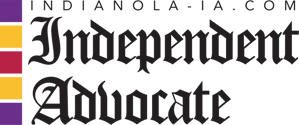 The Indianola Independent Advocate has its roots in Indianola history.
The first Indianola Advocate published here from 1882 until 1923.
But today it's back. And it's part of a new future for newspapers in Indianola. Here's who we are and what we plan to be.
We are INDEPENDENT. We have sponsors, advertisers and investors, but they do not decide our editorial content. We are INDEPENDENT as well from any political party. We will strive to be unbiased in our coverage, and we will rely on our readers to tell us when we aren't. Finally, we are INDEPENDENT from big corporate journalism. We are locally owned and will determine our own destiny, with your help.
We are an ADVOCATE for newspapers, for information, and most of all, for the community.
We will ADVOCATE for a free press that is beholden to no-one. We will ADVOCATE for transparency in government and in our own operations. And we will ADVOCATE for Indianola, whether that means promoting local businesses and organizations, writing about the good things happening around town, or seeking solutions to the challenges that face us.
We believe in this community, we believe in the people who live here. And we believe that, with your help, an INDEPENDENT ADVOCATE can help make both better.