Finding a forever home isn't always a walk in the (dog) park for Warren County's animals in need. Once a month, we'll team up with Kiya Koda Humane Society and Whiskers TNR of Warren County to introduce you to a pet (or two, in the case of bonded buddies) in each nonprofit's care that is especially deserving. Who knows – maybe you're just the person they've been waiting for?
Penny the pitbull is known as the "queen of our shelter," said Julie Skellenger, manager of Kiya Koda. But after waiting for more than two years to be adopted, it's time for her majesty to find a kingdom of her very own.
"Although she is very spoiled, happy and content with us, we would love for her to have a place to call home," Skellenger said.
Penny's background is a bit of mystery since she was found as a stray. It's been determined, though, that she is 6 to 7 years old and was used for breeding.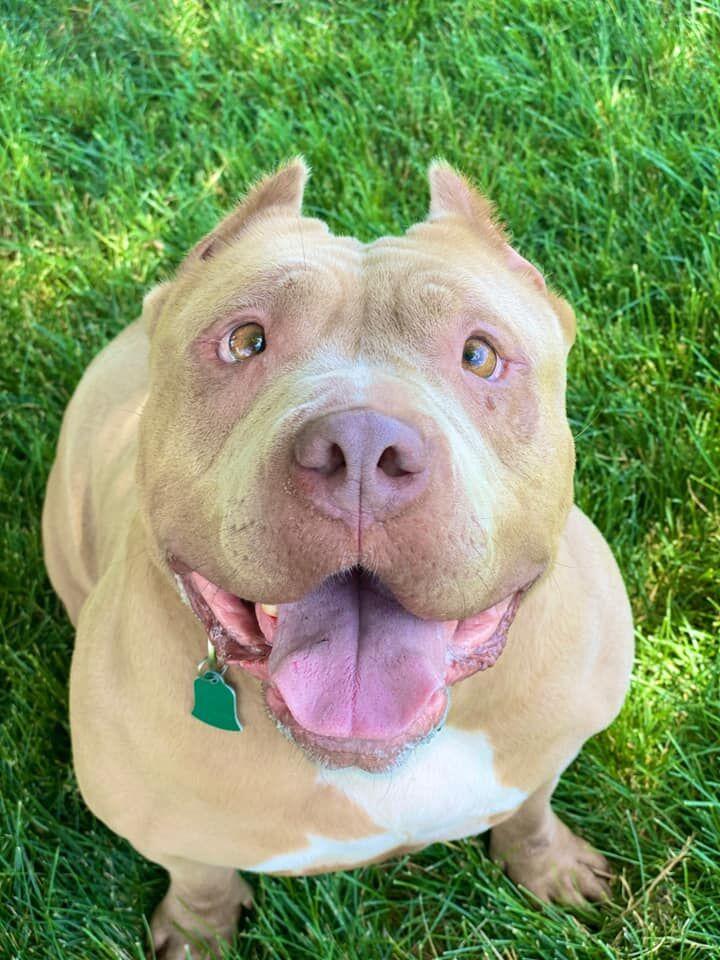 "Penny has overcome a few hurdles," Skellenger added. "She was attacked by another dog and ended up in emergency surgery due to large wounds on her mouth."
It's no wonder that Penny doesn't feel warmly toward other canines. She is "extremely dog aggressive" and must be adopted by someone who is responsible and has a physical fence that won't allow Penny to reach other pooches – or cats, for that matter.
But that's where Penny's aggression ends. She just needs to be given space during mealtimes, and a home with older children because "she is very strong. She will knock small children down," Skellenger explained.
Otherwise, it's no accident that Penny seems to be smiling in every photo taken of her. She joyfully gnaws on rubber toys, splashes in Kiya Koda's doggie pool, and sprawls out for belly rubs. More than anything, she "loves all people."
In fact, the volunteers at Kiya Koda have come to think of Penny as family, and are seeing to it that she finds a forever family who will love her as much as they do.
"Our favorite thing about Penny is how loving she is toward people. … She is our longest resident," Skellenger said, "and she deserves to be adopted."
To inquire about adoption – or learn more about Penny or Kiya Koda's other adorable furry residents – visit www.kiyakoda.com.
PETER AND PAUL'S INCREDIBLE BOND
Peter and Paul are inseparable. These kitten brothers navigate life in lock step, from mealtime to naptime to the signature "ninja move" that never ceases to amaze their foster mom.
And that's made finding their forever home just a little trickier.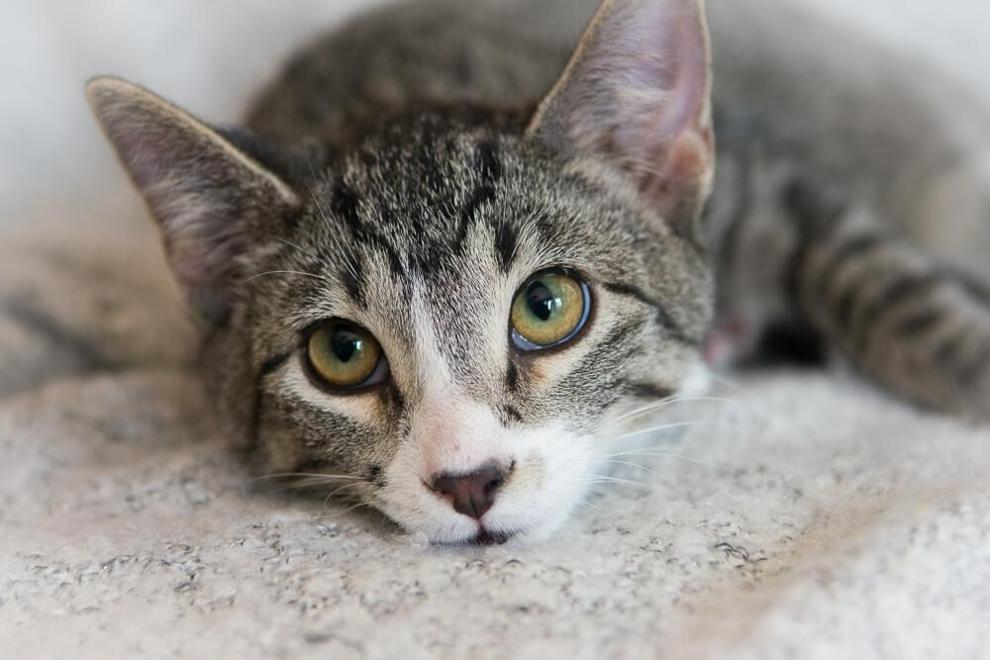 "They're the most bonded pair I've ever seen," said Julie Martinez of Norwalk, who has cared for the duo the past couple of months. "I've seen others that were close, but I didn't worry about them being separated. With these two, they definitely need to go somewhere together."
The pair is about five months old and can most easily be told apart by the color of their noses. Peter, who has a brown snout, is the "mellow leader" of the two, while Paul, with his pink version, is more like a silly kid brother.
"He's kind of mischievous," Martinez said. "He will lay on the footstool and wait until the dog walks by – to see how much of his body he can hang off of the footstool to get the dog!"
And the hijinks just go on from there. In fact, Peter and Paul are so entertaining that Martinez rarely watches TV anymore, she said, preferring instead to tune in to the kittens' antics.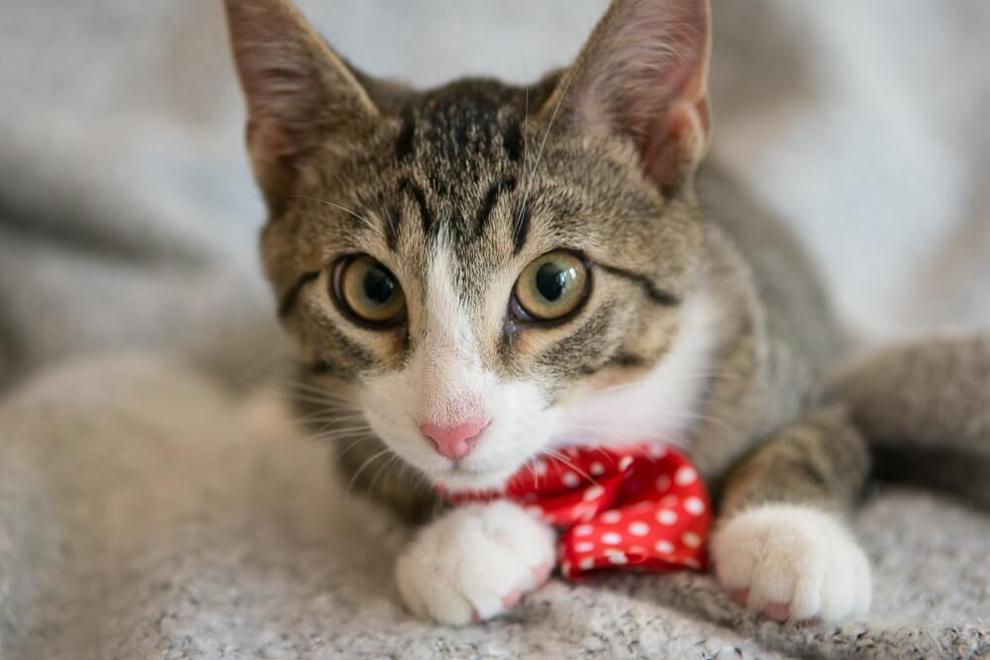 "They have this 'ninja move.' … They kind of get into their corners and get into their butt wiggling/'I'm going to pounce on you' mode. Then they run at each other, jump into the air and clash in the middle of the air. I wish I could get it on video," Martinez said, laughing. "I'm never fast enough."
But the boys are incredibly loving, too – toward each other and their humans. Martinez thinks they would thrive in all types of homes, including those with other cats, dogs or kids, as long as they can find play and affection.
And, of course, each other. They have a special sound that they make when one has lost sight of the other, even for a moment.
"I could see them crying day and night," Martinez said of their fate if forced apart. "I mean, I could see them going into a depression. I truly could."
Another Whiskers TNR volunteer, Shannon Bardole-Foley, fostered the boys earlier in their kittenhood. Their heartwarming bond amazed her from day one, she said.
"At night, we would put them in a kitten condo," she recalled. "When I would let them out in the morning, they would run out together – side by side, even touching each other as they ran around the room."
Perhaps adopting them out as a pair has proven a challenge, but Bardole-Foley sees how much they offer together.
"They always have a play and cuddle buddy when their humans aren't around," she pointed out, noting that they could also be ideal companions for a lonely single cat. Perhaps their focus on each other could give a third whiskered sibling the perfect amount of space.
Then, of course, there's the famous "ninja move." How could it possibly have the same pizzazz as a solo act?
"It was just the sweetest to watch them play together," Bardole-Foley said. "Two cats are almost always better than one. These two have been together their whole lives. It's so clear how much they love being together."
To learn more about Peter and Paul – or others who would make a purr-fect new friend – visit www.whiskerstnr.org.