Writing a "G" rated column about sex trafficking is hard because it's an "X" rated topic. Recently, Civitas, the Greater Des Moines Rotary Multi-Club Committee, presented the program to bring awareness to Rotarians and the general public. About 110 Rotarians and guests attended.
There are two major categories of human trafficking: sex trafficking and labor trafficking. This program focused on sex trafficking as will this article.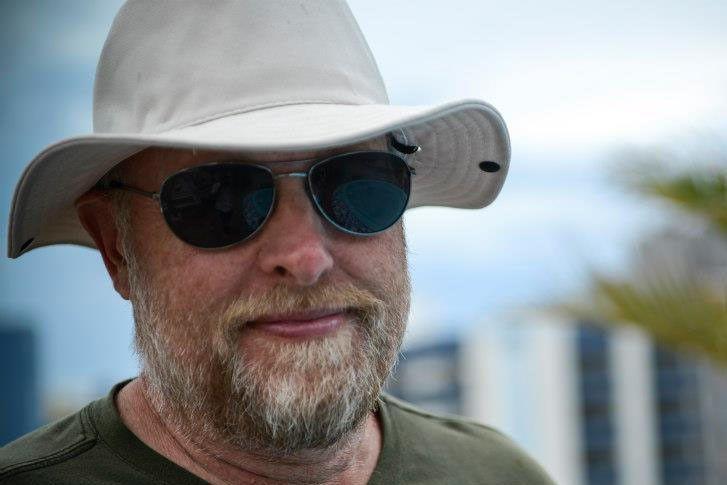 Our speakers were Rocky Vest, Partnership Development Manager, Hope for Justice; Brenda Long, Founder & Executive Director, Garden Gate Ranch; and David Gonzales, Senior Investigator, Hope for Justice. 
Sex trafficking happens in Iowa. Our quaint little agricultural state might not seem like the perfect place for human slavery, but when you think about it, our state has all the right stuff to make sex trafficking attractive to those who seek to profit off the suffering of others: two major interstates intersect the state's center making travel in and out quick and efficient and we're "Iowa Nice". Thinking that sex trafficking is a problem only in big cities like New York is naïve. About 34 defendants have been convicted of sex trafficking in Iowa since 2012 including in Humboldt and Montezuma. The number of identified sex trafficking victims is on the rise in Iowa. We need to treat the victims as victims and not as criminals.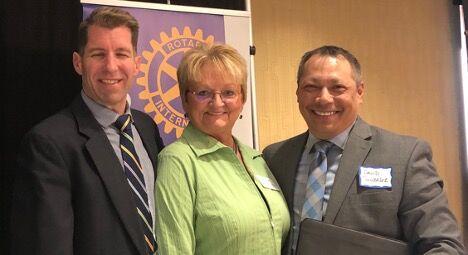 Most sex trafficking happens in hotels and motels. Beginning this year, everyone working in the hotel industry in Iowa must be trained in human trafficking and how to spot it. This is the online course they must take and pass:
The Monique Burr Foundation (mbfpreventioneducation.org) reported that through 2000:
Estimates show that there are up to 27 million modern day slaves world-wide.
50% of victims are children; 80% women and girls.
70% of female victims are trafficked into the commercial sex trade industry.
The trafficking industry profits by $32 billion annually.
244,000 American children and youth were estimated to be at risk of child sexual exploitation, including commercial sexual exploitation in 2000.
12-14 is the average age of entry into sex trafficking.
Gonzales believes there is nothing more evil than sex trafficking.
In 2017, the National Human Trafficking Hotline received 218 calls from Iowa alone. The United Nations Office on Drugs and Crime reports only about 5% of trafficking cases are ever reported.
A victim can suffer from PTSD, repress their memories, and have flashbacks years later. Victims are often branded in the mouth by the gumline. Both victim and perpetrator refer to it as "the game". It can begin when the victim is a preteen. It's an obscene struggle for survival. Adult prostitutes may have begun as teenage victims.
Who is buying? It's estimated that one in ten men in the U.S. have paid for sex. "Johns" come from all occupations, from construction workers to judges and everything in between.
Who can end this perversity? All of us.
Red Flags to Spot Human Trafficking
Does the person appear disconnected from family, friends, community organizations, or houses of worship?
Has a child stopped attending school?
Has the person had a sudden or dramatic change in behavior?
Is a juvenile engaged in commercial sex acts?
Is the person disoriented or confused, or showing signs of mental or physical abuse?
Does the person have bruises in varying stages of healing?
Is the person fearful, timid, or submissive?
Does the person show signs of having been denied food, water, sleep, or medical care?
Is the person often in the company of someone to whom he or she defers? Or someone seems to be in control of the situation, e.g., where they go or to whom they talk?
Does the person appear to be coached on what to say?
Is the person living in unsuitable conditions?
Does the person lack personal possessions and appear not to have a stable living situation?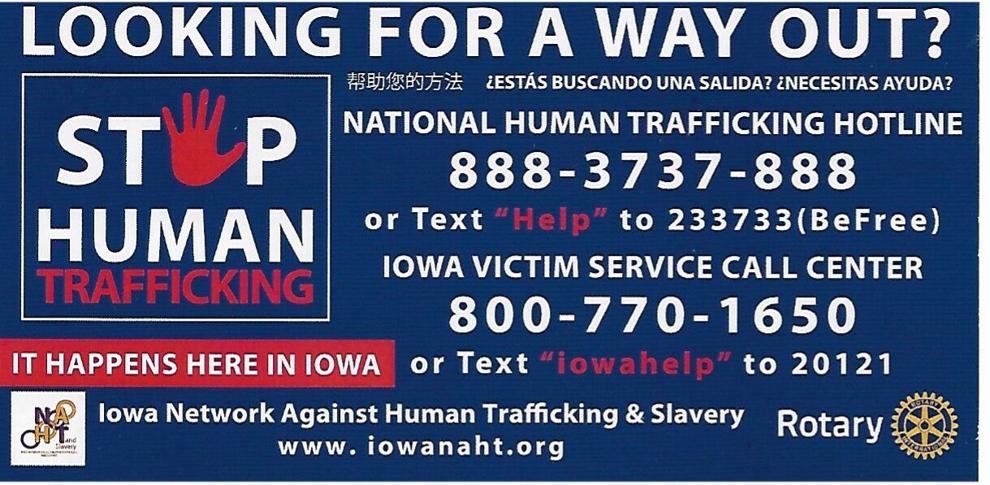 Be aware. If you see something that doesn't look right, report it.
Teachers are mandatory reporters and are trained annually. Doctors, EMTs, and police may also come in contact with victims.
There are organizations in central Iowa helping victims.
Dorothy's House
Garden Gate Ranch
Iowa Homeless Youth Centers
Spread Your Wings
Chrysalis Foundation
Iowa Network Against Human Trafficking and Slavery
State of Iowa – Governor's Office, Iowa Office to Combat Human Trafficking
IBAT: Iowa Businesses Against Human Trafficking, Iowa Secretary of State
You can help solve this barbaric problem. If you see something, say something!