William Andrew Dickerson, 86, of Indianola, passed away surrounded by his loving daughters, on June 13, 2019. Friends knew him as Bill or Dee. He was born on July 25, 1932, in Des Moines, IA, to Andrew and Frances (Botkin) Dickerson.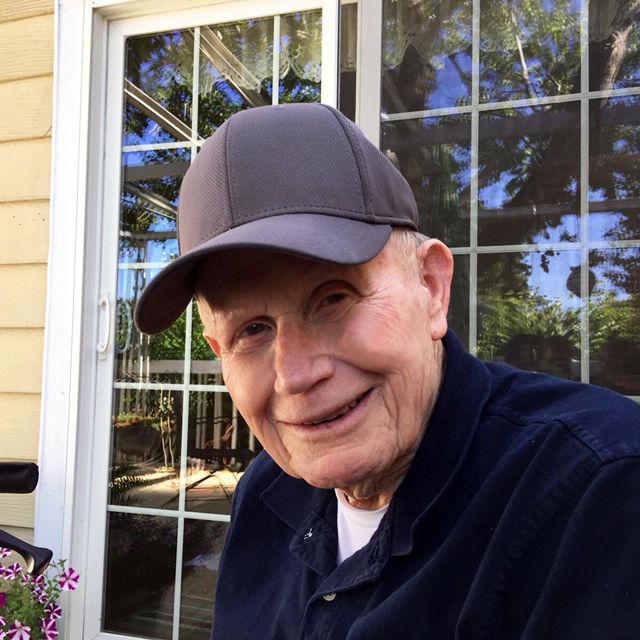 Funeral Services will be held at 10:30 a.m., Tuesday, June 18, 2019, at Overton Funeral Home, Indianola. Visitation will be Monday evening, June 17, from 4 to 8 p.m. also at Overton Funeral Home.
Bill was emancipated as an adult in his teens and lived by his own wits from that time on, graduating from Milo High School in 1951 in a class of 30. While in high school, he met the love of his life, Beverly Ann Higbee. Against Beverly's father's wishes, they began dating. Their first date was to a church revival. It lasted a short while for Bill. When the ministers were making their way towards him, he told Beverly he would be waiting for her outside.
He enlisted in the United States Air Force in 1952 where he attended basic training at Keesler Air Force Base in Biloxi, MS. It is there that Beverly joined him and they were married on February 8, 1953. During the Korean Conflict, Tech Sergeant Dickerson was stationed in Japan for two years as a Communications Specialist. He returned to March Air Force Base in Riverside, CA to complete his tour of duty.
Upon his return to Indianola, Bill had a variety of occupations, both working for businesses as well as being a self- employed entrepreneur. These included Metcalf Oil, Skelly Gas and Service Station, Napa Auto Parts Store, Conoco Gas and Service Station, The Mickow Corp., Glascock Hardwood Floors, B & B Hardwood Flooring and driving for various car dealers.
Bill was a loving and supportive husband before his time. He supported Beverly during her 33 years as Warren County Auditor when most men expected a stay at home wife.
Bill and Beverly were blessed with three daughters, Dee Ann, Shelly and Cristy. Being surrounded by four strong minded women, Bill was able to fend for himself until March 2018, when he had a stroke. He worked hard and was able to return home, only to lose the love of his life on April 13, 2018. Bill was lost without Beverly to keep him balanced and looking on the positive side of life. His three daughters, grandchildren and close friends have helped him to survive these two life changing events until he died.
He was preceded in death by his devoted wife of 65 years, Beverly (Higbee); parents, Andrew and Frances (Botkin) Dickerson; and sister, Adrianna Masters.
Left to carry on his legacy are his daughters, Dee Ann (Tim) Lantz, Shelly (Boyd) Wakeman and Cristy (Rick)Hamblin; grandchildren, Meagen (Dan) Kelly, Matthew T. (Ann) Miller, Benjamin (Andrea) Robison, Ashley (Nick) Jay, Mason (Michaela) Lantz, Elizabeth (Travis) Brooks, Jacob Lantz (Brittany Smith); his nine great grandchildren, Brianna, Kaden, Addison, Miles, Josie, Samara, Sadie, Hank, and Myla; sister-in laws, Bonnie (Bob) Miner and Barbara Kern and many close friends.
In lieu of flowers, the family has asked for donations to American Legion Post 165 or Warren County Historical Society.