Rosa Marie Seymour George passed away on November 16, 2021 at the age of 89, in her hometown of St. Marys, Iowa. A Funeral Mass will be held 10 a.m., Monday, November 22, 2021 at Immaculate Conception Catholic Church in St Marys. Burial will follow in the St. Marys Cemetery.
She was born to Leo T. Seymour and Beulah M. Hunt Seymour in Warren County, Iowa.
After graduating from St. Marys High School, Rosa ventured to Los Angeles, California to live with her Aunt Berniece Seymour. During that time, she worked at a bank and spent her spare time visiting sites, such as Catalina Island.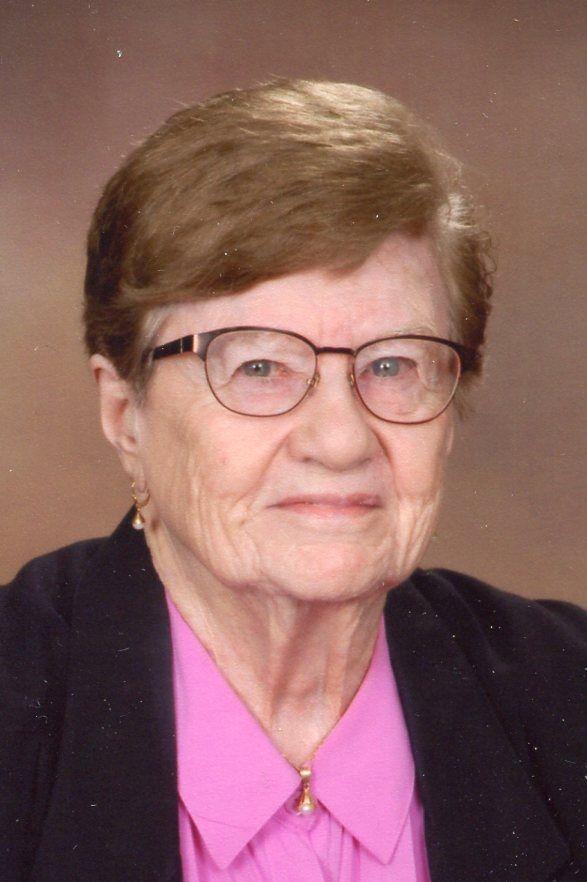 Rosa returned to Iowa a year later. She moved to Des Moines and took up residence in an apartment with her cousin, Doris Seymour Jaworski. Rosa was employed by the L.E. Ellis Insurance Company. She met and married John George, Sr. and continued living in Des Moines.
Rosa was a farm girl at heart, so with their first child in tow, she and John moved from Des Moines to live with her father on his farm. After the birth of their second daughter, they bought the family farm from Rosa's sister and brother-in-law. It was on this farm, where Rosa had lived as a child, that they added three sons to the family. Rosa loved being a mother and spent her days baking bread, gardening, canning vegetables and fruit, sewing clothing for the kids on her treadle sewing machine, and serving as a Cub Scout Den Mother.
Rosa returned to the work force in Accounting, with the Iowa Farm Bureau Federation. After retiring from Farm Bureau, she worked for the family business, Jo-Ro Enterprises.
Once Rosa decided it was time to retire for good, she and John spent their winters in Apache Junction, Arizona. It was there that they were able to spend quality time with her sister, sisters-in-law, and brothers-in-law.
Later in life she decided it was time to return to St Marys, where she spent her time reading, baking everyones favorite pies and cakes, working crossword puzzles, crocheting, and watching Iowa and Iowa State Basketball games. Her favorite activity was watching the Chicago Cubs baseball. She was always ready to discuss the Cubs' progress and could be found talking on the phone with her son-in-law, Chuck, wanting his opinion. She enjoyed her time watching sports on TV with Chuck.
Rosa was preceded in death by her husband, John; parents, Leo Seymour and Beulah Hunt Seymour; sisters, Helen Seymour Bauer and Pauline Seymour Campbell; and brother Robert Seymour.
Survivors include five children, Michelle (Dennis) Fick, Melanie (Charles) Overton, John Jr. (Leigh Ann) George, Douglas George, Daniel (Cheryl) George; seven grandchildren, Megan Fick, Melissa Overton, Sara Overton, Andrew Overton and Brandon Jorgensen; and seven great-grandchildren and one on the way.
Visitation will be held 3 to 7 p.m., Sunday, November 21 at the St. Marys Parrish Hall with a rosary recited at 3:30 p.m. Memorials may be given in Rosa's name to Unity Point Hospice.