Paul David Luallin, 20, of Indianola, passed away May 24, 2020. Service plans for Paul are currently underway and will be announced soon.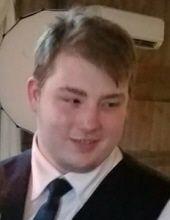 Paul was born August 29, 1999 in Fairfield, Iowa to John Luallin and Molly (Boatman) Thorne. A private family funeral service will be held at Peterson Funeral Home on Friday, June 5, 2020 at 1:30pm. A visitation will be held prior to the service from 7:00am-1:00pm. The family will be present from 11:00am-1:00pm.
Due to Covid-19 restrictions Peterson Funeral Home will be at 50% capacity for the visitation. Paul's family would ask that if you are not comfortable attending the visitation due to Covid-19 you may call the funeral home and ask them to sign the guest book on your behalf. The funeral and graveside will be recorded and will be available on Peterson Funeral Home's website immediately following the service.
Paul graduated from Indianola High School in 2017. He attended DMACC, majoring in electronic engineering. Paul loved music; he participated in band from 5th grade throughout graduation at Indianola High School.
While in school, Paul also wrestled for the Indians starting in 1st grade through his senior year. He loved gaming on his computer and even had a passion for building computers. He was employed at Wal-Mart in Indianola. Paul was a peacemaker who did not like conflict. He tried his best to resolve issues whenever he could. He was always quiet until he got to know someone.
Paul is survived by his parents, grandparents; David (Carla) Luallin, JD and Brenda Boatman, great-grandmothers; Betty Lucas and Jane Hargrove, and many aunts, uncles, cousins, and friends.
Paul was preceded in death by his grandmother Lillian Luallin, grandparents; Newt and Bert Clendenen, great-grandparents; Bill Boatman, Gene Lucas, Madelyn Boatman, and Jim Hargrove.
In Lieu of flowers, donations and condolences can be made directly through www.petersonfuneralservice.com