A visitation service for Mary Elizabeth True, 90, will be held from 2 to 4 p.m. on Sunday, March 15 at Overton Funeral Home, 501 W. Ashland Ave., Indianola, IA 50125. Mary died March 8, 2020, in Dallas Center, Iowa,
Mary was born in 1929 in Illinois to Clifton Jerome Hill, DDS, and Frieda Wagner Hill. She grew up in Des Plaines, Illinois, where she was active in school music and theater programs. She played the flute and was a Girl Scout and a member of the scholastic honor society.
Mary graduated from Iowa State College in 1951 with a degree in home economics. In May of 1951 she married her husband of 58 years, Robert Hart True, Jr., whom she met at college. Bob entered the service during the Korean War in 1952, and the couple was stationed in South Carolina. Their first child, Linda, was soon born. Mary often reminisced about the challenges of beginning her married life as an Army wife and then as a mother.
After the war, Mary and Bob moved to northern Illinois where Bob managed farms for Oscar Mayer for several years. The couple had a second child, Barbara, born during this time. After the farms were sold Bob became a warehouse manager for Sears Roebuck in Chicago and the family moved to Wood Dale, Illinois in the western suburbs. The couple's third child, Robert III, was born while the family lived in Wood Dale.
Mary began teaching Fifth Grade in Bensenville, Illinois. Bob began a career in the adhesives industry in Chicago. The couple moved to Des Moines in 1968 where Bob launched his own business, Adhesive Compounders, Inc., on SW 5th Street.
Mary and Bob were active members of St. Johns United Methodist Church in Des Moines, Wakonda Christian Church in Des Moines. Later Mary was affiliated with First United Methodist Church of Indianola.
Mary was a teacher for 20 years at Clegg Park Elementary in West Des Moines. When she retired in 1989 at age 60 she celebrated with a 60-mile combination of bicycling, running and hiking. Many of her school colleagues participated in portions of the 60-mile event.
Mary had a lifelong passion for the outdoors. She was a Girl Scout troop leader, she climbed mountains, canoed the north woods, bicycled across Iowa with RAGBRAI, played tennis and ran marathons. At age 51, she completed the Iowa City MS Marathon, becoming the oldest woman in the state at that time to complete a marathon. She represented Iowa in tennis at the Senior Olympics in the 1990s and took a bronze medal.
Bob and Mary retired to Pharr, Texas in 1989 where they spent winters at the resort community of Tropic Starr. They enjoyed many years of traveling and pursuing hobbies until Bob's death in 2009. Mary moved to The Village, a retirement community in Indianola, in 2011. There she met her second husband, Everett Laning. The two were married in 2013 and were active members of The Village community. Mary moved to Spurgeon Manor in Dallas Center for nursing care in 2019.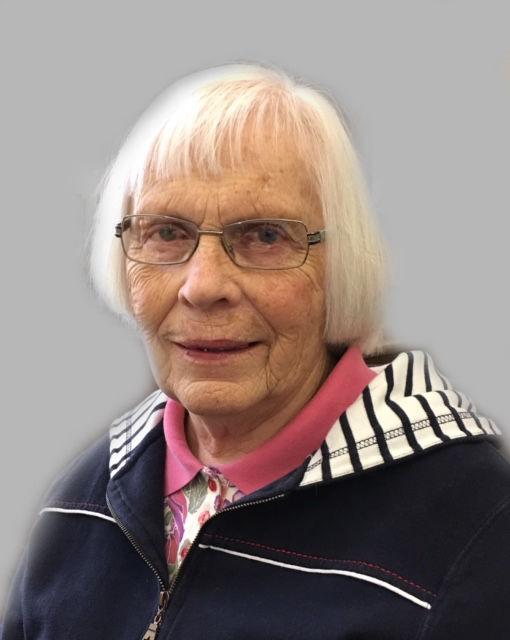 Survivors include three children, The Rev. Linda True (Warren) Stueve of Norwalk, Barbara True of Fort Worth, TX, and Robert (Jessica) True III of Denver, CO; grandchildren Philip (Stacey) Stueve, Nathan (Erica) Stueve, Brian (Keely) Stueve, Leanna (Zion) Kukaewkasem, Samuel True; great-grandchildren Charlotte Stueve, Brody Stueve, Quinn Stueve and Maggie Stueve; and second husband Everett Laning of Indianola.
In lieu of flowers, donations may be sent to the Alzheimer's Association through its website or by personal checks made out to the association and sent to the family.