Larry Franklin Bowlin, 83, passed away peacefully on January 9, 2021, at Good Samaritan Society in Indianola, Iowa. Larry was born on September 6, 1937, at the family home SW of Carlisle, Iowa, to Raymond and Wilma (Foreman) Bowlin.  
Larry lived in Indianola all of his life and attended Indianola High School.  As a teenager, Larry met his soul mate, Molly Ann Marsh, at the Indianola Skating Rink. They were united in marriage on February 15, 1957, at the Church of Christ in St. Charles, Iowa. To this union were born three children, Michael (Becky) Bowlin, Mark (Susan) Bowlin and Dani Rae (Maria) Bowlin, all of Indianola.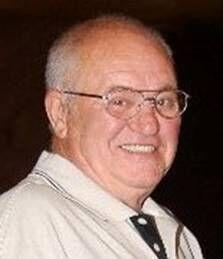 Larry loved his family deeply and enjoyed many activities with them including camping, attending the Warren County and Iowa State Fairs and fishing anywhere he could get his worm wet. He especially enjoyed fishing in Branson, Missouri, and was able to pass the love of this town on to his entire family. He also had a deep love for working with his hands.
He loved to tinker in his garage, work on engines big and small as well as sandblasting, rebuilding boats and buying and selling anything he could buy cheap, repair and sell big. He and Molly lived on their family homestead West of Indianola for the majority of their married life. 
Larry was a member of the Iowa National Guard and worked at Green Colonial as a welder in Des Moines.
He later ran the Superior 400 gas station in Indianola, took a break to drive a truck for Colonial Bakery and then returned to Indianola where he owned Larry's Texaco.
Here he sold gas, repaired tires and made many of lifelong friends. He also drove a truck relocating house trailers which led him to a career as a furniture mover working for Stonehocker and Sons. After a total housefire in 1987, Larry decided to slow down and started working out of his garage doing sandblasting and small engine repair.
During this time he wanted to have some fun, so he decided to try driving a school bus for Indianola Schools. This led him into his retirement where he and Molly thoroughly enjoyed camping, traveling and watching as their grandchildren and great grandchildren came into the world. He also enjoyed going to local casinos where he would spend hours playing Keno. He also had a special love for lottery scratch tickets.
Larry is survived by his three children and their spouses, grandchildren, Michelle (Tyler) Smith, Joshua (Sarah), Daniel (Alicia), Matthew (Rebecca), Jewell, Kori Rae, Gilbert and Jacob, as well as great grandchildren, Logan, Owen, Jack, McKinley, Jameson and Madelyn. 
Larry was preceded in death by his wife, Molly, parents, Raymond and Wilma, brothers Ronnie and Bob and sisters Phyllis Elgin and Eleanor DeWitt. 
In lieu of flowers, memorials may be given to the Family and will be applied to a Memorial Bench at the Iowa State Fairgrounds. Contact danibowlin@aol.com for Memorial address information. Services will be held at a later date.