A Celebration of Life Service for Harold "Doc" McClure, 85, who passed away Saturday, September 7, 2019 at Taylor House in Des Moines, IA. will be held 7 p.m. Thursday, September 12, 2019, at Overton Funeral Home in Indianola with inurnment of cremains to be held at a later date in the Iowa Veterans Cemetery.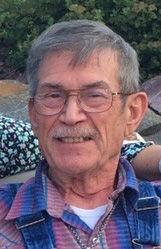 Harold William McClure was born April 30, 1934 in rural Warren County, IA and graduated from St. Charles High School in 1952. He served in the United States Army during the Korean Conflict. Following his discharge, he was united in marriage to Monika Wirth and to this union two children born, Harley and Monika.
Harold worked as a mechanic in St. Charles and was the owner of a Meat Locker in Linden, IA. He was then united in marriage to Patricia Wheeler and they had three children, Suzanne, Edward and Jennifer. They ran the St. Charles Locker for several years. He then moved to Perry working for Oscar Mayer then moved to Norwalk working for the State of Iowa retiring in 1997.
He had lived in Indianola for approximately 20 years.
He is survived by his wife Pat; children, Harley McClure, Monika Carpenter, Suzanne (Harry) Cooper, Edward (Annette) McClure and Jennifer (Robert) Downard; 10 grandchildren, nine great-grandchildren; brothers, Dale and David McClure and his constant companion Tucker. He was preceded in death by his parents, Harley and Frances McClure; brothers, Theodore and Boyd McClure.
Visitation will be held from 5 to 7 p.m. Thursday prior to services at the funeral home. Memorials may be given to the family in Harold's name.