Duane G Halterman was born in Palmyra Township, on January 10, 1933, the only child to Dwight and Thelma Gildow Halterman. Duane went peacefully from his favorite chair to be with the Lord on May 16, 2020 at the age of 87.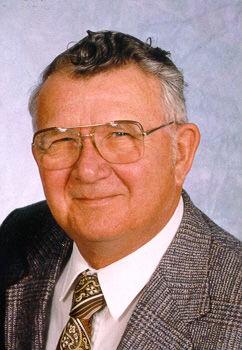 Duane started school at a Union country school, where his mother also taught. He graduated from Carlisle High School in 1951. He went to work for the Iowa Power & Light Co. in October of 1951. In November of 1952, he enlisted in the Navy and became an electrician third class.
On June 2, 1956, he married his high school sweetheart, Marilyn Holland, at the Carlisle Christian Church. The couple moved to Key West, Florida, where he was stationed on the USS Howard W. Gilmore, a submarine tender. He was transferred to Jersey City, New Jersey, where he was later discharged.
After returning home to Carlisle, he started his job with Iowa Power and Light. Duane was in generation as an equipment operator until the plant closed and then worked out of Knoxville. The Haltermans purchased a farm from George and Bertha Adkins Gildow, Duane's grandparents, in August of 1959. Their daughter Diane blessed their home in 1960. After the death of his father in 1965, they bought the farm where he was born from his grandparents, where his mother then lived.
Duane retired from the power company in 1996 after 44 years of service. He was a member of Motor Friends Church and a 61-year member of the Hartford Masonic Lodge where he served as various offices including Secretary, Chaplain. He was a 60-year member of the Southgate Order of the Eastern Star (OES) and Past Patron of Carlisle OES. He was a member of the Des Moines Scottish Rite, where he enjoyed singing in the choir, Des Moines York Rite, Iowa York Rite College and Royal Order of Scotland, Iowa York Rite Bodies and IBEW Local 499.
Duane, known as "Papa" by those who loved him was the happiest when he could help someone — most of all his family, and being involved with them in their activities. He loved hunting and fishing and spent 62 summers fishing and vacationing in Canada bush country.
Duane is survived by his wife, Marilyn, daughter, Diane (Ron) Smith, two granddaughters, Katie Smith (Trent) McIntyre and Jennie Smith, and three great-grandchildren, Josey, Adler and Davy McIntyre. He was preceded in death by his parents, Dwight and Thelma Halterman.
Graveside services will be held 11 a.m., Wednesday, May 20, 2020 at the Palmyra Cemetery. For those that are unable to attend there will be a livestream of the service on Overton Funeral Homes website. In light of the COVID 19 Pandemic, those who would like to attend are requested by family to practice social distancing, and wear a mask, if you do not have a mask, one can be provided for you. In lieu of flowers, memorial donations may be sent to the Historical Palmyra Church, the Hartford Masonic Lodge or Motor Friends Church.