Private family services for Denny "Pete" Petersen, 68, of Martensdale, who passed away Sunday, February 21, 2021 at home, will be held Thursday, February 25, 2021. Friends may join the family on Denny's obituary page of Overton Funeral Home's website beginning at 11 a.m.  Burial will follow in the Linn Grove Cemetery, rural Norwalk.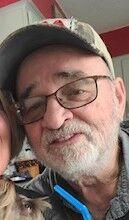 Dennis Lee Petersen was born May 31, 1952 in Algona, Iowa to Harold and Vivian Petersen. Denny enlisted in the United States Army in 1972 and served in the Vietnam war. He served through 1975 and began his working career. Denny ended his career working for the City of Des Moines in the Public Works Department where he worked several years as a Supervisor until he retired in 2008. 
Denny married Kathy on August 18, 1990 and they lived briefly in Norwalk and then moved to Martensdale. Denny and Kathy had 3 beloved schnauzers over their married life; Bandit, Harley and now Sully.
Denny had many hobbies that he loved including hunting, camping, and riding his Harley. He loved spending time with his family including his wife Kathy, his daughters, son, grandchildren and so many close family friends. 
Denny passed away February 21, 2021 at his home in Martensdale. 
Denny is survived by his wife, Kathy; children Dawn (Sam) Rios, Marte (Jamie) Carlson, Brad (Kristin) Petersen; grandchildren, Tanner (Kayla) Petersen, Gabe Rios, Jerzie Carlson, Cole Petersen, Maliya Carlson, Emma Petersen and Sofie Petersen; great-grandchild Blaine; siblings, Ronnie (Liz) Petersen, Janet (Doug) Penning; sister-in-law Linda Petersen and mother-in-law Donna Haase.  He was preceded in death by his parents, Harold and Vivian Petersen, brother, Dick Petersen, and father-in-law Melvin Haase.
Public visitation will be held Wednesday, February 24, 2021 at Overton Funeral Home in Indianola.  The family will not be present to greet friends.  Memorials may be given in his name to the Martensdale Fire Association.