Dan Sarver, age 82 passed away at Iowa Methodist Hospital Monday, November 15, 2021.  Dan was born In Beacon, Iowa on June 30, 1939 to Merrill and Lydia Sarver. He grew up on an acreage with his parents and 17 siblings. He attended school in Oskaloosa where he participated and excelled in track and football. His school teammates honored him as the most valuable player. He continued to excel in sports while attending William Penn College which led him to a career in teaching and also coaching football after graduation.
He was united in marriage June 2, 1963 to Susan Morgan of Oskaloosa. They were married for 58 years and to this marriage their son Jeff was born.  Jeff was just recently married to Lisa Gammoh of NJ, which Dan was fortunate enough to witness virtually.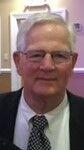 Dan never lost his small-town roots and values. He was always willing to lend a helping hand. Dan's passions were football and dogs. Dan was a man of a few words who was light-hearted and funny. He will be greatly missed.
He is survived by his wife Susan, son, Jeff (Lisa) Sarver; seven brothers and four sisters.  He was preceded in death by his parents, Merrill and Lydia Sarver, three brothers and three sisters.
Visitation will be held from 10 to Noon, Saturday, November 20, 2021 at Overton Funeral Home in Indianola.  Memorials may be given in his name to Indianola Football or Indianola Kiya Koda Humane Society.