Family services for Carol Lee Van Aernam, 79, of Indianola, who passed away Wednesday, May 20, 2020, will be held Tuesday, May 26 at Overton Funeral Home in Indianola. Public graveside services will be held 12:30 p.m., Tuesday, May 26, 2020 at the Calvary Cemetery in Stuart, IA. You may join family on our Website Live Stream Tuesday, May 26 for 10:30 a.m. services and 12:30 p.m. graveside services. The Live Streams can be located on Carol's obituary page of our website.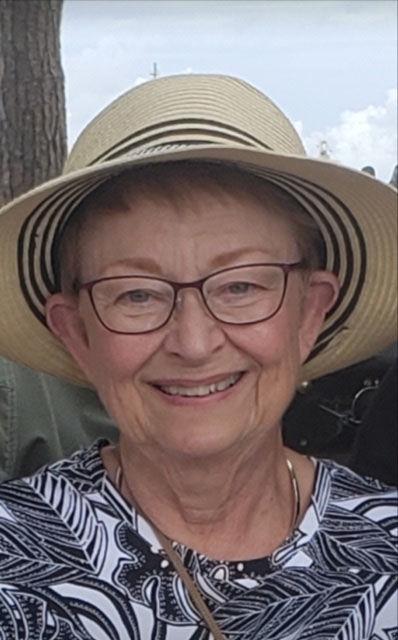 Carol Lee (Miller) Van Aernam was born on September 17, 1940 to Leo and Caroline Miller. She passed away on Wednesday March 20th, 2020.
Carol lived her life dedicated to loving her family and supporting the profession of Dental Hygiene. Carol graduated from Stuart High School in 1958. She went on to the University of Iowa were she was a proud member of the ZTA sorority and graduated with a Bachelor's of Science in Dental Hygiene in 1962.
In 1962 Carol also married her high school sweetheart, Dick Van Aernam in Bedford Iowa. They moved to Indianola in 1964 where they raised their family and were lifelong supporters of the Indianola community.
Carol was a tireless advocate for good dental hygiene for all members of our community. She worked for several dentists in the Indianola area and in 1980 went to work for the Veteran's Administration where she worked for over 30 years. While at the VA she earned multiple awards for her dedication and care of the veterans, including the Hands and Heart award and the Federal Employee of the year award. She dedicated much time advocating for the profession and good oral care with the Iowa Dental Hygienist Association holding many positions there, including President. She also volunteered for I-Smiles providing free dental care to those who couldn't afford it around the state. In her most recent years she partnered with the Iowa Care Givers Association and Mouth Care Matters to ensure that Iowans in nursing homes and other settings got the oral care that they needed.
Carol was a devout Catholic and served as a Eucharistic Minister and would often take communion to individuals in nursing facilities.
Carol believed in living life to the fullest and she did so every day. She loved to garden, golf and take trips with her family. She dearly looked forward to her annual trip to Iowa City to cheer on her beloved Iowa Hawkeye football team. Carol had a way of making people feel special and welcome always making time for a phone call, visit or outing. She adored her grandchildren the most and rarely missed a concert, play or wrestling tournament.
Carol was a bright light who constantly supported others and touched the lives of so many. Her beautiful smile, infectious laugh and gentle hugs will be dearly missed.
Carol is survived by her daughter, Susan (Dale) Martin; daughter in law, Denise Dullard; grandchildren, Emma Van Aernam and Nicklas Martin; one brother, Gary Miller; three sisters, Patty (Rory) Kroloff, Sandy (Marv) Sauser, and Shelly Grout; as well as many nieces and nephews.
Carol was proceeded in death by her parents, Caroline and Leo Miller; husband, Dick Van Aernam; son, Bob Van Aernam; brother, Rick Miller and sisters, Caroline Francis Miller and Connie Bruns; sister in law, Deb Miller and nephew, Ryan Miller.
Memorials may be given in Carol's name to Iowa Care Givers or St. Thomas Aquinas Catholic Church.