Services for Bessie Lee "Peggy" Garbison, who celebrated her one hundredth year on November 11th, 2018, of Indianola, Iowa, will be held 11 a.m., Saturday, October 19 at the Fairview Community Church in rural Indianola. Burial of cremains will be in the Belmont Cemetery, Milo. Visitation will be held prior to services from 10 to 11 a.m. at the church.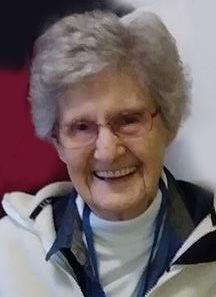 Bessie Lee "Peggy" Garbison was born, November 11, 1918, to Jesse Roscoe Coleman and Ethyl Bethynia (Dixon) Coleman of New Albany, Mississippi. She went home to be with the Lord on Saturday, October 5, 2019.
Peggy lost her mother at a very young age and when her father remarried, a very young Peggy moved to Arkansas where she grew up and attended school in the Burdette and Blytheville, AR area. Here she accepted Jesus as her Saviour. Peggy left her childhood home (Stepmother, Josie Coleman and 9 siblings in the blended family) and traveled to Des Moines, Iowa to attend The Open Bible School of Des Moines. While there, she stayed with a member of the Open Bible Church, Rhea Clark. While living with Rhea, Peggy met her future husband, Rhea's brother, Jacob Garbison. They were married on November 11, 1940, at the Open Bible Church in Des Moines despite a storied winter blizzard that blanketed the Midwest region. To this union were born four children, John, James, Mary and Martha.
Peggy and Jake were in the ministry for fifty years. She was a dedicated homemaker and an integral partner of the ministry. They served in many Christian Union churches across the state of Iowa and Missouri, as well as the Lynnville Friends Church in Lynnville, IA . She loved the people of the churches and had many lifelong, close friendships. Peggy enjoyed serving at various summer camps including Tri State Camp and Junior Camp in Iowa and Missouri and at Jerico Hills Camp in Lucas, IA.
She was preceded in death by her husband, Jake, who passed away on December 26, 1991, her parents and her many brother and sisters; Wayne, Roscoe, Tom, Julia, Jules, Pearl, and step-siblings, Anita Baker and Evertt Croslow. Surviving Peggy is one sister, Sammie Domino of Texarkana, TX; special cousin, Glenn Thompson of Phoenix AZ; children, John (Donna) Garbison of Bethany, MO, James (Virginia) Garbison of Rogers, AR, Mary (Gary) Taylor of Indianola, IA, and Martha (Frank) Longnecker of Denver, CO; grandchildren, Jon (Ladonna) Garbison of Sheboygon, WI, Eric (Jodi) Garbison of Kansas City, MO, Katie (Greg) Paschal of Rogers, AR, Deanna Garbison of Indianapolis, IN, Deborah Garbison (Erin Callahan) of Greenfield, MN, James Taylor of Indianola, IA, and Susan Lyons of Indianola, IA, 19 great-grandchildren, and many nieces and nephews.
Peggy was known for her loving nature, a keen sense of humor, a joyful spirit, and a persistent reliance on God. She took great pleasure in cooking for family and friends and in sharing her faith.