Allan Michel Fisher passed away July 14, 2020 in Indianola, Iowa. Funeral services will take place July 27, 2020 at 10:30 a.m. at Mount Calvary Lutheran Church in Indianola.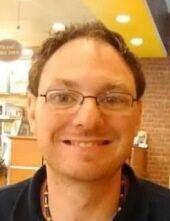 A visitation will be held Sunday, July 26 at Peterson Funeral Home in Indianola from 4 p.m. to 7 p.m. Interment and lunch will follow services at the I.O.O.F Cemetery and Lodge in Indianola. Anyone who is not able or comfortable attending due to Covid-19 can contact the funeral home at 515-961-2215 to have the guestbook signed on your behalf.
Allan was born in Estherville, Iowa on December 24th, 1982 to Connie Kiger and Jack Fisher. He was baptized on April 10th, 1983 at Immanuel Lutheran Church, and confirmed on May 4th, 1997 at Mt. Calvary Lutheran Church. Allan graduated Indianola High School in 2001 and Kaplan in 2007. If you asked anyone who knew Allan, they would say he was kind, smart, and loving. Allan would do anything for a friend in need. He always put others' needs above his own. He was an all-around good guy.
He fathered one child Christabelle Fisher on February, 14 2011. Allan was an active member of Mt. Calvary Lutheran Church. He would always have a smile on his face; asking how others were. He loved sharing his deep faith and belief in God. Allan always saw the best in everyone. He was closest to Dennis Hoover and his family. They were more than friends, they were family. Allan worked several jobs. His latest was at Simpson College as a custodian. Allan loved the people he worked with. He was deeply loved by all! Fly high!!
Allan is survived by his daughter Christabelle, his mother Connie (Ken) Kiger, his father Jack Fisher, sisters; Amanda (William) Russell and Samantha (Darin) Schwieso, brothers; Jackson Fisher, and Dennis (Deidre) Hoover, nieces; Khloie Russell, Hailey Russell, Kylie Howe and Elexus Howe, nephews; Coltyn Howe, Colby Howe, Geramiah Russell, Grayson Hoover, Garrett Hoover, Gavin and Gabriel Hoover.
He was preceded in death by his grandparents, and his niece Katryna Fields.
A memorial fund has been set up in Allan's name at Veridian Credit Union.