Funeral services for A. Nadene Maeschen, 95, who passed away Wednesday, September 11, 2019, at Kennybrook Village in Grimes, will be held 11 a.m., Friday, September 13, 2019, at Mt. Calvary Lutheran Church in Indianola. Interment will follow services at St. Paul Cemetery, Lacona, IA.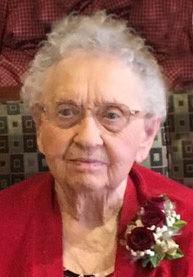 She is survived by her children Jean (Sam) DeHaai, Junella Van Ryswyk and Jacque (William) Sackett; grandchildren, Greg (Tammy) DeHaai, Jason (Lori) DeHaai and Brad (Sara) May; five great-grandchildren; four sisters. She was preceded in death by her husband Raymon Maeschen, son-in-law Fred Van Ryswyk, parents, two brothers and seven sisters.
Visitation with family present will be held from 5 to 8 p.m., Thursday, September 12 at Mt. Calvary Lutheran Church. Memorials may be given to Mt. Calvary Lutheran Church in her name. To view a complete obituary or sign an online condolence, visit our website at www.overtonfunerals.com.