Wes Zeitz knows how to cook a mean tenderloin. That's been common knowledge among his customers at Z's Eatery & Draught Haus, but now it's statewide news.
The Indianola restaurant finished in the top five in the 2021 Iowa's Best Breaded Pork Tenderloin Contest sponsored by the Iowa Pork Producers Association.
Zeitz admits that he "freaked out a little bit" when the announcement came on Oct. 4 that he'd made the second-to-last cut in the competition. He opened Z's Eatery at 1501 N. 1st St., the former location of Cal's, in March 2020.
It isn't lost on him that Iowa is "tenderloin country" as the top pork-producing state in the U.S.
"You can get a tenderloin anywhere," he said. "If you stand out as being one of the best pork tenderloins in Iowa, that's a big deal."
Foodies from near and far seem to agree. Zeitz estimated that he usually cooks 15 or 20 breaded tenderloins per day. The past two weeks, he's sold 1,025 in all, not including grilled tenderloins or other pork sandwiches.
"People literally just start flocking to your location," he said of the notoriety that comes with a "Best Tenderloin" finalist nod. "I have made so many tenderloins this week, it's unreal. We have had a line out the door."
The contest began, said Zeitz, with a customer nominating his restaurant and a letter from Iowa Pork congratulating Z's Eatery for landing in the top 40.
Then about three weeks ago, Zeitz prepared a tenderloin like he always would, stunned afterward when he learned it was for an Iowa Pork judge.
"I didn't know until 'Hey, we just had your tenderloin, and it's fantastic!'" he said. "He asked me about my product and my process. I walked him through it. They said they really, really enjoyed it and thanked me for making such a good product."
The judge's review elevated Z's Eatery to the "top five" spotlight, along with Larsen's Pub in Elk Horn, Old Road Café and Bar in Emerson, Victoria Station in Harlan and Stalker's Pub in Miles.
From there, after a second taste test by a judge, the competition narrowed to first and second place. Those honors ultimately went to Victorian Station and Larsen's Pub respectively when the contest wrapped up on Oct. 15.
Zeitz took to Facebook on Monday, Oct. 18, to break the news to the supporters rooting for him.
"Unfortunately, we did not win," he said in a video. "But that's OK because I think we still won. I still think it's a pretty big deal that we were top five out of almost 600 restaurants, and I am still the best tenderloin in the surrounding area. So that's pretty cool."
Plus, it was a feat accomplished while weathering COVID-era fluctuations in business and shutdowns. Zeitz officially took ownership on March 2, 2020, but had to close again two weeks later in the mandated business closures early in the pandemic.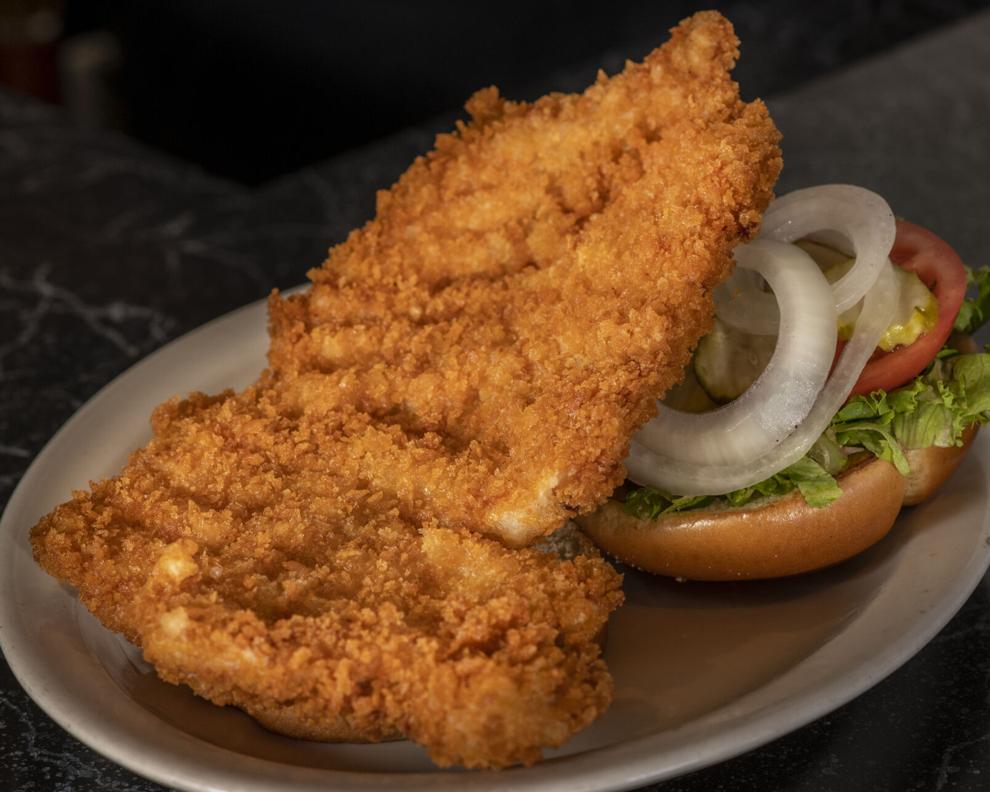 "So forever, St. Patty's Day is going to go down in infamy in our restaurant as 'National Shutdown Day,'" Zeitz said. "We're going to have a party every St. Patty's Day. We would anyway, but it's extra special for us."
Extra special because the restaurant managed not only to stay afloat, but quickly build a devoted customer base. Zeitz described the establishment as a place where anyone feels welcome, whether they're in a T-shirt or sports jacket.
And then there's the food. Zeitz prides himself on cooking everything from scratch using high-quality ingredients, from his Smoked Gouda Mac and Bacon Cheeseburger Fries, to the cheesesteak that ties with the tenderloin – at least until lately – as his top-selling sandwich.
So, what's the secret to Zeitz's award-winning tenderloin?
At his first job out of high school, he said, he worked in a Cedar Falls restaurant where the tenderloin came out of a box in the freezer.
"It was OK," he added. "Then I worked at a few other places that pounded their own and breaded their own."
While Zeitz earned a dual degree in culinary arts and hospitality and restaurant management, he perfected his own spin on a tenderloin: thick yet tender, with a breading that strikes the perfect balance of complementing the meat without overpowering it.
"I like to keep it nice and thick. I marinate them – they're very tender," Zeitz said. "I use a seasoned panko breading and a beer batter for the dip. They have good flavor, and the breading isn't too dense or think. The meat itself stands out."
After all, Zeitz isn't solely a chef – and now, competitor – of tenderloins, but something of a connoisseur.
"I eat it all the time, hence the wonderful figure I carry around every day," he said, laughing. "Yes, I'm a chef. I can make really cool stuff. … But my favorite sandwich is a pork tenderloin. It's probably one of my favorite things to eat."