If you're looking for more, West Hill Brewing Company and Whip It Good should soon have more to offer.
The two businesses were the winners of Warren County Economic Development's grant contest last week, with West Hill winning in the existing business category and Whip It Good claiming the new business prize.
"I know how much time, stress and anxiety goes into this in and you all should be commended, you did a great job," Rachel Gocken, director of WCEDC, told the six finalists during the pitch off and awards ceremony. "The thing that's neat about this contest is all of you deserve to win and all of you deserve to grow your businesses and have that injection of cash."
The contest started in August, with 18 businesses applying for a $6,000 grant for an existing business or a $4,000 grant for a new business. Applicants in both categories had to be located in Warren County.
By September, the number of applicants was down to six, with three in each category. Last week, they presented their businesses to a panel of judges and winners were announced.
"I was sitting back there thinking there's not a chance in heck," said Emmalee Bowling, owner of Whip it Good, as she accepted her check.
"Nothing to take away from the winner, but it was a very difficult decision," said Stacie LoVan of the Greater Des Moines Partnership, one of three judges for the start-up award.
"Raise your hand if you enjoy cooking after a long, long day at work?" asked Bowlin during her presentaiton. "Nobody likes that. So I created a perfect solution."
Bowlin creates homemade meals for families multiple nights a week.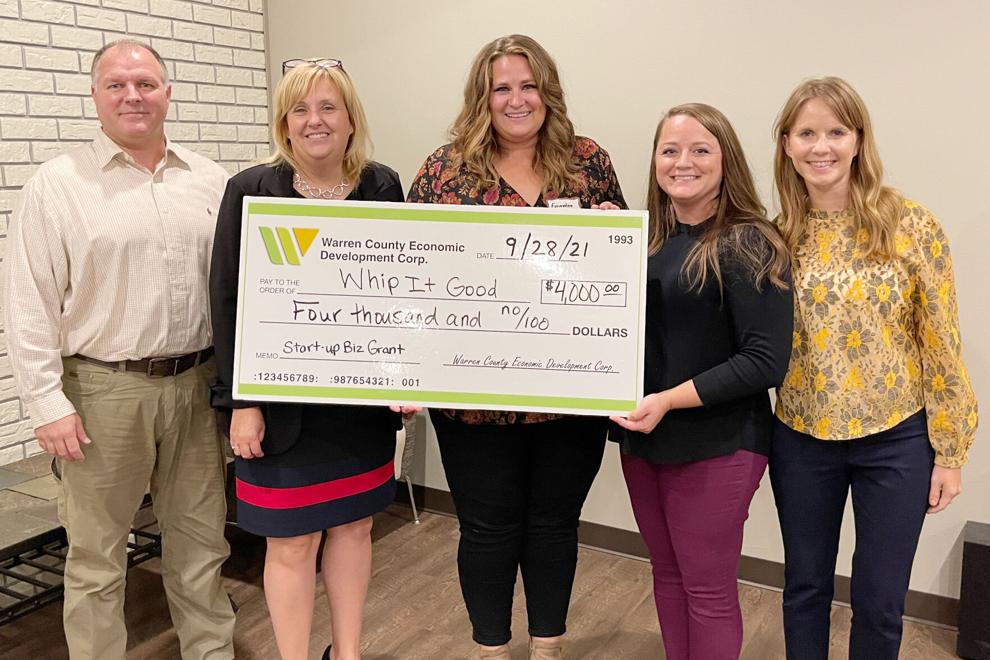 "It's quickly become a perfect solution for busy families, people who don't want to cook, people who don't know how to cook, people who are burning their kitchen down when they do cook," she said.
Clients book meals online. They receive a confirmation email, pay for their meal, and then pick up the food from Bowlin's kitchen.
Bowlin launched in December and quickly found herself overwhelmed with clients.
"But I don't know the first thing about running a business, so I just kind of jumped in," she said. "And I really need the funds to help purchase new catering supplies, a deep freeze, a new fridge and marketing materials."
Bowlin said she needs things as simple as t-shirts and business cards and as complex as accounting software. She also plans to use some of the money to extend her feed it forward program, which provides free food to families in need.
Gun Food Industries is a small manufacturing startup from Hartford that makes small pistol primers.
"For those of you don't know a primer is the part of the ammunition that the fire pin will strike, igniting propellent inside the casing and sending the projectile forward," explained Max Pauley, one of the four owners of the business.
The company is selling to companies like Sig Sauer, located in New Hampshire, and Brownells in Grinnell, as well as hoping to get into small batch sales with groups like the Des Moines Police Department. It's a market owner Honor Foss says will just grow.
"There are 12 million new gun owners within the last year alone, many handguns, which would be small pistol primers," Foss said. In addition, new legislation bans imports of Russian ammunition, which has been a huge supplier for people here in the States.
"The demand can't even be met," said Foss "There's a huge hole in the market and we want to take advantage of that."
The grant money would have allowed the company to get its product to market faster and roll it out to larger manufacturers, added Foss.
Heather Soyer of Norwalk was seeking a grant to help create an all-encompassing mental health center to serve the area.
"In Norwalk, we have multiple chiropractors, dentists, we even have two nail salons," Soyer told the judges. "But there is no dedicated mental health clinic, and I'm not okay with that."
Soyer, who is a pediatric psychologist, said she eventually wants to offer everything from therapy to medication management, but she plans to get started this year with psychological testing for kids.
"Parents come to me now asking questions about their children 'does my child have this diagnosis? Do they have ADHD, autism, dyslexia?'" she said. In addition to providing diagnostic information, the testing allows her to tell parents how to address any issues and what kinds of services or treatment would be helpful, Soyer added.
"The testing material I use is not inexpensive," she said. "In order to do a comprehensive assessment, you have to use a wide range of materials. They range in price from $250 to $2,500."
Soyer had hoped to use the grant money to buy into a subscription service that would allow her to pay for the tests as she used them, rather than all at once.
Heather and Doug Gaumer came to the WCEDC grant fest in 2019 when they were launching West Hill Brewing. They used their $4,000 winnings to buy special coolers so they could brew special kinds of beers such as dunkels, pilsners and German style beers.
With their win last week, they earned $6,000 to expand, adding bigger equipment and tanks to allow them to brew larger quantities of beer. They already have purchased a delivery vehicle, additional kegs and five additional fermentation vessels, allowing them to produce and store more beer, said Heather Gaumer, who did the presentation.
All of that will move them toward both long- and short-term business goals, said Gaumer.
"We've always known that being a part of the brewing industry means being a part of other communities, not just Indianola," she explained. "Wholesale keg distribution is really kind of the behind-the-scenes bread and butter of any brewing business. So what we need to be able to do is to get our beer into other bars, tap rooms and taverns and restaurants in central Iowa."
They currently have five wholesale accounts, she said, adding that their expansion benefits other businesses as well as West Hill.
"Yes it's about our sales," she said. "But it will mean sales tax revenue for the county, and the city. And for every bar, restaurant and tavern that we're in, it also means work and sales for those establishments as well."
When  Indianola Precast first opened, their primary focus was on septic tanks, explained owner Van Lucas during his presentation, making tanks out of rebar, wiremesh and structural fiber reinforcement.
After two years, he said, they started making grease interceptor business. Now, he said, they are moving into the agricultural category, offering bunk feeders for cattle.
The sold 75 in their first year.
"We quickly realized that the demand was far exceeding our ability to produce," he said. "This was with no advertising."
They planned to use the money from the pitch contest to add both an H bunk and a K bunk, which Lucas said would have a four-fold impact on the community.
"Every time we've expanded into another area, we've added employees," he said. They work with Williams Manufacturing in Lacona to make the bunks themselves, so any expansion would help them, as well as Norwalk Ready Mix, where they get concrete, he explained.
Finally, it would move business from out of state to Indianola.
"Most of these are shipped in from Minnesota," Lucas said. "Our goal is to take it away from southern Minnesota and make it right here in Indianola."
Main Street School has been in Norwalk for 16 years, serving kids from ages 3 to eighth grade, explained founder Tanya Apana.
"The short way to explain what we do is to say we have a play-based preschool and a project-based grade school," she said. "We believe in creating an environment where each student's unique qualities and talents are focused on individualized learning."
Apana introduced herself as the founder, director and a middle school teacher, but she noted that she also is the human resources director, facility management coordinator and the after-school care coordinator.
"This $6,000 would be put toward hiring an additional part-time office manager, who can focus their energy on helping us parley this $6,000 into $30,000," she explained.
That person would help solicit grants and support from local businesses, she said, and eventually help grow the space so the school could accommodate more students.
Apana said her school isn't intended to replace the public schools — she herself is a Norwalk graduate, she noted.
"Warren County has great schools," she said. "Great public schools — but it's a benefit to a community that can provide options."