A year ago, Bumble was a skinny stray tomcat roaming Indianola's south side. This December, he's spurred something of a Christmas miracle for the nonprofit that rescued him.
And for that, Bumble still needed help.
Thanks to his remarkable story, Whiskers TNR of Warren County earned a spot among 50 winners nationwide in Petco Foundation's Holiday Wishes campaign.
"I was very excited to learn the news and wanted to shout it from the hilltops," said Whiskers founder Corissa Arndt, who lives in rural Martensdale.
On Tuesday, Arndt and other Whiskers volunteers finally were allowed to open a "secret envelope" from Petco Foundation to learn their prize amount: A staggering $25,000.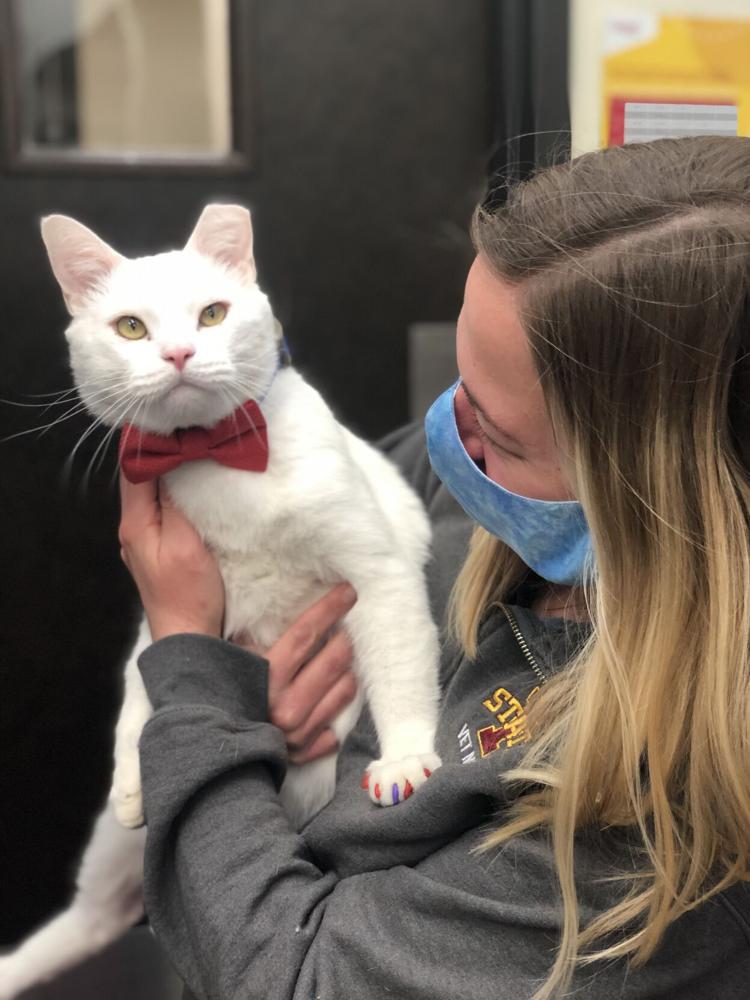 "Receiving the Holiday Wishes gift of $25,000 has left our entire team elated!" said Arndt.
In the past, award amounts have ranged from $5,000 to $100,000 per recipient, all of them animal welfare organizations. Every year, they're nominated by people who adopted through them, who submit an essay and, if they choose, a video explaining how their pet changed their lives.
Whiskers TNR has also been in the running to earn up to $25,000 more through a "people's choice" competition connected to Holiday Wishes. That's where the community's help became key.
Until noon on Dec. 16, anyone could cast a single vote for Whiskers here.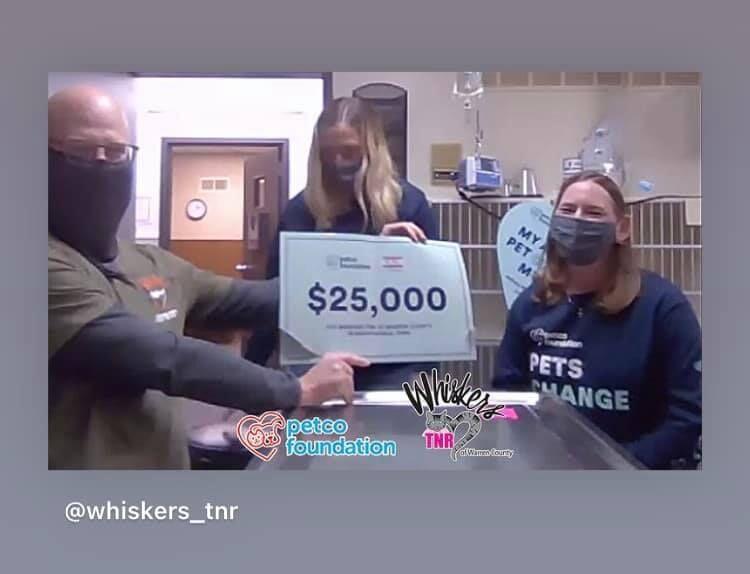 All 50 Holiday Wishes winners have their stories showcased there, but look for snow-white Bumble, the former "very skinny, stinky and dirty" tomcat who now transforms lives as a clinic therapy cat.
His adopter, Dr. Loni Ellsworth, shared their story in her submission. Last December, she recounted, she was performing some surgeries for Whiskers TNR when she spotted a very unusual patient.
Bumble had come into Whiskers's care after a phone call from a concerned resident. The nonprofit usually doesn't tend to random stray cats, instead focusing on larger outdoor colonies that need an end to their reproductive days.
"But this was very close to a trailer court that we had been helping, so I figured that is where he came from," Arndt explained. "We picked him up on a snowy Sunday morning after church and, being a pure white cat, we affectionately called him Bumble after the abominable snowman from 'Rudolph the Red Nosed Reindeer.'"
The next call on Bumble's behalf was to Ellsworth, who practices at Animal Medical Clinic of Merle Hay in Des Moines. While she lives in West Des Moines now, she met Arndt while previously living in Norwalk and soon became involved with TNR.
"TNR" stands for trap-neuter-return, a method for limiting reproduction among outdoor cats, and improving their lives, that is endorsed by the Humane Society of the United States.
As of Sept. 1, Whiskers organizers have arranged TNR for 762 Warren County cats since the nonprofit's inception in 2016. Of those, 316 were able to be adopted out.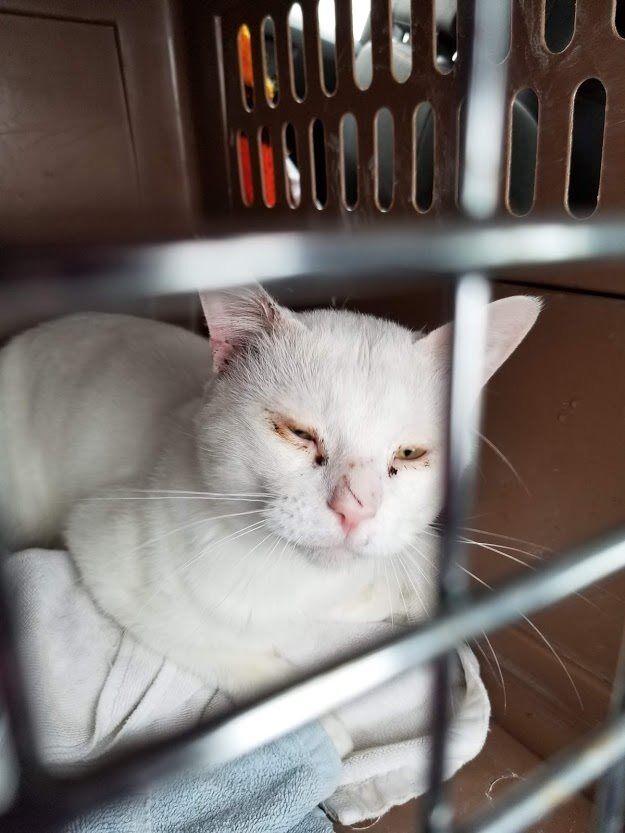 Even amid so many, Bumble caught Ellsworth's attention before he ever made it to the surgery table.
"When I peered under the towel into the live trap, I expected to see a scared, wild cat, as they often are when coming from the outdoors," Ellsworth wrote in her essay. "But instead there was this bright-eyed cat talking to me and rubbing his face against my finger through the trap."
His friendliness continued when he woke up after neuter surgery, so much so that Ellsworth let him out of his cage. That's when the realization hit her:
"We had just lost our beloved clinic cat, Ruth, so we no longer had a clinic cat to provide comfort and comic relief to staff members throughout the day. As this skinny, dirty white tomcat roamed around the clinic, it became clear he may be a perfect fit."
And he was. The cat who'd been hungry and wandering Indianola now had a home at the clinic and even important work.
WHO SAVED WHOM?
Bumble has been known to crawl, with supervision, inside cages at the clinic to comfort fellow felines and dogs. When he hears the clinic's doorbell, he gallops up front to greet visitors. If he notices employees crying in private, he snuggles in close.
In fact, just two weeks after Bumble came to the clinic, he came to Ellsworth's rescue.
She'd found a quiet corner of the clinic pharmacy to mourn a patient. Soon, Bumble came bounding down the hallway and settled onto her lap, purring and holding her gaze until Ellsworth managed to find a little peace.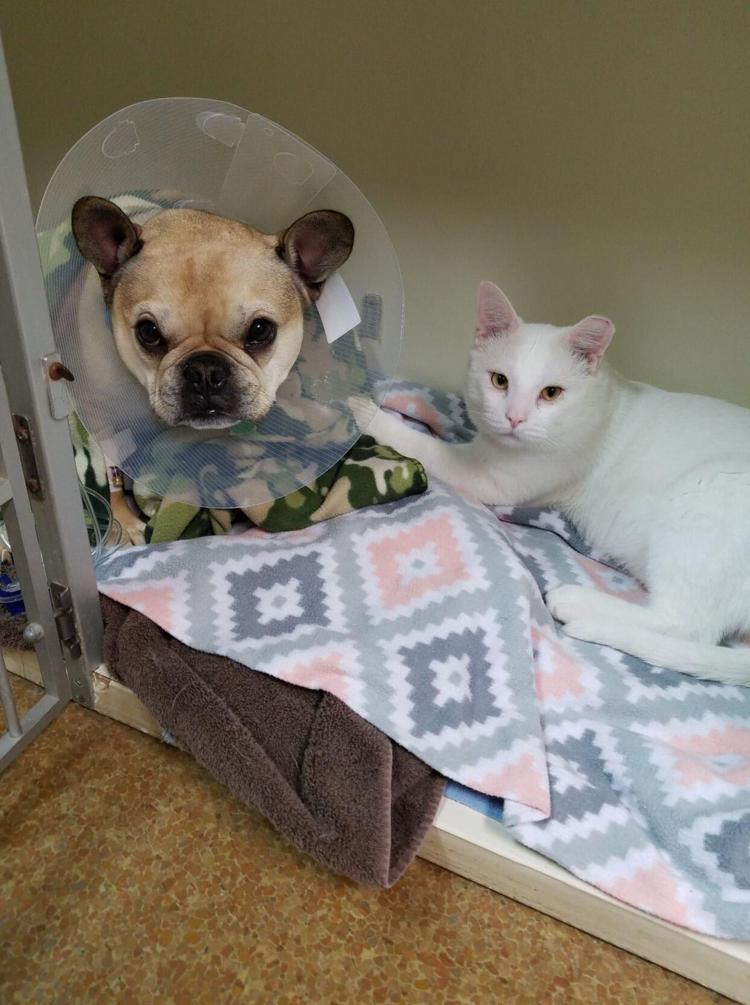 He's uncannily intuitive, she's since realized. And his place at the clinic hasn't only saved his life, but possibly those of his new human family.
"Veterinary medicine can be a very emotionally taxing field, and it is a little-known fact that veterinary professionals are at the highest risk of suicide among all professions," Ellsworth wrote. "This instance was the first time of many that Bumble has helped staff members through a tough time."
And together, Ellsworth and Bumble will help Whiskers TNR to save more cats.
The award from the Petco Foundation will keep a major project moving. This fall, the nonprofit broke ground on a holding facility outside Martensdale, thanks to a grant through the Warren County Philanthropic Partnership.
It will serve as an intake center for dirty and sick cats, rather than Arndt's own kitchen, as well as a place for them to await and recover from spay or neuter surgery.
Arndt and her husband, Jeremy, intend to complete the building's exterior out of their own pockets, but the Holiday Wishes funds will make some of their wishes for the interior come true, including a surgery suite where veterinarians could volunteer their time.
"Most veterinary clinics are open at least six days a week, so finding locations that correspond with the veterinarians' schedules was proving difficult. … If you build it, they will come, right?" Arndt said.
She's committed to demonstrating "good stewardship" with the Petco Foundation gift as construction begins in 2021, she said, and hopeful to keep the momentum going for the nonprofit.
"We do hope that the national attention Whiskers TNR has received from Petco will spark additional local support," Arndt said.
As for Bumble, he's unaware of all the fuss, of course.
He'll probably celebrate by playing fetch, his favorite game, in between clients. He might even rip into an expensive bag of cat food when no one is looking — his only vice, according to Ellsworth.
But this month brought big news for him, too: It marked the one-year anniversary of him finding his forever home.
"It was incredible," said Ellsworth. "He just fit right in like, 'Yep, this is my job now. I'm a clinic cat.' He just knew."