Warren County Nutrition is going from cramped quarters in the Warren County Administration Building to shiny new digs in the Justice Center.
"It's enormous," said Marty Davis, director. "It's got every piece of equipment that you could hope for in a kitchen."
And that's an especially good thing for a program that is about to expand from serving the county's seniors to also its inmates.
Before the move, Warren County Nutrition dished up lunches for Meals on Wheels, as well as congregate meal sites in Indianola, Norwalk, Martensdale and New Virginia. The Lacona site closed in November 2021 due to a sharp drop in attendees, while Carlisle operates its own meal site and Meals on Wheels.
The arrangement will be similar after the move, except that Warren County Nutrition additionally will dish up inmates' meals seven days a week. The senior meals have been for lunch only, five days a week.
Those overlapping weekday lunches mostly will have the same offerings, said Davis, whether they're bound for the jail or a senior's table. The menu is arranged by a dietitian from Aging Resources of Central Iowa.
For example, an upcoming lunch in July will feature Salisbury steak, mashed potatoes, zucchini and tomatoes, cinnamon applesauce and a pumpkin bar.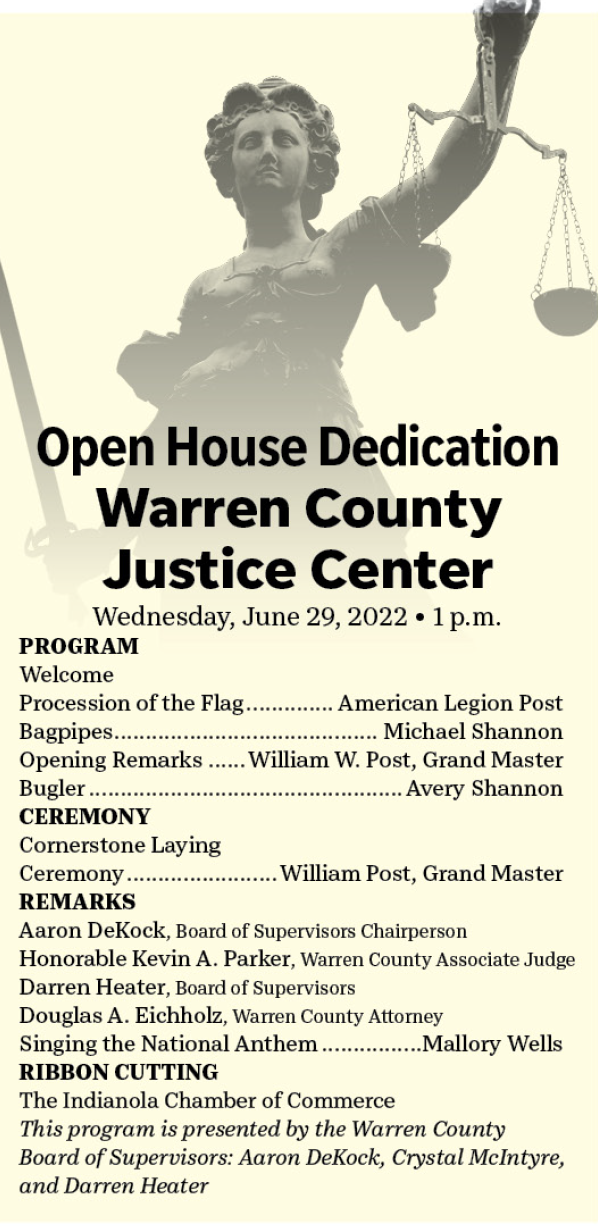 "And then for breakfast that same day for the jail would be cereal, a pastry, two hard-boiled eggs, an orange, juice, coffee and milk," Davis added.
Lisa Hraha will continue to work as head cook, but her staff will be boosted by two additional employees to help with the increased daily number of meals as well as the new weekend hours.
Just how many meals that will be will fluctuate, Davis said. That's always been the case with senior meals, and the jail's occupancy will be another variable. But she thinks the new kitchen is up to the task.
"Easily 1,000 meals a day," Davis said of the upper range of its capability. "The current kitchen could function with that many meals. It would just take several shifts because it's very small. (Now) you could be working on multiple meals at a time, prepping and heating and serving. So, it just gives us a lot of room and options."
When county leaders were planning the Justice Center, that's exactly what they wanted for the kitchen, said Aaron DeKock, who serves on the Board of Supervisors.
"We had the opportunity to do a large kitchen," he said. "That was absolutely needed to service the jail portion of the Justice Center, so a fair amount of thought went into that."
DeKock said he isn't sure how common it is for a county to have a central kitchen that handles both senior and inmate meals. His hunch, though, is that "it's somewhat innovative. But I don't think we'd be the only county in the state of Iowa that has some similar processes."
The spacious kitchen wasn't only needed for the jail, he noted, but for the existing Warren County Nutrition.
"Right now, our nutrition program is out of the auditorium at the administration building," DeKock said prior to its move, "and I would say it's probably makeshift at best. And we've rolled with that for a long time. We have an opportunity to have larger, better-equipped facilities there (at the Justice Center) and so it just made sense to utilize that for both."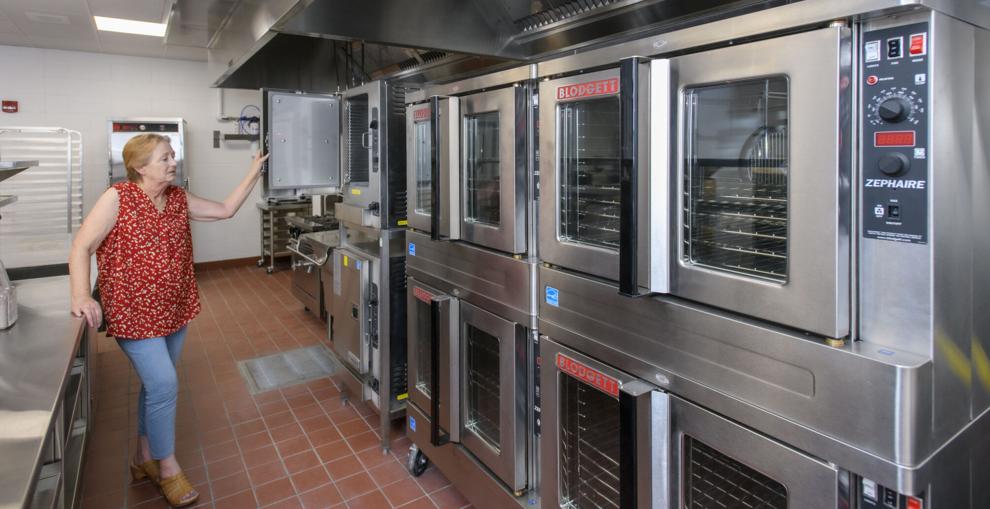 But some of the logistics of senior meals will stay the same, at least for now.
According to Davis, seniors still will be able to dine in or pick up meals to go at the current location at the Administration Building, 301 N. Buxton St. To learn more, visit the website for Warren County offices.
At least in the beginning, Meals on Wheels drivers will continue to pick up their deliveries at the Administration Building as well.
"We're going to start with them coming to the Administration Building when we first move until we know more about how things will operate over there," Davis explained, "just because it's easier to get in and out, especially if they're going to be doing the streetscape project on Ashland."
Another thing that hasn't changed is the need for Meals on Wheels volunteers, she added. The program would benefit from eight to 10 more people, and the time commitment is just a little more than an hour per shift, whether someone signs up to help once a week or once a month.
"We couldn't do this program without them," Davis said, "because we don't have the staff who could deliver 200 meals a day out of the Indianola facility."
Wherever the meals are headed, a new modern kitchen isn't changing the old-fashioned care that goes into Warren County Nutrition's cooking.
"Technically, even though it is institutional food, we're able to put a personal twist to it," Davis said. "Lisa, our head cook, cooks from the heart. She said she doesn't want to serve anyone anything she wouldn't eat."