Eric Martens has always had a great view from his hot air balloon, Hot Shot.
Now he has a great one from the ground as well.
He and his wife, Abby, are the new owners of SkyView Vineyard and Event Venue, formerly home to Annelise winery.
"We've been talking about a new name from the beginning," said Abby Martens. "We always knew it would have something to do with the view and the sky and balloons."
"The view is just phenomenal," added Eric Martens. "And when the balloons are here, it's going to be even better."
By the time the balloons show up this summer, Eric and Abby have big plans for their new property located just across Highway 92 from the National Balloon Classic's Memorial Field. While visitors still will be able to sip a glass of wine while enjoying the view of grapes growing in neat rows along the horizon, they won't be drinking Annelise wines. Eric and Abby plan to keep growing grapes but they don't intend to make wine. Instead, they said, they'll sell the grapes to wine makers.
Annelise Winery to become SkyView
But that won't be Heidi and David Klodd. They are retiring from both the wine-making business and from owning a winery. While Heidi says she has a good supply of her favorite Annelise wines, she eventually will have to find a new favorite.
"My favorite part of having a winery was having unlimited wine," she said. "But it wasn't free wine, it was extremely expensive wine."
The Klodds started Annelise Winery in 2014, but they had been growing grapes at their home since 1998. After Heidi's mother, who lived in Indianola, died in February and their daughter, who lives in Minneapolis, announced that she was pregnant, the winery was the only thing standing between the couple and life with more travel.
"We've never have been able to go up there on weekends unless we close this place," Heidi said. So they put the property on the market in March. And there it sat. "Wineries are not in demand," she said. "We weren't getting any interest, so we had to sell it as a property, which we could do because it's right on the highway."
Meanwhile, Abby and Eric, who both work for Abby's father Jim Johnson at Loving Rest Pet Cemetery, were looking for a business of their own. They considered a winery, but then switched their focus to a doggy day care. And then their realtor suggested Annelise.
"We talked about how beautiful it was and said let's give it a shot," said Abby. They made an offer in August and closed on the sale in early November. 
The next day, the Des Moines Metro Opera held its champagne brunch and bingo benefit at the venue. They have a couple of weddings and some graduation parties booked, but plan to make some changes to the property before promoting it too widely.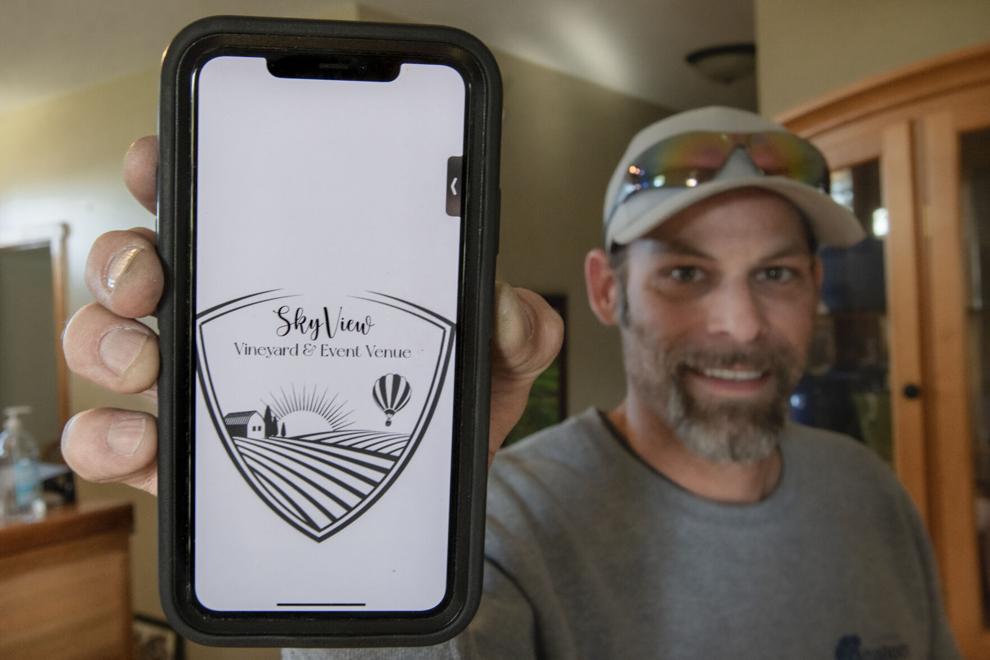 "There are things I want to change that are my taste, but we bought it because it's perfectly rentable the way it is," Abby said. "It's nice, it's pretty. That's one of the things that drew us to it. We don't have to do anything right away."
Abby's first priority is to recarpet the main level of the winery. She and Eric plan to create a game room in the basement of the winery with a full bar and serve wine, beer and mixed drinks, said Abby.
They also want to re-side the barn outside, which can be set up as a chapel or a reception venue, to match the main building of the winery. Having the multiple facilities is an asset for modern couples who want the wedding and receptions at the same location, said Heidi.
Abby plans to offer couples of a variety of looks and packages for their big days.
"For some people simple is perfect," she said. "I want to have options, like an arch or a backdrop."
She also would like to put in a glass door that looks out onto the vineyard and offer a variety of bridal packages for all kinds of weddings She and Eric eloped and got married on the same day, paying an officiant $250 to marry them on a dock at Banner Lake. She wants to offer other couples the same opportunity, with some options for more bells and whistles.
"I'd like to have a package 'get married today' and you can come in and have it set up," she said. She and Eric, who are both officiants, can do the ceremonies if necessary.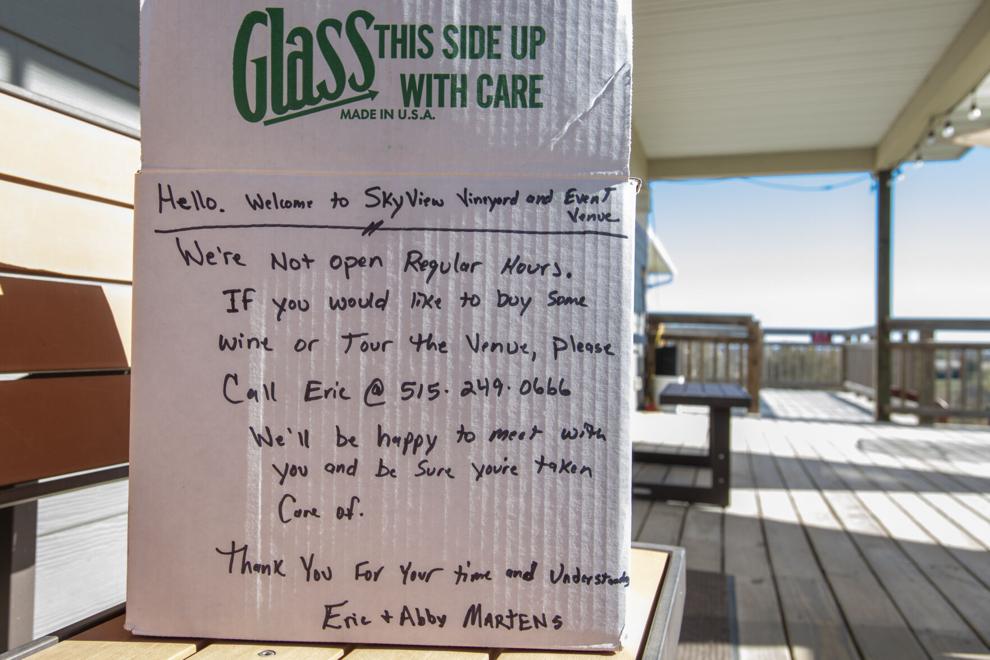 They also eventually plan to serve drinks and appetizers when SkyView isn't booked for other events. "A little bit higher end availability," said Abby.
But before that can all start, they have decisions to make. They're finalizing the design of their new web site and logo, as well as discussing what color to paint the entry of the winery.
"As we get going, we find we have differing opinions on a few things," said Abby.
There are some traditions, though, that they have agreed to keep, at least for now.
David Klodd, for instance, always left a note on a box outside the door with his phone number for people who wanted wine or to ask about renting the venue.
Eric and Abby are doing the same.