For adult adoptees who were born in Iowa, Jan. 1 meant much more than a new year. For the first time since 1941, they had a legal right to a copy of their original birth certificate.
It was a monumental day for Michelle Spear of Lacona for an added reason: She had spent the past seven years fighting to change Iowa's adoption-records law.
"When you say 'adoption,' everybody thinks about this cute little newborn that, you know, needs a family," Spear said, "Well, that's great, except that we grow up.
"We're no longer children," she continued, "and the government shouldn't treat us as such. Everyone else in the state of Iowa can request their birth certificate without anyone questioning why."
Before the new law, adoptees weren't allowed access to a copy of their original birth certificate, unless they succeeded in petitioning the court to show just cause. The original was sealed, Spear explained, and adoptees received an amended version that only showed their adoptive parents' names.
Now, HF 855 helps level the playing field for all adults. Anyone at least 18 years old, or their "entitled family," can apply for a noncertified copy of their original birth certificate through the Iowa Department of Public Health website.
While Spear is an adult adoptee, her motivation for spearheading the new legislation might come as a surprise.
"I'm in reunion," Spear said of her biological parents, "so it wasn't about reunion for me. I have a wonderful relationship with all of my parents. … For me, it was more of the fact that I'm 50 years old, and I have a government telling me that I can't have my own birth certificate."
The reasons for wanting that piece of paper – or not – are as diverse as adoptees' birth stories.
"My husband, who was adopted, has no desire to get his. He doesn't care," Spear gave as an example. "I'm already in reunion, so it's not like it's going to give me any information I don't already know, but I want it because it's mine."
Of course, for countless adoptees, it could answer a lifelong question: Who are my birth parents? But it was also stories of adoptees hitting unfair roadblocks in their everyday lives that had propelled Spear into action, she said.
A man who wanted to take his wife on a cruise for their 25th wedding anniversary. He had to postpone the trip by more than two years because he'd been adopted and didn't have a copy of his original birth certificate for a passport. He finally managed to find a copy of his circumcision record that allowed him to travel.
A Native American woman in hospice who wanted nothing more than to register with her tribe. She'd been adopted as an older child, so she even knew the names of her biological parents and siblings. But the lack of a piece of paper kept her dying wish unfulfilled.
It didn't seem right, Spear said, and she resolved to start fighting to change Iowa's law. She certainly wasn't alone.
Spear and Lisa Kaufman, a fellow adult adoptee from Council Bluffs, co-founded the Iowa Adoptee & Family Coalition, drawing supporters nationwide. Kaufman had become passionate about the cause after attempting, and failing, to petition the court for access to her original birth certificate.
"She had breast cancer, and the court of Iowa said that wasn't good enough cause," Spear recalled. "For her, it was kind of a mission to say, 'You know what? I shouldn't have to prove that I'm dying of cancer to give me my birth certificate. And then you tell me no?'"
But while the duo was passionate about the cause, they faced a major obstacle: maneuvering the Iowa Legislature without a political background.
"I walked in there knowing nothing. … I was reaching out nationally to other states who had done it," Spear said, referring to adoption-law reform. "But every state is different, so it was a little hard for me to get my head around it when I didn't understand how my government works."
Scott Ourth, a state representative at the time, helped Spear get a bill on file, she said. Four lobbyists who happened to be adult adoptees were "vital" to walking Spear through the rest of the process, although they worked for other organizations in an official capacity.
And then there was the small army of supporters from the Iowa Adoptee & Family Coalition. Spear said that she became the face at the statehouse because of her proximity and having time to be there. But she was only part of a much larger grassroots movement.
"A lot of them would write letters or emails for me or make phone calls because they were all over the state of Iowa," she said of activists within the coalition. "We had a lot of adoptees from all over the United States that were relinquished here or born here."
Despite all their work, the bill didn't go anywhere, year after year. Especially when Kaufman passed away, Spear was tempted to give up.
"There were some times, especially when she died, when I was like, 'Oh, we didn't even make funnel. I'm just giving up. I'm not going to do this.' But then when January would come back around," Spear said, referring to the start of a new legislative session, "I would get the feeling again to pursue it."
Finally, 2021 was the year.
Spear said the bill drew some criticism from adoptee-rights advocates because it allows biological mothers to redact their names from the copy of the original birth certificate. Biological fathers have the same right, Spear noted, but they're listed less often to begin with.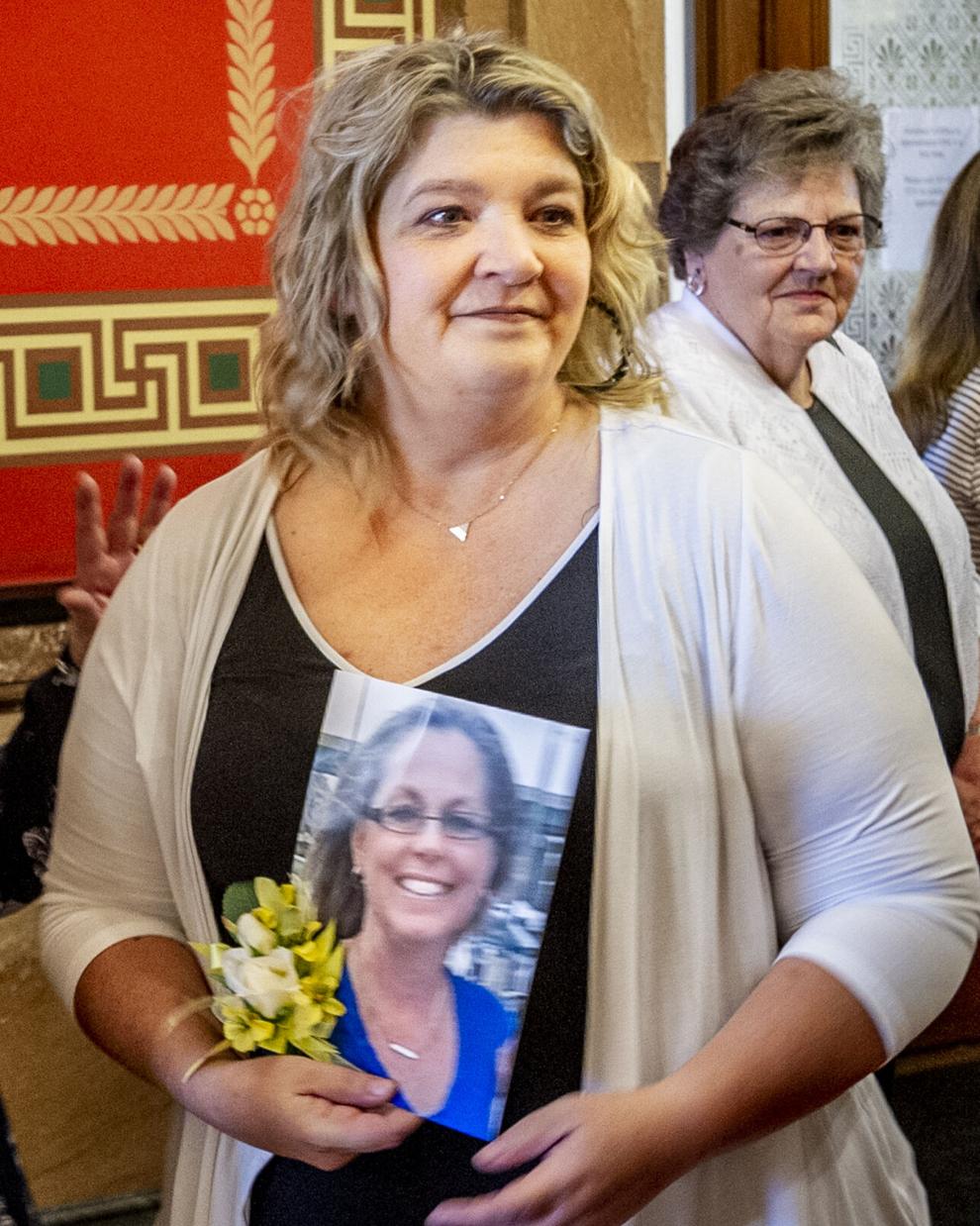 "We had to make some compromises in the language of the law, but that's part of legislation. … Less than .08 percent of mothers ask for redaction nationally," she said.
Other key features of the law include the ability of entitled family to request a copy of an original birth certificate, and of birth parents to fill out a form through IDPH to make their preferences known about reunion.
They may indicate being open to meeting and even including a phone number, ask that an adoptee contact an intermediary first – like an attorney or other family member, or request that they not to be contacted at all.
Legislators had wanted to include the option of that paperwork, called a contact preference form, to give peace of mind to biological parents, said Spear. But really, it's important to adoptees as well.
"I mean, let's be honest: Nobody wants to have secondary rejection. Nobody wants to contact someone who doesn't want to be contacted," she said.
The final language of the bill earned unanimous votes in both the Iowa House and Senate. After seven years of work, Spear found herself standing next to the governor on May 19 when it was signed into law.
"There were about 60 of us there that day. I was super excited," Spear said. "It was very surreal for me just because I had been working on it so long, and to actually be in the governor's office and having her sign it."
And how does Spear spend her free time now? In a not so different pursuit: working as a "search angel," a genealogist who helps clients unravel their family history through conventional research as well as DNA detective work.
"I love genealogy … and then learning about DNA – genetic genealogy," Spear said. "When people send in their stuff, I can look at their results and kind of go back and figure out a tree … work backward and figure out who the possible family could be."
Plus, her work with the Iowa Adoptee & Family Coalition is hardly over. Changing the law was one thing. Making sure that everyone knows about it is another.
"It's just really important to me to get the word out about the law so adoptees can get their birth certificates if they want them," Spear said.