Kevin Miller may be checking out after 41 years at Indianola Fareway, but he's not moving on.
The long-time grocery manager worked his last official day Saturday and is heading into retirement. But that doesn't mean he's leaving Indianola, or even the store, completely.
"We're still in town here, so we're going to come in and shop," said Miller. "I don't feel like I'm leaving anything, I'm just not going to come in to work."
Miller started working for Fareway just after high school — a time when he was more interested in having fun than going to college. He grew up in Sioux City where his father worked for a meatpacking plant. During Miller's senior year of high school, his family decided to move to a new job in Mason City. Miller stayed put, living with a brother and family friends until he finished high school and moved to Clear Lake.
"I needed a job," he said. "I wasn't sure what I wanted to do. I wasn't ready for college."
A cousin was working at the local Fareway and told him the store was hiring.
"I went up and lied through my teeth," he said. "They said they wanted full-time people, people who are going to stick around. I was thinking I got rent, car payment, beer money. I need a job."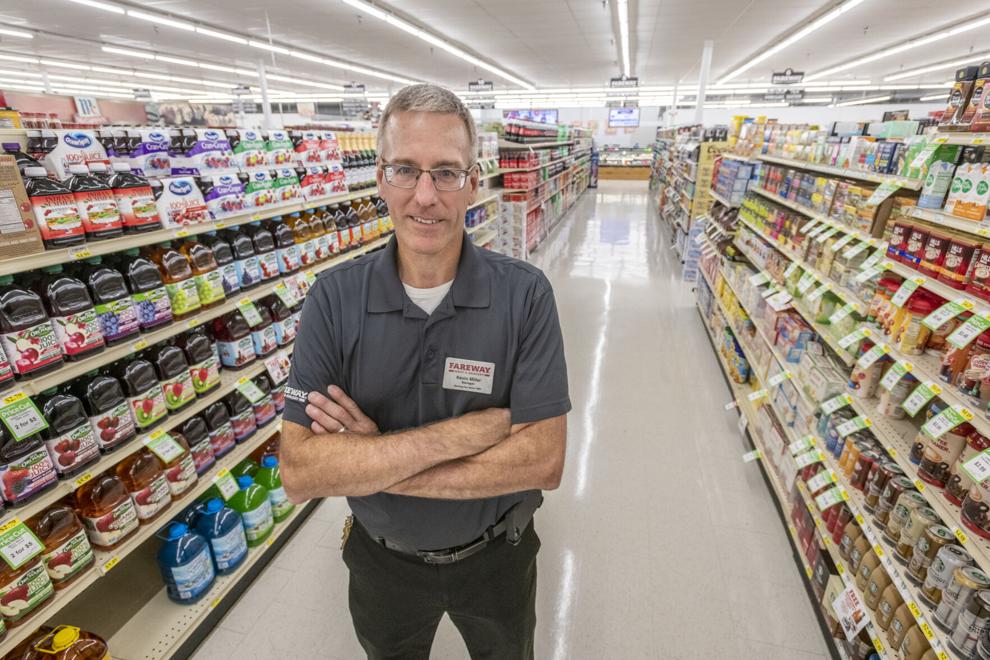 They hired him to stock and help with carryout. A week later, they moved him to full time.
"I actually loved what I was doing, I liked who I worked with," he recalled. In 1986, he got married and jumped on the path to a manager's job.
"They never promised anything, but they said, here's the path if you're willing to take it," he said. Over the next few years, he and his wife, Ellen, moved from Clear Lake to Monticello, Fort Dodge and Hampton, where he became an assistant manager. In 1992, he became the assistant manager at the Red Oak store and then came to Indianola in 1990.
While the stores have changed, Miller said the work he does hasn't much.
"It was just like I do today, stocking shelves and carrying out," he said. "I love being at the front end. If that's all I did all day long, I'd be fine. Just take care of the front end, because I like I like our customers. I like to do a good job of servicing people."
Technology, on the other hand — an area that he says he "could care less about" — has taken an ever-increasing role.
"I'm not good at it, I don't even know how to get on Facebook or any of the other kind of stuff like that," he said. "I don't have an email address other than the one at Fareway."
He's relied on workers who understand the technology to guide him through it. In the last year, there have been even more changes, including a new customer pick-up service and self-check-out options for customers.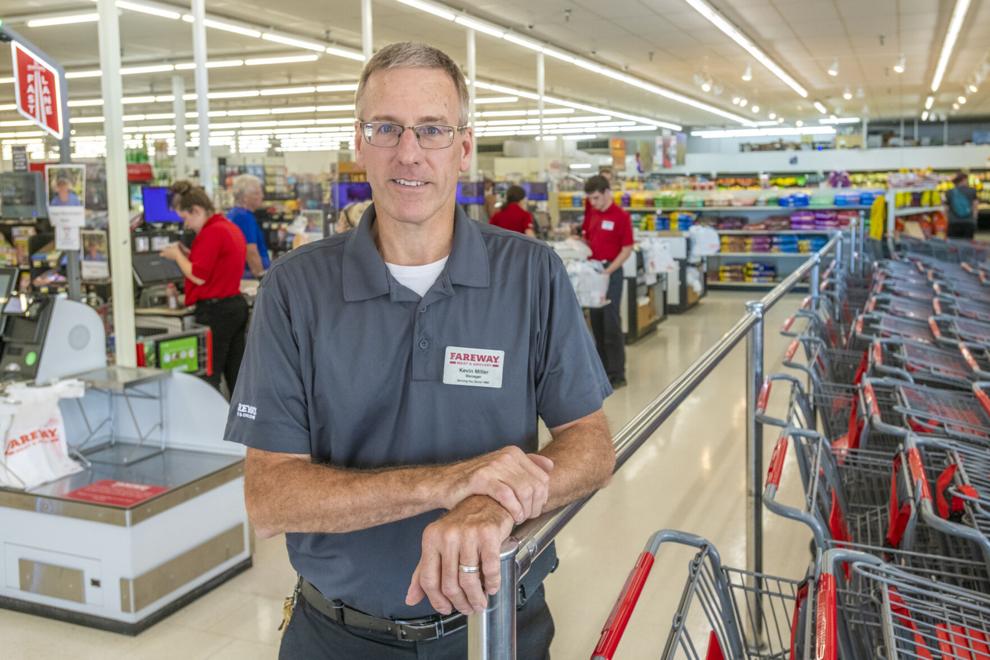 Miller said he was "in awe" of how well the new self-check out options have gone, although he realizes they're not for everybody.
"You have a segment of your customers that want that, that have no problem with that," he said. "It's been a great thing."
For those who argue the self service is a job killer, Miller said he has anywhere from one to four attendants helping customers through the process.
"In the past, we had seven check stands and maybe we started with a check in the morning and then added a second, third and a fourth," he said. "Now we have more than we ever did before."
There are more employees at Fareway now than there have been over the last 23 years, he said. And they have been good people to work with.
"I feel very blessed," he said. "We have been really fortunate in this store, we have a lot of long term employees. That says a lot about them."
Fareway management said they are blessed too — by Miller.
"Kevin has done an outstanding job in Indianola as manager and has provided dedicated service to Fareway for more than 41 years," said Fareway Senior Vice President of Retail Operations Jeff Borrill. "He is not only a hard worker, but has done a great job of training staff, and giving back generously to the local community. Kevin will certainly be missed by customers and employees alike, and we wish him the very best in retirement."
Miller says he's stayed with Fareway for so long because he likes the company he's working for. "They're an awesome company to work for," he said. "Family oriented. Over the last 15 to 20 years, the things I've seen them do to take care of their customers and employees, you don't see that in other companies."
He said it isn't going to be hard to leave the store. First, he put the decision to leave in God's hands. A member of St. Thomas Aquinas Catholic Church, Miller as long operated on faith
"I kept asking God to let me know if this was right," he said. "Is this really the right time? Honestly, I've never had one day where I had any anxiety. I've totally been at peace."
He said he also feels good about what comes next.
"We have a whole agenda of things we're going to do," he said. "I love reading, work out, ride my bike, fish, maybe play some golf."
But he doesn't plan to leave Indianola. This is where his two daughters and many of his 11 grandchildren live.
"This is home," he said. "We're not going anywhere."