In September 1849, Warren County held its first court of law amid autumn's emerging colors with the jury seated on a fallen tree and the district attorney using a stump to write his indictments. After that, courtroom accommodations improved.
A log schoolhouse located where Uncommon Grounds sits today was improved by finishing the second-floor and adding paneled doors to serve as our first justice center. According to the 1879 History of Warren County, the doors of this beloved structure "always swung on easy hinges," as it moved through many years of service as schoolhouse, justice center, town hall, and temporary housing for newly arrived pioneers.
Moving forward, the first "Court House" located at the center of The Square, octagon-shaped at the time, commenced distributing justice in January 1869. Its sandstone foundation had been quarried five miles south of Indianola. The 112x60-foot structure had three 68-foot corner towers with the fourth larger tower offering a 140-foot high view of rolling woodlands, cultivated fields, and untamed regions.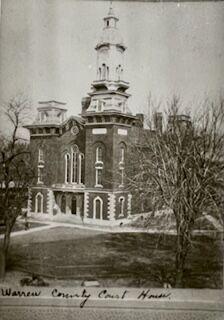 Described as the "Finest Court House in Iowa!" by the Weekly Indianola-Visitor, the 50x70-foot courtroom with its 25-foot ceiling had a double or "deafening" floor. With twin sets of floorboards separated by a two-inch dirt-filled gap, sound was dampened and acoustics improved because the room also served as a multi-purpose venue. It was used for lectures and musical performances by "Native" and "Foreign" talent, town meetings, spelling bees, and to hear news of the world.
Sixty-six year later in 1935, the courthouse's soft foundation couldn't be ignored after two panels of brick between balcony windows came crashing down to the sidewalk. Reports from engineers and architects confirmed the building was failing. Repairs were discussed along with building a new $145,000 structure. Both options meant voters needed to approve a bond issue. Despite the federal government offering $65,000 in Public Works Administration (PWA) money, Warren County voters didn't approve the $80,000 bond issue for a new building. People were advised to avoid the north entrance or quickly skedaddle inside.
The PWA money was thought lost, but there was talk and hope it could be restored. Iowa PWA headquarters stated the allocation was cancelled, but Warren County board of supervisors kept angling, noodling, and inquiring about the funds. In April 1938, the regional PWA director indicated the county could renew their application for the $65,000. By this time courthouse exterior walls were bulging, the towers pulling away, and foundation further weakened.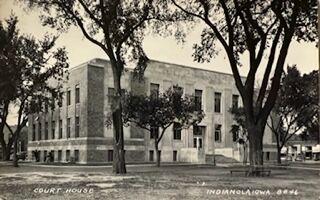 Over the next several months, Don Berry, editor and owner of the Indianola Record, laid out the facts and arguments. In an early article entitled "New Courthouse—Let's Look It In the Face.," Berry said he had little faith in borrowing money, but passing up government funding seemed foolish. His last article before the August special election, "This Courthouse Business," started on the front page before continuing and completely filling page six with facts, opinions, and photos of the deterioration.
Mr. Berry didn't like the idea of attaching the new courthouse to its current location, but wouldn't vote against keeping it on The Square. And despite the new structure meeting purpose in terms of cost, storage and fireproofing, it was a lousy design and nothing more than a big brick box. "BUT IT MAY BE THE BEST AN ARCHITECT CAN DO WITH THE MONEY AVAILABLE," Editor Berry wrote in eye-catching capital letters.
In early August, Warren County voters approved the $80,000 bond issue and received the (slightly increased) $65,250 PWA funds with no strings attached. The new courthouse was completed and dispensing justice the following August after a celebration of outstanding proportions with a parade, music, free beef burgers, and prizes from merchants circling The Square.
Warren County's big brick box served almost eighty-five years until the ravages of age resurrected the idea of building another new justice center. While online news and social media exchanges had replaced newsprint and robustly attended public meetings, the arguments remained the same—location, purpose, and cost.