He travelled Iowa and the country playing golf, winning the Iowa Junior Amateur Championship in 1958, the Iowa Amateur Championship in 1963 and the Western Open in 1965, 1966, 1967, 1968, 1969 and 1971 and in 1969 captured his first PGA win at the San Francisco Open — where he remained reigning champion until his death May 15, 2020, said his daughter, Stephanie Spray-Stehr Monday.
"He was the reigning champion because they never held the event again," she joked.
But Monday, he came home again.
Friends and family gathered  under a chill rain at the Indianola Country Club Monday to celebrate Spray, cutting the ribbon on Steve Spray Lane, which leads from Country Club Road to the clubhouse, and then walking the lane behind a color guard and a single piper to the club house, where speakers shared memories of the man who started golfing on the country club's nine-hole course in the 50s, and ended up as a Championship golfer mentioned with the likes of Arnold Palmer, Gary Player and Jack Nicklaus.
Spray probably was smiling at the rain, said Kevin Halterman, president of the Indianola Country Club, as he welcomed the guests to the event.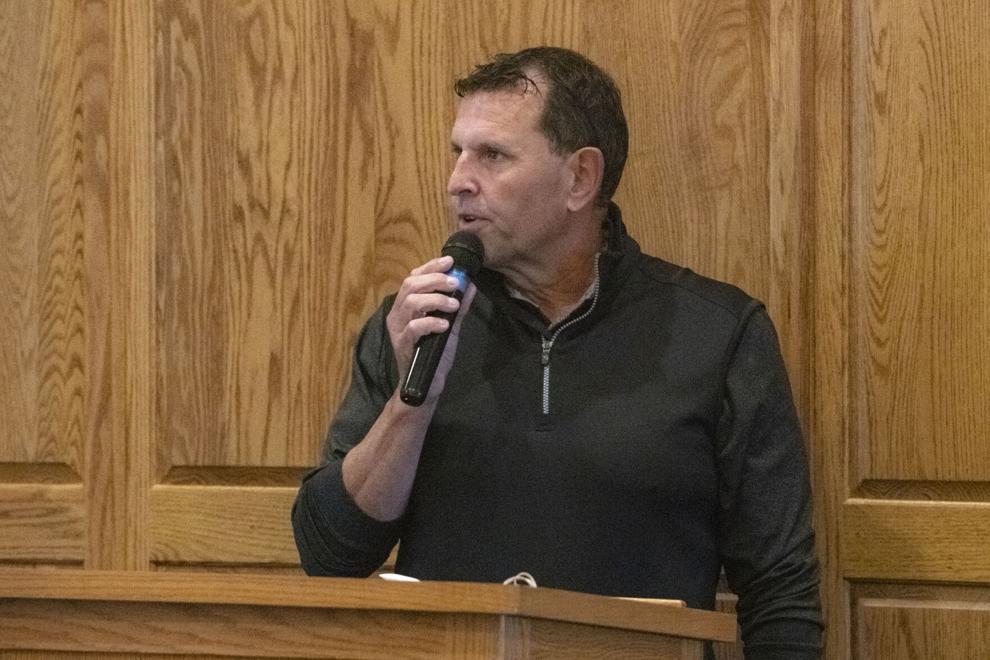 "There's nothing better than for a golf course in a gentle rain," said Halterman. "It softens up those fairways."
But before he was a golfer, Spray was a kid. John Overton told the story of going with Spray to Lake Ahquabi during the days of polio.  Spray contracted the disease and ended up with one foot a size smaller than the other. He ended up as the "Rudy of Indianola," said Overton, referring to the movie about the Notre Dame walk on who helped lead the famous football team.
"(Rudy's) odds at Notre Dame were very limited," said Overton. "Steve's odds of playing on the United States PGA were astronomical. It would be like winning the lottery."
When Spray started to become successful, Overton watched him playing in the Greensboro Open on television. Announcers identified him as being from Indianola, Iowa.
It was a lesson to Overton, who said he often told people he was from "south of Des Moines."
He stopped after hearing Spray identified as being from Indianola.
"If Indianola was good enough for Steve Spray, it's certainly good enough for me," Overton said. "So now I say I'm from Indianola and very proud of it."
Gene Capps, former Indianola boys golf coach, noted that Spray is one of Indianola's biggest secrets.
"When you go around town, oftentimes, have you ever heard of Steve Spray? Do you know Steve Spray? People look at you with that empty look," said Capps. "Steve Spray is the best kept secret in Indianola. But it's something we're going to change."
The Indianola boys golf team currently hosts an annual invitational at the country club, said Capps, and it's always been known as the Indianola boys golf tournament. Next fall, however, it will become the Steve Spray Invitational.
Four members of the Indianola golf team were at Monday's event.
Steve Spray: Indianola golf legend honored
"It was cool to hear all the stories," said Casey Daughenbaugh. "He seemed like a pretty great guy."
"It's cool to hear how he played this course," added Preston Bily.
"Back when it was a nine-hole course and probably not in as a good a condition as it is today," added Daughenbaugh. "For him to be that good, it's pretty amazing."
Daughenbaugh, Bily and teammates Jackson Overton and Cooper Nailor, got to take a swing with the woods that Spray used when he won the San Francisco Open. They're very different from the clubs used today, explained Don Moorman, who said Spray was his sister-in-law's brother.
"They're not very easy to hit," said Moorman. "They're professional clubs with super stiff standard shafts and the persimmons and all that."
Moorman donated the clubs to the country club for a memorial that will be erected in the club. Spray's daughter, Stephanie Spray Stiehr, also donated Spray's four scorecards from the San Francisco tournament, Spray's first professional win.
Spray's win at San Francisco was well earned, said former Indianola basketball coach Bert Hanson, who offered a history of Spray's career. Spray drove from tournament to tournament and ate fast food or whatever he could find it as he sought to make his way in the PGA.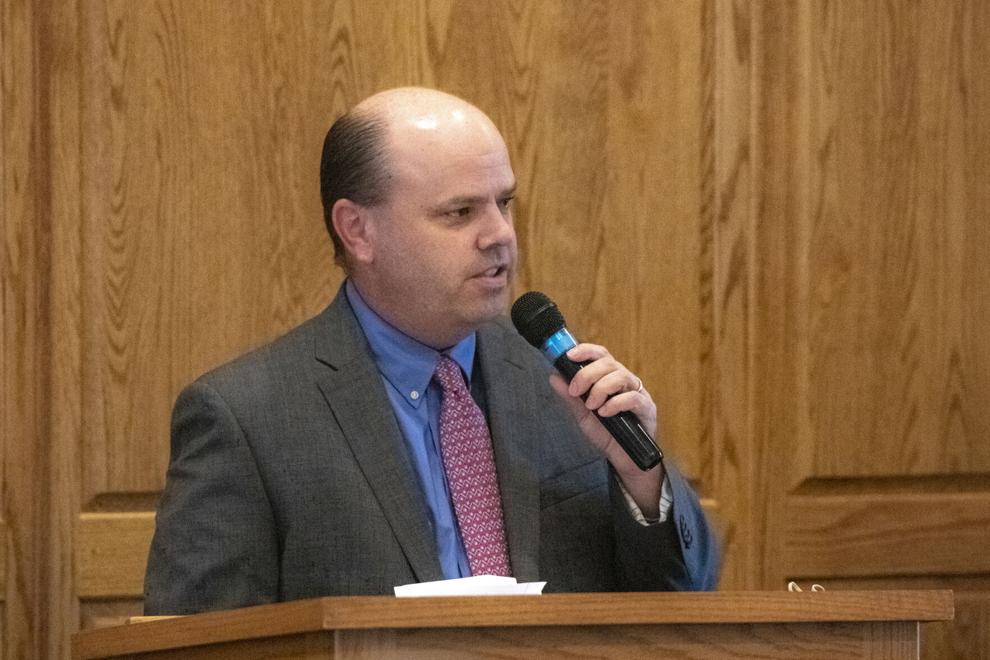 The Buick Open was the first tournament he did well in, Hanson said.
"He led the tournament after the first round with 68, led the tournament after the second round with 73," he said. "And in the third round, there's this kid from Indianola, a small country club, no driving range, he got paired with Jack Nicklaus and Gary Player."
Spray didn't do very well, Hanson recalled, finishing 29th.  His first chance to win a tournament came in the 1967 Sahara tournament. After three rounds, he was one stroke behind Nicklaus. They played the final round together and Nicklaus fired his shot. Everyone assumed it was out of bounds.
"Nicklaus' ball was one inch in," said Hanson. "Steve Spray lost by one stroke."
In the 1968 US Open, Spray finished fifth, but his 65 on the final day set a tournament record that was shared with Nicklaus and Arnold Palmer. He held it until 1973. His 30 on the back nine was a record that stood for 28 years.
"He was with the greats," said Hanson. "Palmer, Nicklaus. Steve Spray was right there with those kinds of people.
"If you've got dreams, you've got golf dreams, and you think that someone out there from our country club was walking fairways with guys like Nicklaus, Palmer and Player, keep your dreams alive," Hanson told the high school golfers. "They do come true. Steve Spray was an example of that."
Other speakers included Brett Fisher, the PGA golf professional and general manager at Cannon Golf Club, Jeni Davis, pro shop manager at the St. Louis Country Club, where Spray was the pro for many years, and Susan Bachowski, LPGA golf pro at the St. Louis Country Club.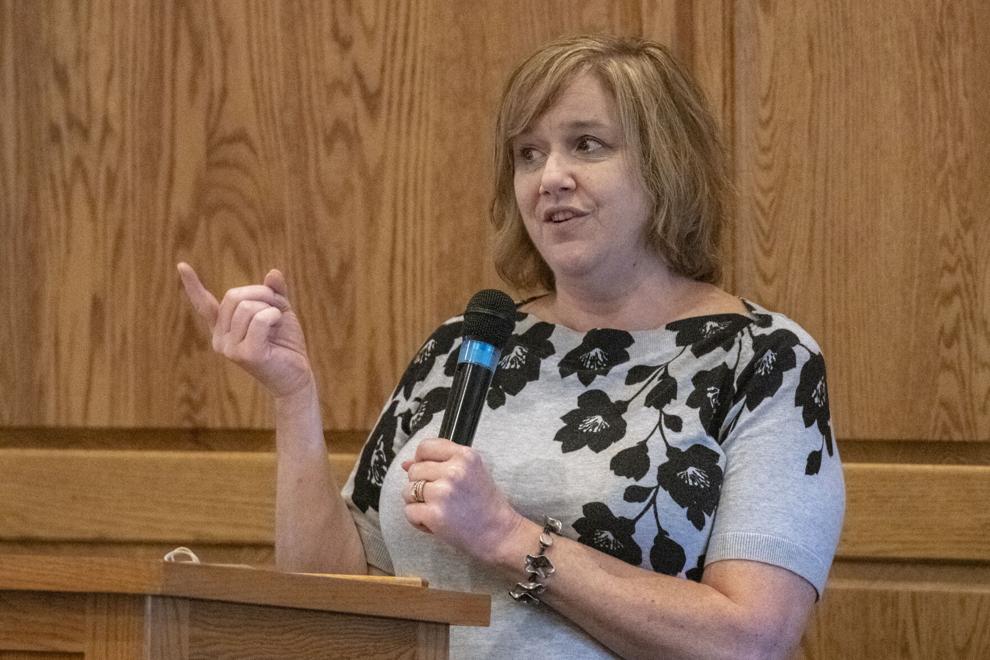 But his daughter, Stephanie Spray Stiehr, wrapped up the comments.
"I am dumbfounded by what a beautiful day it was," she said as rain fell outside. "I don't care that it rained, I don't care that I got wet. It was a beautiful day.
"This was home," she told the crowd. "Indianola was always home to him. He loved this place more than any other place."