Some of Indianola's public safety officers found themselves in a hairy situation.
The police and fire departments, along with administrative staff at city hall, conducted their own version of "No Shave November" to raise funds for Heal House, a local homeless shelter.
Captain Brian Sher at the police department coordinated the effort, dubbed "We're Hair for You."
"Lots of departments do a 'No Shave November,' and we struggled this year with our community outreach just because of COVID," he explained. "This way we can have a community outreach program and not have close contact with people. It's a way for us to give back."
Nationally, "No Shave November" focuses on cancer awareness, but Indianola's public safety personnel wanted to focus on a local charity instead. Heal House officially opened its doors in August at the former site of the Woods Motel.
Those who opted to participate in "We're Hair for You" donated $30 to Heal House for the privilege of ditching their razors for a month or, for women, dying a blue or red streak in their hair representing law enforcement or the fire service.
According to Sher, 34 people took part, including a few who chose to donate without the wooly, or colorful, makeover. They raised $1,000, which was matched by an anonymous community member to bring the total to $2,000.
Laurie Abernathy, president of Heal House's board of directors, said it's "amazing" that everyone involved wanted to help financially. The police and fire departments have been there for the nonprofit in other ways in the past.
"We've teamed up with them a lot on different individuals that we've had concerns about, or they had somebody that we needed to help," Abernathy explained. "The fire department was out for the fire inspection for Heal House as part of our remodeling. ... We've had good relations with those guys forever now."
While Heal House provides immediate shelter for the homeless, the overarching mission is to give them a "hand up" to employment and permanent housing. The facility is assisting five individuals now, Abernathy said, and preparing for a possible uptick in guests.
"We'll have more phone calls going into winter," she said. "People who are homeless now might reach out a little more because it's starting to get cold."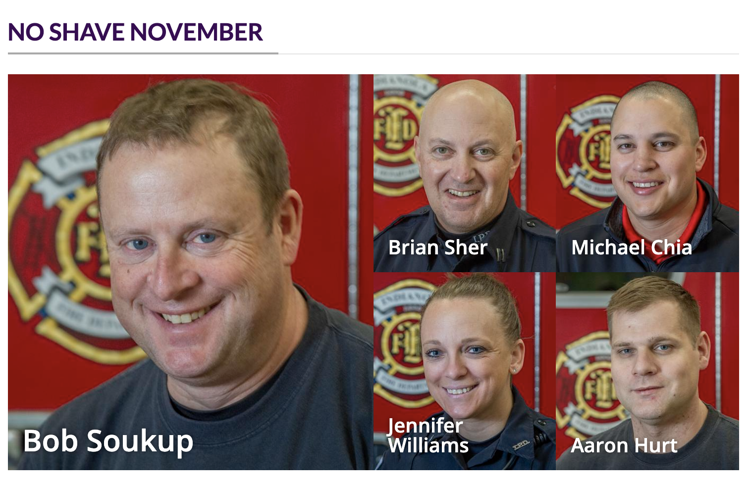 Abernathy said that the community has rallied around Heal House, from churches providing meals to organizations assisting with remodeling, to the volunteers who staff the office.
This fall, someone very special to Heal House has joined their ranks: Joe Gezel, who was instrumental in getting the nonprofit off the ground and has battled back from a heart attack and other health issues.
"Joe Gezel is volunteering in the office once a week and is enjoying it, so that's big news for us," Abernathy said.
THE ROOF OVER THEIR HEADS
As for the financial donation from public safety, it came at just the right time to answer a critical need: Not only has COVID-19 limited the nonprofit's opportunities for fundraisers, but more renovations are needed as Heal House settles into its new digs.
"We're actually meeting with a gutter contractor on Monday. … That will definitely help toward putting up new gutters on the Heal House," Abernathy said of the "We're Hair for You" funds. "There are things that pop up. 'Oh, we've got to do this.'"
An even bigger "have to" looms, quite literally, over Heal House: Abernathy said the facility needs a new roof.
"We're going to desperately need a new roof, probably in the next 12 months," she explained. "With all the work we've done, we don't want anything ruined. ... We want to make sure we'll get it taken care of before we have any damage."
If community members would like to pitch in, tax-deductible donations may be brought to TruBank at 1401 N. Jefferson Way or Heal House, 906 S. Jefferson Way. At the latter, volunteers are ready to help from 9 a.m. to noon and 1 to 4 p.m. daily.
Indianola's No Shave Team Plus — Before
Check out the BEFORE photos of Indianola police and firefighters as they kick off No Shave November campaign to raise money to support HEAL House in Indianola. We'll be back in a month to check out their after photos.
But even in the midst of those challenges, "we're slowly but surely getting there and developing the program," Abernathy said. For instance, a sixth person was living at Heal House, but has since found employment and permanent housing through the nonprofit.
The ones still there enjoyed Thanksgiving meals donated by the Indianola Police Department Community Outreach Program, the youth group at Saint Thomas Aquinas Catholic Church, and Bussanmas Heating and Cooling.
"They just feel grateful that we're doing everything we can to help them out," Abernathy said. "We hope that these five that we have can get into permanent housing."
Sher said that all of these factors put Heal House on the map as the first nonprofit to benefit from "We're Hair for You."
But next November? He hopes that police and firefighters will find another reason to get a little woolier, or add a bit of color to their tresses, for a month.
"Being our first year doing this, and being that they just got up and running in August, we figured they could use some startup funds," he said. "Next year we'll pick another Indianola charity like Heal House to do the same thing."