It's a celebration 175 years in the making.
The Log Cabin Festival will return this Saturday, Sept. 25, from 10 a.m. to 4 p.m. The beloved community event is organized by the Warren County Historical Society and serves as a fundraiser for the nonprofit.
For the second year in a row, it will be a single-day event, but it will include new events, a revamped parade route and revised COVID protocols. It also boasts a monumental theme: "Preserving 175 Years of Warren County History."
The county was first surveyed in 1846, the same year as Iowa's founding, according to "History of Warren County" by Gerald Schultz and Don L. Berry.
"This is the 175th anniversary of Iowa becoming a state, so we've kind of borrowed that theme," said Kristi Porter, one of the event's organizers.
Except for the parade, all activities will be held at the Warren County Historical Museum and grounds, 1400 W. Second Ave. While the pandemic was responsible for abbreviating the event from two days to one in 2020, now it's an issue of needing more volunteers.
"There's conversation — some discussion — that it may become permanent," said Porter of the one-day format. "It takes an effort. We want to maintain it and not burn out our existing volunteers."
To lend a hand, with the festival or otherwise, call the museum at 515-961-8085 or email contact@warrencountyhistory.org. In a typical week, the building is staffed from 9 a.m. to 4 p.m. on Thursdays and 9 a.m. to noon on Saturdays.
But even abbreviated, the festival dating back to 1973 will still kick off in the most traditional of ways: A parade winding through Indianola starting at 10 a.m.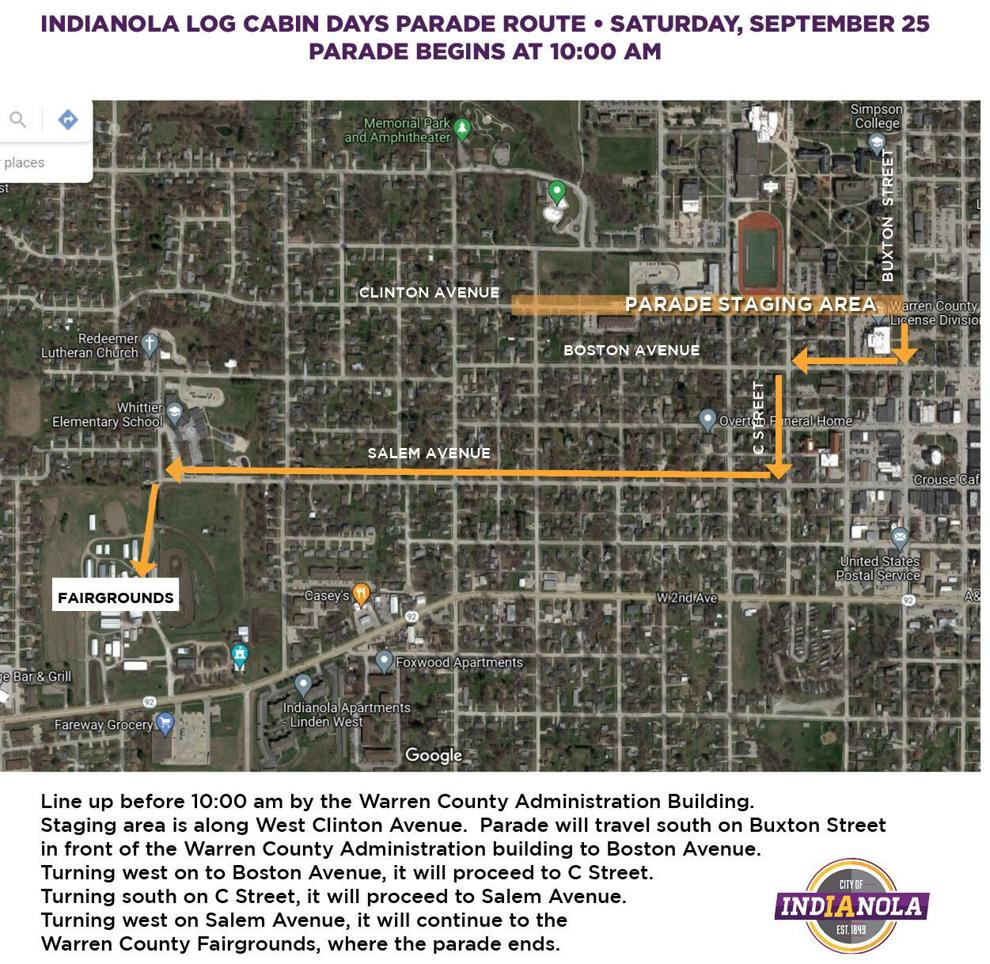 With the Square under construction, this year's procession will follow a new route. From the Warren County Administration Building at 310 N. Buxton St., it will head west on Boston Avenue, south on C Street, and west on West Salem Avenue, ending at the Warren County Fairgrounds adjacent to the Warren County Historical Museum grounds.
"There will still be awards for best theme, historical best and merchant's choice," Porter said. "That's always fun."
New events will include a cow-chip throwing contest at 11 a.m. and the 1 p.m. dedication of a replica of the Iowa Suffragette Wagon, which also will take to the streets in the parade.
Other longtime favorites will be back as well, from a quilt show in the South River Meeting House in the Heritage Village, to the Ackworth Garden Club's sunflower and pumpkin contest.
A massive garage sale featuring donated antiques as well modern-day treasures will be held in the museum's dining room. Contributions will continue to be accepted there from 9 a.m. to 4 p.m. on Thursday, Sept. 23.
COVID protocols will again be in place to help keep the event as safe as it is fun. Masks will be optional for those fully vaccinated, while those unvaccinated are asked to mask up.
While the pie auction will again be on hiatus, Ron's Grill Shack will offer cookout favorites to satisfy any appetite. Plus, the quilt raffle will continue to stitch together some fun.
"This year's quilt raffle is going to be worth every dollar you spend on your tickets," Porter said. "It's just gorgeous."
And created by a local youth quilter with the skill of an old soul. Lilly Spain, 13, pieced together the 75-by-95 inch quilt in a Log Cabin pattern with a Barn Raising layout. It will be quilted by her grandmother, Deb Simpson.
Tickets will be available, one for $2 or 6 for $10, at the museum, which will have special hours Thursday and Friday this week. The Stitching Place, 127 N. Buxton, will also carry tickets, as well as the quilt on display until Friday afternoon.
Youngsters visiting the Log Cabin Festival will have plenty to keep them busy, too.
The General Joseph Warren Questers, a local group focused on preserving history, will host scarecrow making under the campground shelter, where there will also be kid-friendly games.
Want a memento of the day? Large wooden scenes with cutouts for visitors' faces offer the perfect selfie setting. Deb Taylor, past president of the Warren County Historical Society, created the ear of corn, Model T automobile and more.
Or, find a treasure to take home while browsing craft vendors. In the past, they were located in buildings rented on the adjacent fairgrounds, but now only a limited number will be set up on the museum grounds.
And, of course, the Log Cabin Festival is a chance to stroll through Warren County of yesteryear. The two-story Warren County Historical Museum will be open, including the model railroad display downstairs, as well as the Carver Museum and Heritage Village.
The McKee Log Cabin, an authentic pioneer home relocated to the Heritage Village, is of special note this year. The Historical Society is working toward preserving the structure, which needs a foundation and new roof.
Even those familiar with the property will find new artifacts sure to spark the imagination, said Porter. One of her personal favorites is an afternoon tea dress dating to the 1890s, donated by Connie Godwin and painstakingly prepared and displayed by volunteer Susan Graesser.
"It's fun to imagine a young girl in her late teens or early 20s preparing for an afternoon tea," Porter said.
To find out how a gown once sported at the Hubbell Mansion in Des Moines — now Terrace Hill — came to be owned by Godwin's aunt, the head housekeeper in the mansion, be sure to find it at the museum.
Check out the Warren County Historical Society's website or Facebook page for more about the Log Cabin Festival and other special projects and events.
"History matters," Porter said. "We ask ourselves who are we and why are we here. I believe we're here to honor our ancestors, to learn from their experiences, and to move forward from there."