Coaches, teachers, reporters and community members have long worried "what would the Indianola High Schools activities office do without Celeste Gebhart?
Well, we're about to find out.
The long-time secretary in the office is retiring, with her last day Friday, Feb. 8.
That wasn't her original plan.
"I had told myself I was going to be done at the end of December of 2018," she said. "But it got to be December of 2018 and it just kind of snuck up on me."
And so now, the activities department and all of the teachers, coaches and people who work with it, will have to figure out how to go on without her.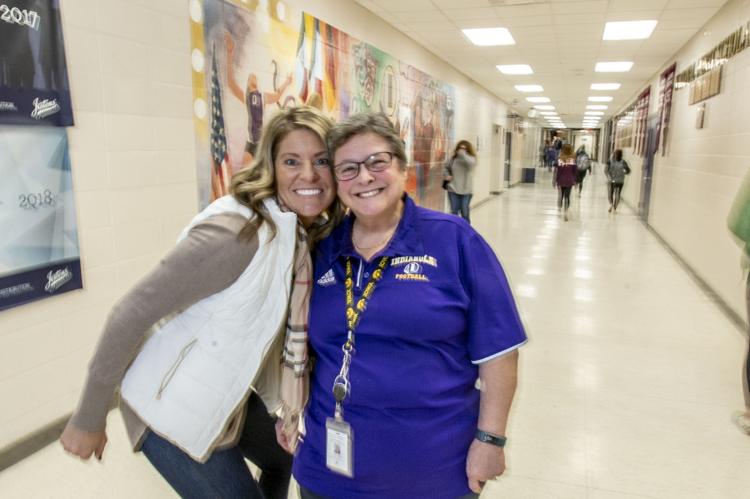 They know it won't be easy.
"Celeste has been the glue for over 20 years," said Bernie Brueck, former activities director and current facilities director. "She is the 'go to' person when you have a question in the activities department. She has made a difference not only to the adults she worked with, but to the thousands of students who have walked the halls of Indianola."
"Every program has a 'behind the scenes' team that allows a coach's job to run smoothly," said Stacy Evans, Indianola softball coach and AIW coach at the high school. "Celeste was more than that she was the 'backbone' of all of our programs. Her hard work and compassion for kids will be greatly missed and hard to match! "
"Celeste is the most selfless employee that I have had the privilege to work with," added Brett Watson, boys basketball coach and high school teacher. "Celeste is an extension of every high school activity program and a major contributor to the success of Indianola activities."
Describing Gebhart's job isn't easy, even for her.
"I've tried to put down on paper what I do on a daily basis, on a monthly basis, on a yearly basis," she said. "But there are so many automatics that I do that I don't even consider. You know, you just do it."
That can include making sure there is pizza in the press box for a football game, ticket takers at the door, programs for events, paperwork for students, helping coaches with programs like end-of season-awards and arranging for academic awards.
"It's all encompassing," she said.
Randy Stone, a high school theatre teacher with a classroom near the activities office, summed it up.
"If you needed anything from a paper clip to a senior citizen game pass she was the one to go to," he said. "At IHS if she didn't know the answer it was not worth knowing."
Gebhart acquired that knowledge over years. She graduated from Indianola High School in 1974, but 10 years later was back, this time as an associate for a special needs student, work she continued for years. She later spent a semester at Irving, then returned to the high school where she worked in the main office, then the guidance office, then in the attendance office.
When Jean Bunting, the former long-time activities secretary retired, she took the job and has been doing it for 19 years.
"I tell people I've done everything but drive a bus and serve lunch," she said. "Whatever needed to be done, I did."
The people she works with have noticed. But they say that's not what they will miss most about her.
For Watson, it will be her smile and her willingness to help. For many, it will be the spirit she brought to her job, and to the district.
"If I were to guess, Celeste has probably attended more activities over the years than anyone else in Indianola," said Brueck. "That alone tells you how special she has been to our district."
"The amount of support she showed for our school, community and various programs along with the way she treated all the students she served will be missed more than anything else," said Lee Nelson, current activities director.
For years, activities have driven her day, said Gebhart. She has scheduled around school plays, music concerts and sporting events of all kinds.
Out of all of them, football has been her favorite.
"I don't know why," she said. "I think maybe I have a linebacker mentality. I want to get in there!"
Her husband, Bob, has been retired from his job as a sheriff's deputy for six years, she said. But he's been on the job with Gebhart, said Brueck.
"Many nights Bob is in the stands or is helping out behind the scenes," said Brueck. "The two of them make a great team and I'm glad they have been on our team as life-long Indian Fans."
That won't change, Gebhart said.
"Indianola has been in my heart for years," she said. "I've always been a fan."
And she always will be.