While Alex Powell's friends are collecting Division 1 sports resumes, the Indianola High School senior has one thing they don't have.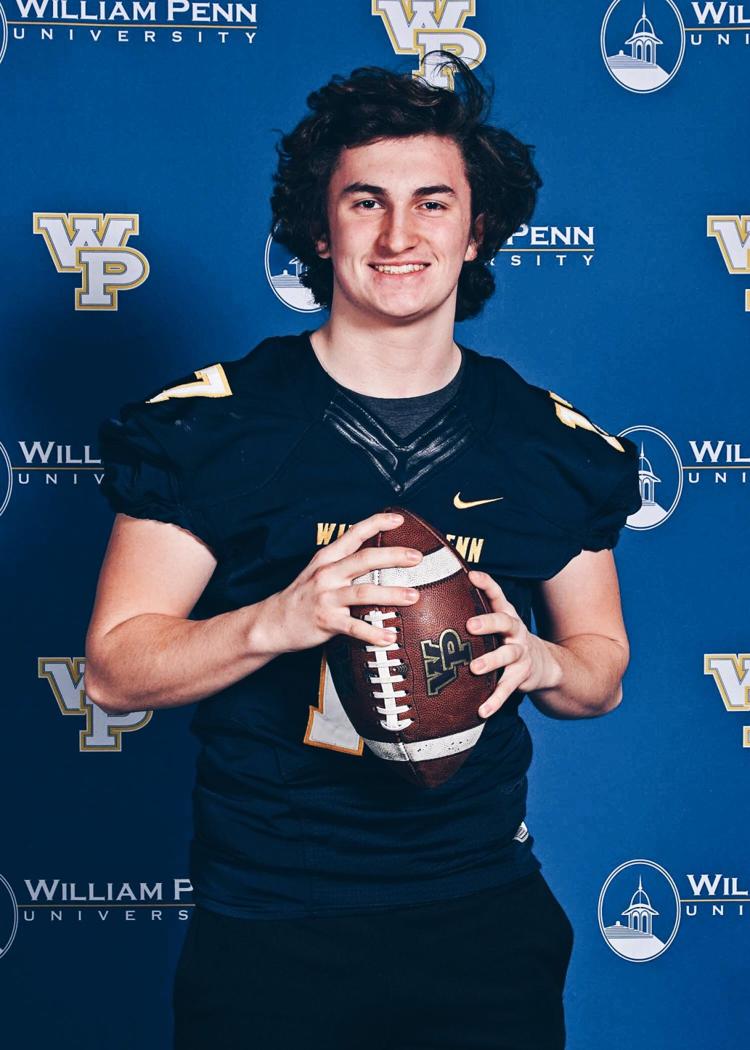 A feature in a national sports magazine about him and his work.
Powell, who will graduate from Indianola in May, was the subject of a February feature in The Athletic, a national online magazine about sports.
"Meet the 17-year-old from Iowa behind some of college football's biggest edits," read the headline, which went on to detail Powell's successful business creating the photos, also known as "edits" for national football recruits, and his aspirations to play college football himself.
An edit, explained Powell, "Is just like a graphic that people can take and post to social media."
Powell creates intricate and unique graphics that athletes can post on social media to announce the colleges they might attend, the schools they will attend or the schools they are transferring to.
He's made more than six dozen of them to date, with is working earning him some time in the national spotlight.
Powell's graphics start with a photo of an athlete and a color scheme often driven by the schools the athlete is considering. He may use a smoky background to add drama to the picture. The artwork could include an inspirational saying or the athlete's name and number.
When he's done, Powell has created what looks like a poster. Instead of printing the picture, though, the athletes use the art as online marketing tools.
They've been used by some of his former teammates, classmates and friends.
Evan Gauger, an Indianola basketball player who committed to the University of Northern Iowa, used one of Powell's designs to announce his decision to his online followers.
Former Indianola basketball star Grace Berg, who recently transferred from the University of Missouri to Drake, used a Powell design to announce her move online as well.
In all, Powell has made more than 80 of these photo "edits," which can be viewed on his web site at alexpowellart.com.
His business began when he was 13 and got an Instagram account. A friend showed him a college football uniform account.
"We both thought it was like the coolest thing," he said. He created his first edit the night Jamais Winston won the Heisman trophy in 2013.
It was nothing to write home about, he recalled. "It was an overly-filtered photo of him with his name written on it, and it was misspelled. It was really bad."
But he got better, eventually landing a part-time gig working remotely with Portland State, an FCS Division 1 school in Oregon, where he creates edits for their new recruits and promoting their program. He also works part-time for Gradient9 Studios in Indianola, which provides a different experience.
"Working there I got an idea of what's like inside," he said. "I work in sports right now, but I'm an outsider because I don't work in an office."
While those jobs pay, he provides the edits for sports figures for free.
"By not charging, I can pick and choose who I want," he said.
Often, the athletes want him to include a "jersey swap," in which he takes a photo of the athlete in one uniform and puts them in the uniform of the school they have committed to or are considering attending.
"They don't have a real one, but this is as close as they can get until they actually join the team," he said. "A lot of them find that really cool."
Each uniform swap takes a little over an hour, then he puts the image into an overall design, which takes another hour or more. In a weekend, he can do about three complete edits. He squeezes about 15 edits a sports season into his schedule as a senior in high school, basketball player and now, football recruit.
He recently committed to play football at William Penn, an NAIA school in Oskaloosa, fulfilling a long-held dream.
He had planned to attend Arizona State and was about to pay his fees there when he got a message from the William Penn football coach.
"It was kind of a dilemma," he said. "If I went to William Penn, I'd get to play college football, which had always been a dream, but if I went to Arizona State, I'd get away from the snow, which I hate.
"I don't want to look back 10 or 20 years down the road and think, 'I should have played football,' so I pulled the trigger."
Powell admits he sometimes worries about the choice. He will play defensive back, but at 5' 9" and 165 pounds, he knows he will have to get bigger to compete in college.
Whatever happens with his football career, he'll continue his artistic one, majoring in digital communications and perhaps helping the university with its athletic art.
Eventually, he'd like to own his own marketing company and perhaps become a college creative director, creating promotional materials like billboards, posters, tickets and, of course, promotional materials for potential athletic recruits.
"They make designs for recruits to coax them into coming to their school," he said. "Schools are really learning now that if they want to get these big-name recruits, they're going to have to send them some kind of cool pictures."