At-large candidates for Indianola City Council Steve Richardson and Randy Bickham faced off Thursday night at a forum held at the Black Box Theater in the Kent Center at Simpson College. The event was broadcast live on KNIA and Facebook. Independent Advocate publisher Amy Duncan moderated. Questions were not made available to the candidates before the forum, and Duncan prepared them from suggestions sent in by voters. Candidates got two minutes each for opening comments and two minutes each for answers.
Steve Richardson enters the race as a long-time resident of Indianola and former city council member, serving from 1990-1996 and from 2006-2010. He was also elected three times to the Iowa House of Representatives in a district covering the northern half of Warren County including Norwalk, Carlisle and Indianola.
Randy Bickham is running as a bit of a political outsider. He's lived in Indianola for more than 16 years and all of his seven children have attended Indianola schools. He's been actively involved in music, sports and his church. He has a background in technology and computer programming.
"I wanted to be able to give back to Indianola — it's been a wonderful home for my family," Bickham said.
Richardson lives in his childhood home, circa 1959. He said his elderly neighbors are some of the folks he thinks about when it comes to decisions the city makes. He said during his time on city council, he voted to expand police, fire and EMS services, curbside recycling and more.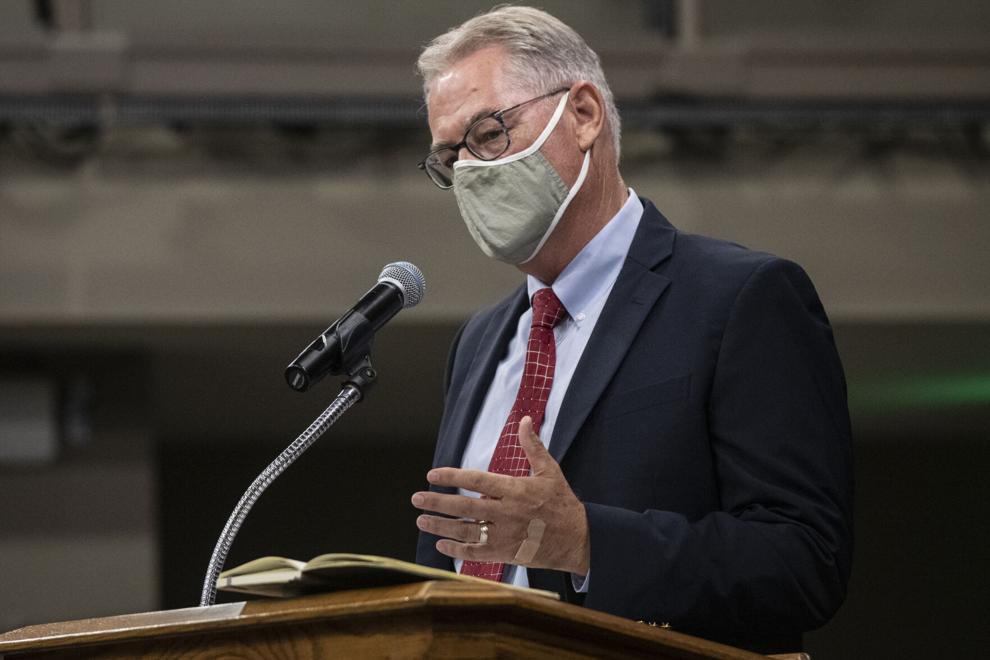 Both candidates said that while Indianola can benefit from partnerships with other entities in the Des Moines metro, it's far enough removed to retain unique qualities.
"When we started growing in the 70s and 80s, it became more important for us to be involved with things going on in the metro," Richardson said.
For Bickham, housing is an asset Indianola can offer the area.
"What Indianola offers is, we really are our own community," he said. "The boundaries haven't meshed together yet and we have a distinct identity."
Duncan asked the candidates their thoughts on the city's budget.
Bickham praised the city's debt ratio and city manager Ryan Waller's work.
"I would like to see us being able to take the money that we have coming in, working with the budget we have, and appropriating the funds to the areas that need it," Bickham said. "I know we have an old infrastructure that we're going to need to be looking at."
He said that while paying taxes isn't fun, he looks at the services that money goes to support.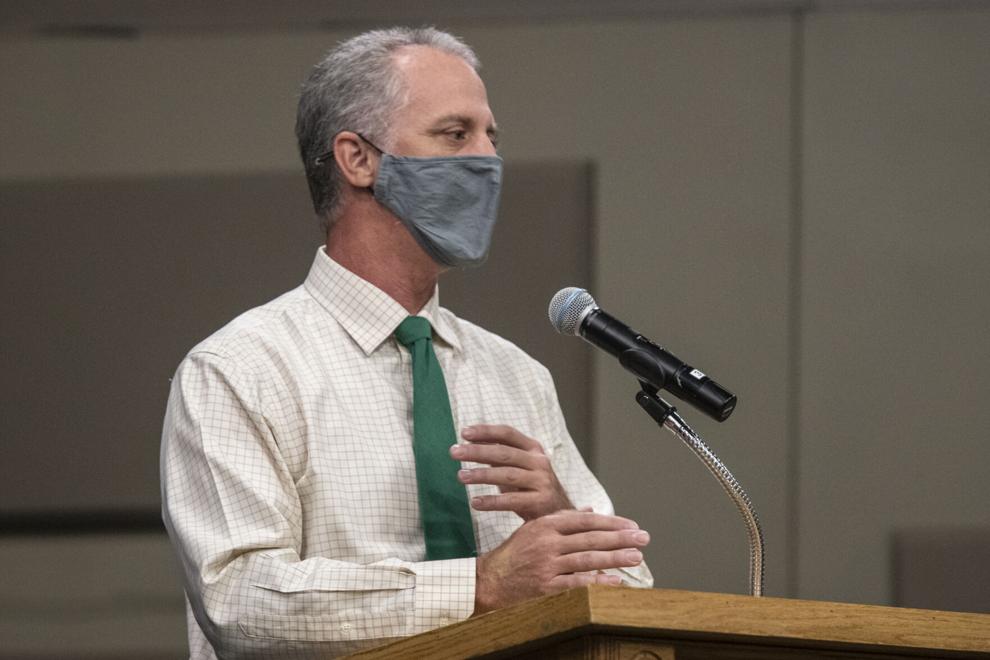 Richardson said he bicycles every morning and has noticed the deteriorated condition of the roads. While on the city council in the mid-1990s, he supported asphalt overlay to prolong the life of these roads. He encourages the city to make further repairs to the concrete, as well as look at how it can best spend funds from the American Recovery Act.
Duncan asked the candidates their beliefs on how the city and IMU (Indianola Municipal Utilities) board should interact. She noted that Richardson's wife is an IMU board member.
Richardson jokingly said he couldn't build a wall in his home. He did however note they've consulted legal counsel and retained a lawyer to evaluate conflicts of interests.
"Basically, it came down to the fact that as a city council member I would have to abstain whenever we were appointing people to the IMU board," he said.
He said he'd like to see communication improve between the board and city council, noting that during his experience on city council, the entities would meet once or twice a year to "work though the issues."
Bickham's dad was an electrician for their local power company and he grew up exposed to that industry.
"As we look at the contentions and some of the disagreements that have happened between the IMU board and the city council, I think a large portion of it really comes down to some of the communication between the areas," he said. "I understand what it's like to be kind of that subsidiary, having to report to a parent company. You've got things you want to do and then you have to work with an outside governing body."
Bickham said when the city changes its position on such a topic, he'd want to make sure the community understands why, and seek input.
"The city took this opportunity — they had the funding available in this other area — and they said okay, we have the community saying we want to make this area beautiful and we have this funding available," he said.
Richardson said he had been a supporter of using all that money for the wastewater treatment plant "but that ship sailed, we are down the road now, so the bonds are going out and we're going to use that money, a certain portion of the money to pay for those bonds."
He'd like to keep focused on Streetscape, streets and sewers.
"As far as additional funding, I'm not sure where you would have gone without raising taxes," he added.
Both candidates said people concerned with the rising cost of property tax, have to consider these factors: assessments, rollback the state uses, and the tax rate.
For Bickham, a good way to address climate change is to add more green space to Indianola. Richardson would like to consider solar options. He said the new wastewater treatment plant is more energy efficient, too. He encourages people to take advantage of energy audits.
Richardson said that during his time knocking on doors, he thought voters didn't fully understand the issues being voted on.
"My approach will be this: I do ask questions — that's what I've done throughout my political career — try to educate myself. A lot of times in packets of information you don't get all of the information that you might (want), or have questions as you go through that process," he said.
Bickham said listening is key to communication, as well as allowing people time to speak and express their opinions.
Both candidates said construction of a new library is a worthy endeavor, but it might be best for the city to stay focused on its current projects so taxes don't increase. Thinking outside the box was also proposed.
Bickham said requests for public information could be streamlined with more options to request records digitally, and by attending city meetings virtually. Richardson said some older folks are hesitant to use the Internet and speak up at council meetings.
When asked what would be their biggest challenges if elected, Richardson said the elephant in the room is a divide in the community.
"I can work with about anybody," he said. "I've got supporters on both sides of the issue."
He said rumors of him trying to "get rid" of the current city manager are false.
Bickham said the community has become more polarized. But, he said extremes in beliefs are not unique to Indianola. He said his work has allowed him the chance to interact with people globally and given him an understanding of diversity.
A forum for Ward 2 and Ward 4 candidates will take place at Trinity United Presbyterian Church at 7 p.m. Monday, Oct. 11. The final forum will be held at the church at 7 p.m. Thursday, Oct. 21, where the 10 people running for Indianola school board will speak.