Candidates for the Democratic nomination for president weren't the only ones racing around Iowa in the lead-up weekend to the first-in-the nation caucuses.
So were caucus tourists, in Iowa for days or just hours to get the flavor of the caucuses.
So many of them were at Simpson College that one reporter confessed he was having a hard time finding Iowans to interview after an event for Vermont Sen. Bernie Sanders Saturday.
"I'm very interested in politics, so I came to the United States to listen and learn," said Fredrick Rumso after the Sanders event. Rumso said he had traveled from Sweden to spend three nights in Des Moines following candidates.
"The United States is a very important country to follow and see what happens here," said Rumso. "We are very dependent on the United States."
A group of almost 40 Australian students from the University of Adelaide have been living at Simpson College for two weeks, following the caucus process.
"We've seen quite a few rallies for different candidates," said Emily Woodcock. "Every single one is different, highly intriguing. But we came into this with no knowledge of what a caucus was. It's a whole new way of viewing politics."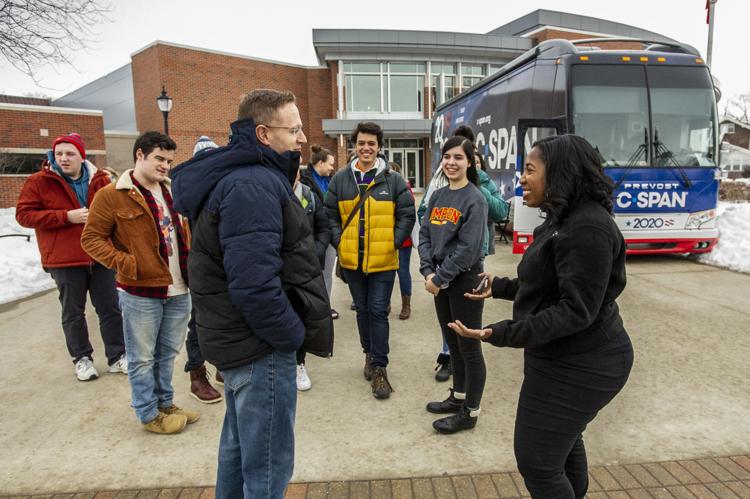 "It's quite unlike anything we have in Australia at all," added Fergus Teh, one of the students.
In Australia, voters cast their ballots for the party, he explained, rather than individual candidates. The party then chooses a leader who leads the nation if his or her party has the most seats.
"We tend to follow U.S. politics more than we follow our politics back home," said Mariah Lattas, another Australian. "It is so much more interesting. And there is so much attention and participation in the politics here. We hear a lot, because you are such a big ally, about the US, so to see the contrasting differences compared to the system back home, it's just been so fascinating."
Members of the group had seen former vice president Joe Biden, former South Bend, Ind., mayor Pete Buttigieg, Andrew Yang, President Donald Trump and former Illinois Congressman Joe Walsh, among others. Lattas was one of five people chosen to ask a question at Sen. Elizabeth Warren's event Sunday. Like other members of the group at earlier events, she asked about climate change in light of the fires burning in Australia.
While they're not hearing candidates speak, the students could attend some classes on campus, tour Iowa media locations or try the food. Lattas said pecan pie was a delicious new addition to her menu.
Teh was one of several people who filmed a short Twitter message on the C-SPAN bus Friday as it sat at Simpson College. The messages run like commercials on the network, which doesn't run any traditional commercials. The idea is to let lawmakers know what people would like to see candidates address, explained Jenae Green, a C-SPAN marketing representative.
Teh told lawmakers he wanted them to address climate change.
"From the Australian perspective, bush fires have ravaged our nation quite heavily," he said. "I know there are quite a few more direct issues in America right now, but in terms of a global and even national scale here, I think climate change really needs an overhaul."
The bus has been travelling the United States since 1979 to tell people that they can find "unfiltered" news, said Caroline Wertz with C-SPAN. Wertz explained that the channel runs political events from beginning to end. Many people find that relaxing, she said.
"We actually hear a lot from people who are like, oh, we're glad you're here because we just get tired of hearing the shouting," she said.
The bus has been visiting campaign events in Iowa, as well as middle schools and high schools around the state. While the seats on the bus are comfortable, Green said employees don't actually ride the bus around the country.
"If you were a middle schooler, I would say 'yes, the bunk beds are in the back, the hot tub is upstairs,' and your eyes will get big and you'll get really excited," she said. But in truth, staffers fly into a central location and then drive separately to wherever the bus is headed that day.
The bus, after all, doesn't have seat belts.