Candidates for Indianola Wards 2 and 4 faced off Monday night at a forum held at Trinity United Presbyterian Church. The event was broadcast live on KNIA and Facebook. Independent Advocate publisher Amy Duncan moderated. Questions were not made available to the candidates before the forum, and Duncan prepared them from suggestions sent in by voters. Candidates got two minutes each for opening comments and two minutes each for answers.
Ward 2 incumbent Bob Kling and his opponent Ron Dalby answered a series of questions, as well as Ward 4 candidates Christina Beach and Rod McKelvey, who are running to replace council member Greta Southall, who is not running for re-election.
Beach kicked off opening statements by telling those assembled that she's lived in Indianola her entire life. She said Ward 4 has been the least involved ward when it comes to voting and actively seeking out improvements.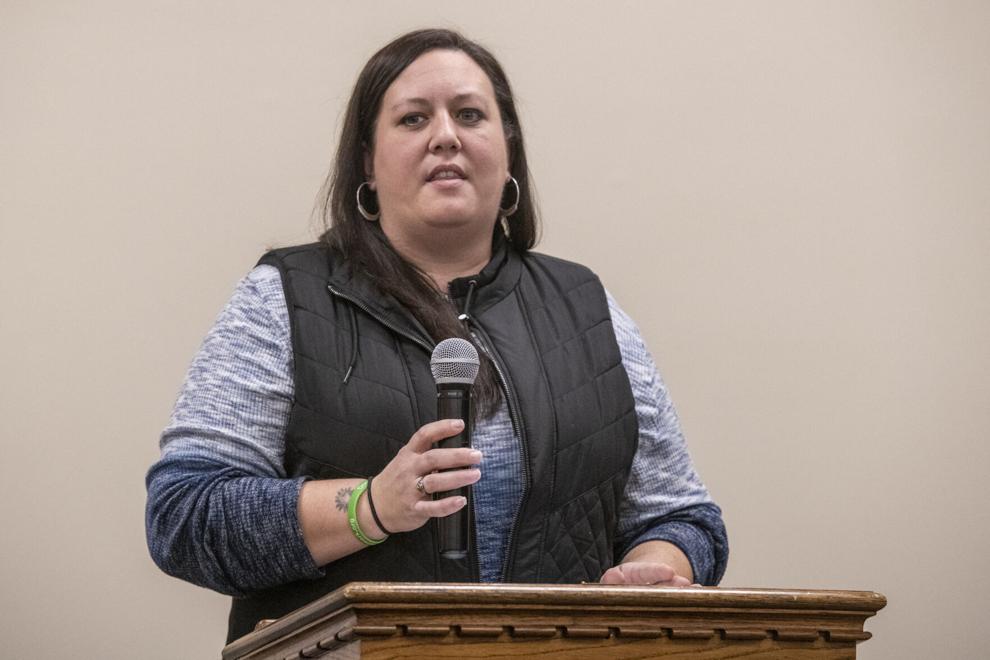 "That's something that I really want to fight for and get more of the people in our ward involved, and I hope to do that by being someone that they can actually come to — somebody who will listen and fight for them," Beach said.
McKelvey, a native of Ottumwa, is a soil water conservationist and has worked in sales. He said through his job putting petroleum-based products and dispensaries in different communities, he's worked with an array of city officials.
Kling, who currently sits on city council, is an award-winning retired teacher originally from Shenandoah.
"I love this community and I'm here to serve you and this is my way of giving back," Kling said.
Dalby is originally from Liberty Center and is a graduate of Southeast Warren High School. He's worked in the mortgage service industry the past 24 years. He said Indianola has been an amazing place to raise his family.
"Putting your name out there for public office sometimes is not easy, but it's a blessing to be part of this republic that we live in and be able to have an opportunity to run for office," Dalby said.
The candidates were asked to think into the future about how they'd want the public to perceive their time on city council if elected (or re-elected).
Dalby said he has a passion for small businesses to thrive. He said he'd want folks to remember his efforts advocating for economic development and working to get rid of roadblocks and red tape.
Kling said the city has done a good job of bringing developers in and working with businesses. He said the town was the city of "no" in the past when it came to development because Indianola didn't have a tax abatement on new construction. That changed in 2018.
McKelvey said he'd want his legacy to reflect his ability to listen, break down barriers, get things done and keep taxes in check.
For Beach, she said she'd want to be remembered as someone who kept her word and fought for affordable housing and bringing more jobs to the community.
Duncan said that while the City of Indianola appoints but does not control the Indianola Municipal Utility board, there have recently been some contentious meetings between the IMU board and city council.
Kling acknowledged this, but said it's the mayor who appoints the board. City council members only vote yes or no to the appointments.
"I understand IMU wants to be its own independent organization, but it still has to be responsible and accountable to the city," Kling said.
Dalby said that the most recent meeting in which the two entities interacted was "ugly." Beach called it "Appalling. The back and forth was ridiculous — should have never happened that way. I personally think IMU should be separated."
McKelvey said communication is key.
"A lot of this is new to me," he said. "I'm not a politician. Trying to get up to par on all this stuff has been difficult at best. But I do believe we're all in this together."
When asked about what the city could do to mitigate the effects of climate changes, most of the candidates agreed solar power could be a good option, as well as ride share programs and creating more green space. Dalby had some different thoughts.
"Wind power, solar power, I feel are extremely costly forms of energy and the systems that are installed to gather and harness these forms of energy are not a forever system," he said.
He said he'd like to see more data about these forms of energy, but did agree energy audits could be beneficial.
The city is looking into constructing a new city administration building and library.
The candidates said they think it would be best to finish current projects before starting any new ones due to costs. Kling did note that the city council itself could not alone decide to proceed on these projects; it would be left to the voters to approve a bond issue to pay for the improvements. He said the fire and police departments also are in need of new dwellings.
Duncan noted that at the recent forum for at-large candidates, both Steve Richardson and Randy Bickham said they believe there is a deep divide in the community. All candidates said communication is key.
Kling said Facebook has been a source of misinformation on the Internet. He also said people on the Indianola Community Page have used derogatory language about him.
"I haven't had time for that because none of these people have ever called and talked to me or asked my opinion on anything," he said. "I have always been honest, open and transparent."
He said he'd like people to call and speak with him directly to voice any concerns.
Dalby and Beach said people don't always feel comfortable speaking at meetings, attending them or contacting their elected officials.
Dalby quoted from the city's policies and procedures manual. He said elected officials must contact the city manager to then get connected with the proper staff member before visiting with a constituent.
He said he believes this requirement hinders open interactions.
Beach said if elected, she'd try to direct more city information to younger generations.
"We have to adapt. We can't just say it's the old way or no way. We have to make that younger generation comfortable coming forward," she said.
Kling said the Covid-19 pandemic has resulted in a drop in meeting attendance by the public. He said it would be nice if the meetings could be made viewable on IMU's television channels. He also said he likes the system of people filling out forms at meetings, stating what they wish to bring up. Dalby said he thinks those things are barriers and restrictions at meetings.
McKelvey said there could be improvements to how meetings are marketed. He encouraged folks to invite their neighbors to go to meetings.
The final forum will be held at Trinity United Presbyterian Church at 7 p.m. Thursday, Oct. 21, where the 10 people running for Indianola school board will speak.