A Connect with Your Congressomwan event with Rep. Cindy Axne (D-IA3) in Norwalk got started before the opening remarks even began Monday.
Axne walked into the shelter at North Park saying that she was working to get Hwy. 5 designated an interstate, a declaration Norwalk council member Brian Baker said is key to drawing businesses and hotels to the community.
"It literally is just a box checked by manufacturers around us," Baker told Axne. "They need to be within a designated area of an interstate, for them to look at going. The fact that it's a four-lane, separated highway doesn't mean a thing. It's not designated an interstate."
Kate Baldwin of the Norwalk school district thanked Axne for her work helping Warren County access federal money for bridge construction projects.
 "Warren County is trying to replace a bridge on R57 and it's difficult to prioritize those things on local property taxes," Baldwin said. "You've been very helpful in giving us access to federal money."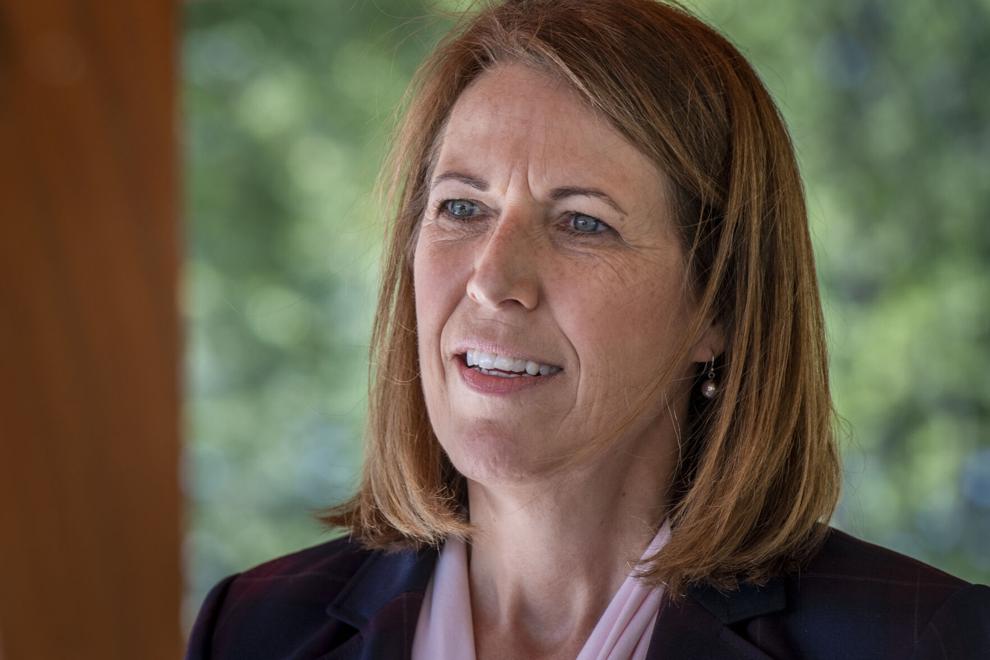 Baldwin, Baker and Sheila Hansen of Common Good Iowa, were the only constituents to attend the meeting — outnumbered by Axne's staff and by media. But Axne still listed off her accomplishments in recent months, and the things she said she and other Democrats hope to achieve in coming weeks.
"We're getting a lot done in Congress," she told the group. "I want to put some parameters around that and explain what's happening."
Axne said that in recent months she was able to add protection against derechos to WHIP Plus ( wildfires, hurricanes program), which didn't have derecho coverage in the past, along with $10 billion to cover loss of crops and help farmers who had losses in the storm.
The Congressional budget justification transparency also was signed, which includes documents that explain how taxpayer dollars will be used, she said.
"We're trying to create a more transparent government for the people that we serve, and it's time that that happened," she said. "Too many Americans don't know what's happening, and they're operating based on what they might see. And we want to make sure that they can go to the real source and understand what's getting done."
But Axne focused heavily on the infrastructure bill and the Build Back Better Act, both of which are currently on hold in Congress.
Hansen asked if Axne thought childcare funding would "survive the Build Back Better negotiations?"
"Oh God, I hope so," she responded. The problem, said Axne, is for supporters to coalesce around a specific methodology for the entire country.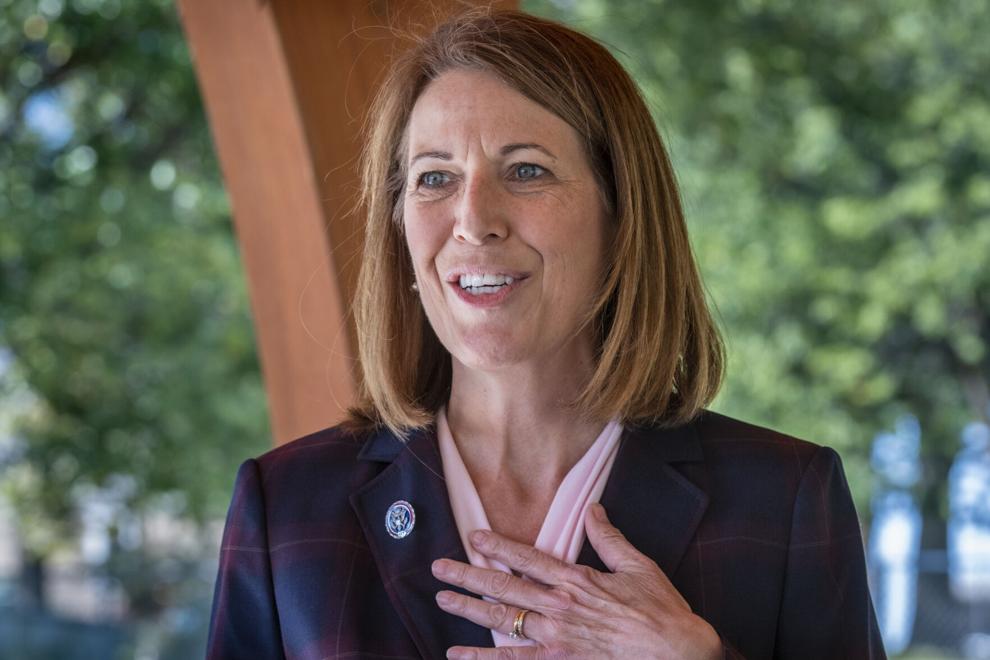 "Some folks want to say, well, we'll put it as no more than a percentage of income,
 she said. "Others want it only to be certain certified childcare centers. There's not a magic solution for the whole thing, and that's what's making this probably one of the more difficult pieces to figure out."
But Axne argued that it's key to figure out, saying that she is hearing from business owners who can't hire certain employees because they lack childcare and from older women who are leaving the workforce to care for grandchildren when their parents can't find childcare.
She also cited the challenge of paying childcare workers a living wage.
"Until we're supporting our caregivers in a way that shows we actually care about them, we will struggle to find the people that we need and back that with pay and support," she said.
Axne also expressed full throated support for expanding access to broadband across Iowa.
"I'll put a shovel in the ground and start digging," she said. "It's been our children sitting outside a McDonalds at night so they can get connected and do their homework at night. Unacceptable."
While access is often the challenge in rural communities, people in urban communities sometimes can't pay for it, she added.
"Broadband isn't just about the non-served and the underserved, it's also about the cost. And so that's what this bill does," she said. "Once again, it's another great piece for Iowa."
And Axne said both the infrastructure bill and the Build Back Better Act will pass.
 "Sometimes the sausage making isn't the prettiest, and it isn't the easiest," she said. "I want you to know that this is happening, that we are all working together to make sure that we pass both parts of this."
Axne said the bill includes $1 billion for biofuels and a nine-year extension on the biodiesel tax credit — a combination that she said will provide good jobs for Iowans while lowering greenhouse gas across the country. The bill also includes $1 billion for Iowa housing.
"I can't tell you how often I've heard about the need for affordable housing in this district," she said. A separate bill, the rural equal act, she added, allows USDA loans that were given as part of COVID relief to be forgiven just as paycheck protection loans were forgiven.
Axne said that the bill for the programs will be paid largely by taxpayers in New York and California who pay higher tax bills. The expense, she added, will be spread over five to 10 years, depending on the program.
"This is not an additional massive expense for this country," she said. "It's an investment that we will see a return on and Iowa is poised to see one of the best returns in the country.
"We want to get this done as quickly as possible," she continued. "But we want to get it done right. And sometimes that means taking a minute to actually do this in a way that you're not going back and trying to fix a policy down the road, because you took a minute to actually get it done right on the front end."