Pritesh Patel had a plan to renovate the Apple Tree Inn.
Renovations to the 35-year-old hotel would start in October. By the time Indianola's busy season — graduations, county fair, balloons, races in nearby Knoxville and Simpson football season rolled around — the Hotel Pommier would be ready to roll out its new look and its new brand.
A pandemic got in the way — cancelling the stalwarts of the summer travel season in Indianola and making it harder to get the supplies needed for a major construction project.
"It's been tough because on the one hand we weren't busy, so we had more time to get it right," said Patel. "On the other hand, it's not a decision we chose."
But now Indianola's renamed and renovated Hotel Pommier is ready to roll. Patel is hoping the rest of the world will soon catch up.
"I'm hopeful that a lot of weddings that were scheduled for the summer have been pushed back to October, November and December," he said. "We're hopeful. I think by spring things will probably not bounce back, but hopefully get back to a level where it's sustainable."
Already, Patel said, business at the newly renovated hotel is creeping back toward pre-pandemic levels.
"This month was a little bit better than last month, last month was a little bit better," he said.
The guests who book stays in Indianola's oldest hotel will find it almost entirely new from top to bottom after a project that was scheduled for about six months and ended up taking almost 10.
Renovations have been a regular part of the hotel schedule since his parents, Kirit and Kapi Patel, bought it in 2005, said Patel. Each year they would replace televisions, paint or take on another small project. But recently, the projects started to pile up. It seemed time for something bigger.
So they planned a complete renovation of the hotel.
They replaced wiring to create hard-wire ethernet options in the rooms, which were completely overhauled from new carpet and paint to new furniture and bedding. The only thing that remained, said Patel, was the sinks.
"At one point we had 20 toilets outside," he said.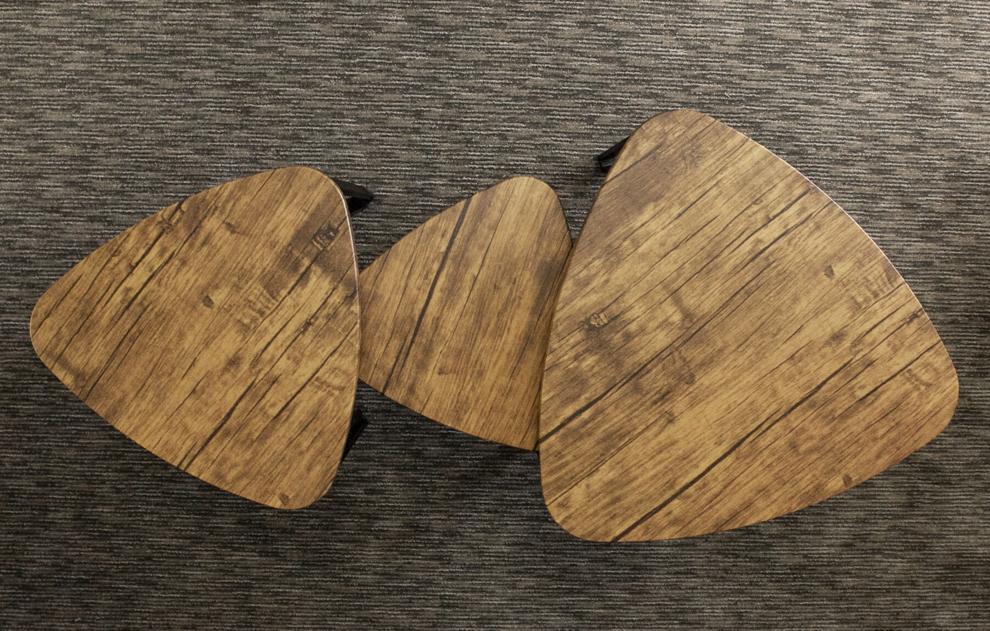 At the beginning of the project, the hotel had 60 rooms, Patel said. They took over four of those rooms to create a new entrance and larger lobby in the center of the hotel, including a new workout space with a ping-pong table and workspaces with built-in power and Internet connections. Guests can use a Peloton bike to participate in spin classes or use a treadmill where they can "run" in locations around the country.
Outside, the former entrance on the east side of the hotel became an almost 1,800 square-foot deck for guests and new drainage keeps water away from the hotel. They installed an ultimate frisbee basket in a grassy open space behind the hotel to give guests a place to play and run.
"Every inch of the hotel is now an amenity or something that guests can use or something that we can internally use for the staff," Patel said. They did not add a pool. It's been an ongoing debate for years, he admitted.
"When you look at the cost of doing that and where that gets you as far as customers and guests, they just get a pool that 50 other hotels in 20 miles has," he said. "To put that much investment into something that doesn't necessarily differentiate you, that's kind of a tough return on investment.
"We tried to introduce some other amenities that are kid friendly, but not necessarily a pool," he continued.
Among other things, they added options like bunk rooms, with one or two full-size bunkbeds suited for kids or adults.
Other rooms have a small living space with a microwave and hot plate along with a bunk room for guests working in town. Other rooms offer three double beds. And of course there are traditional rooms with king- or queen-size beds.
The hotel even features an apartment for guests staying for a long period of time.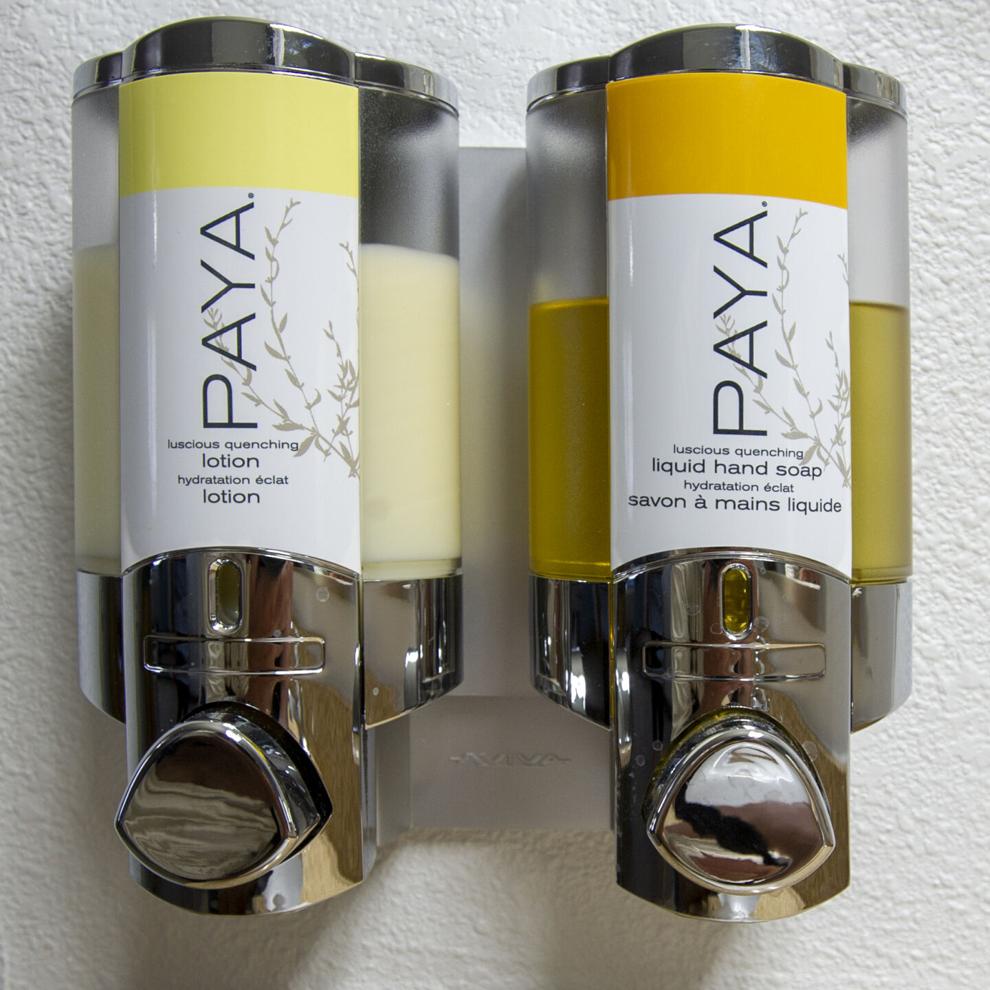 All of it is designed to set the Hotel Pommier apart from chain hotels around the metro. The owners started by thinking about what they were.
"Let's rethink our place in the community," Patel said they asked themselves. "What can we offer to guests that's different? What can we do as a hotel that's different?"
And while they wanted to update, they also wanted to keep long-time guests, who liked the comfortable, albeit dated, feel of the hotel, along with the low prices.
While the new name of the hotel was one of the last things to appear, it was actually one of the first steps of the renovation. Patel and his family worked with a branding company to help identify what the Apple Tree Inn meant.
"Why do you exist as a business? Why do customers like you?" said Patel. During the process, it became clear that while the hotel had been the Apple Tree Inn — named for the apple orchard where it was located — the name didn't define them as they wanted to be in the future.
"Since we were going to do everything from scratch, it became since we're going all this way, why not go all the way and come up with a new name?"
They didn't go far, though, settling on Hotel Pommier — French for apple tree.
"We're sticking to the roots," Patel said. "It's still relevant."
The Apple Tree Inn becomes the Hotel Pommier
The plan was not to evolve into a "snooty, five-star hotel," he said. "We're still very down to earth, local and friendly. We just want to be a level above where we were before."
The response, said Patel, has been overwhelmingly positive. "I mean, other than the global pandemic ravaging the country," he said.
The pandemic has forced some changes in operations, said Patel. They rethought breakfast, moving to a selection of individually wrapped items. They'll soon offer pancakes using what Patel calls "a robot pancake machine. It's literally the lowest touch thing ever."
They also are staggering rooms. After a guest leaves, the room is cleaned and then left empty for at least a day before another guest is checked into it. The large deck also helps guests socially distance, since groups that are in two or three rooms can congregate on the deck rather than in confined spaces, he said.
The pandemic also is delaying plans to show off the hotel to the community.
"The initial idea was, 'let's have a party. Let's bring everybody in. Let's have a balloon go up or something fun,'" he said. But with the pandemic, Patel is instead inviting individuals and businesses to schedule personalized tours of the newly renovated spaces.
He's eager to show it off, he said. "We just hope that people appreciate how everything was done and why everything was done."