Films labelled "for limited release" don't often make it to Indianola.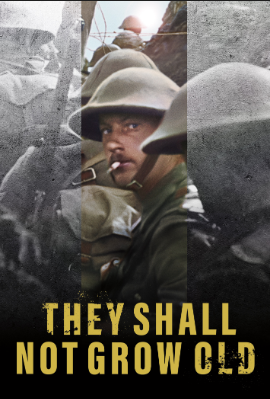 But "They Shall Not Grow Old," a World War I documentary by Peter Jackson of "Lord of the Rings" fame will play for a week at Indianola's Paramount Theatre, thanks to a request by Indianola history teacher Susan Pottebaum, and an extra effort by theatre manager Chris Kottman to bring the film to town.
Jackson took film that had been shot during World War I, cleaned it up, colorized it, dubbed in sound so they have dialogue and sound effects and transferred it to 3D, explained Kottman. The result is a 99-minute 3D film that was released in Great Britain on Nov. 11, 2018, the 100th anniversary of the end of World War 1, before showing in a few theaters across the United States.
Now to include Indianola.
"It's a crisp, clean picture that really pulls you into the front lines of the war," said Kottman.
That's exactly what Pottebaum was looking for.
"I'm trying to make war more relevant than Fortnite or whatever the kids are playing," said Pottebaum,. "They've lost their grasp on how violent and deadly war is."
Jackson's film will bring that home, said Kottman.
"They do not pull back on the brutality of war," he said. "It's going to be challenging in the way that while a film glorifies war, this digs in and makes you face the reality of it."
The reality of World War I included then-new strategies like fighting from series of interconnected trenches across the front lines, and more effective weapons like poison gas, aircraft and tanks. That combination kept German and Allied troops effectively paralyzed in place in Western Europe from 1915 to 1917.
The United States finally entered the war in 1917, and about 2 million American served in Europe, with about 50,000 killed. Historians estimate that almost 20 million soldiers and civilians total died during the conflict.
"I don't think people, even adults, can get their heads around how many people died," said Pottebaum.
Many of the soldiers were about the same age as Pottebaum's students.
In a trailer for the movie, cameras pan over large groups of soldiers, as individual voices say: "I was 16 years old when my father allowed me to go."
"I was just turned 17."
"I was 16."
"I was 15 years."
The passage ends with a voice over that says: "When they came to us, they were frightened children and they had to be made into soldiers."
Pottebaum said the film shows more than battlefield gore. It also goes on to show the impact of war on people's lives.
Pottebaum's students, including mostly ninth and 10 graders in modern world, US history, and AP U.S. History, will see the film on Thursday, March 7. Students had to have permission from their parents to leave school for the screening. So far, more than 80 plan to attend.
The film also will open for regular audiences at 1:30, 3:50, 6:40 and 9 p.m. on Friday, Saturday and Sunday, beginning March 1, and then at 3:50, 6:40 and 9 p.m., on weekdays. The last public showing will be Thursday, March 7, at 3:50 p.m.
Since the film's original release in November, it has appeared in a limited number of theaters in the United States.
"The attendance was so large that it was rereleased in December and has been crossing the country over the past couple of months," said Kottman.
According to Variety Magazine the film was released in New York, Los Angeles and Washington, D.C., on Jan. 11, and then to 25 markets on Feb. 1.
The Indianola theater will be the only one of Fridley's 20 theaters to show the film, said Kottman. Showing a documentary is rare enough, he said. Doing it without posters or trailers to promote the movie ahead of time makes It extra challenging.
"It's risky in that people just aren't aware of it," said Kottman.
But the effort was worthwhile, said Kottman, in part because he wants to see the movie himself.
"The process is incredible, to see this footage that was grainy and burnt and torn up," he said. "But what you see at the end looks like it was shot on a soundstage today. It's pretty incredible."