This year, Log Cabin Day will celebrate Warren County history while making a little of its own.
The annual festival hosted by the Warren County Historical Society is typically the entire last weekend of September, but this year will only take place from 10 a.m. to 4 p.m. this Saturday, Sept. 26.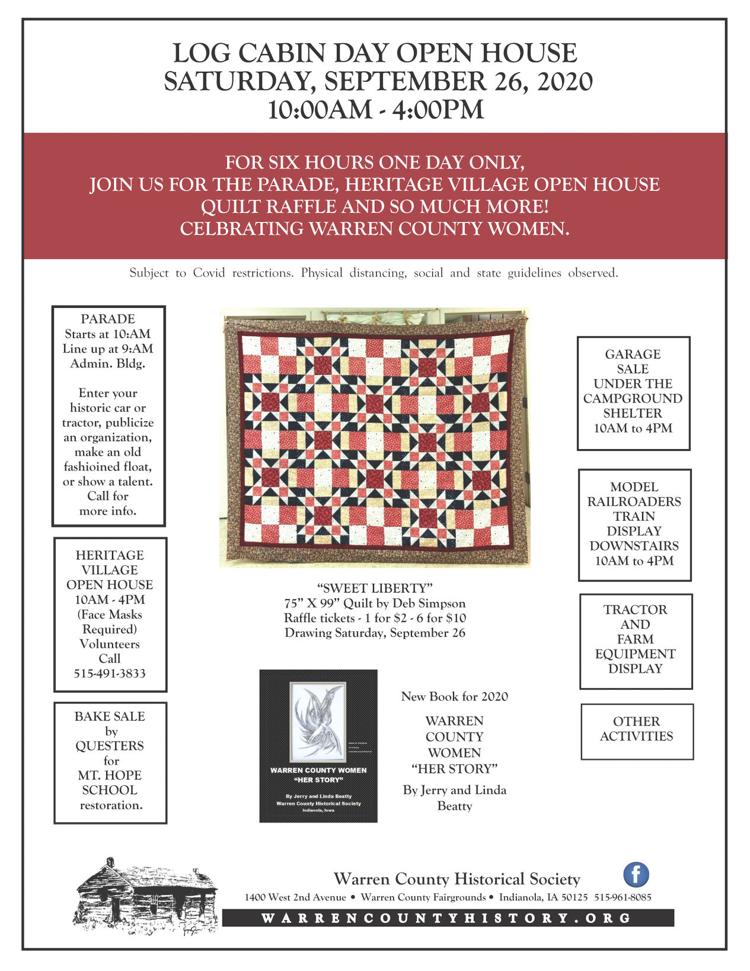 Kristi Porter, who volunteers with the society, said that this may be a first in the event's 48-year history, spurred by concerns related to COVID-19.
"As far as I know, this has never happened where we abbreviated the event," she said.
Organizers weren't sure the festival would happen at all, Porter added. They ultimately "tiptoed" into putting together a streamlined schedule, focusing on how to minimize risk.
"We took the safety of our volunteers and the general public as our top priority," said Deb Taylor, the society's president. "That's why we decided to just do one day."
For instance, the community meal usually held in the museum will be replaced by food trucks to allow diners more space and fresh air. Visitors can munch on sandwiches from Ron's Grill Shack, with homemade ice cream for dessert from a new Warren County business, Farm Creamery.
Masks will be required within the historical village and encouraged elsewhere, and hand sanitizer stations will be available.
"We're trying to maintain as much safety for people as possible," said Taylor, "but, of course, it takes everybody's cooperation."
Even in a year unlike any other, some traditions live on: A parade will kick off the day at 10 a.m.
It will start at the Warren County Administration Building, 301 N. Buxton St., loop around the square and head west on Salem Avenue, ending at the Warren County Historical Museum, 1400 W. Second Ave., where the rest of the festivities will take place.
Want to be part of the procession? It tends to draw a wide range of entries, according to the historical society: vintage cars and tractors, organizations seeking a little publicity, people with a talent to share, and, of course, old-fashioned floats.
No advance registration is required, but questions may be directed to the museum at 515-961-8085 or contact@warrencountyhistory.org. Participants should plan to line up at the administration building at 9 a.m.
That includes a group marching, or riding on a float, to celebrate the 100th anniversary of the ratification of the 19th Amendment, which gave women in the United States the right to vote.
Anyone is welcome to join them, according to Taylor. Just look for the banner reading, "Hard won, not done."
Although it's not required, participants are welcome to wear the colors symbolizing women's suffrage. Yellow sashes will be available at the museum this Thursday, Friday and on Saturday before and after the parade for a suggested $5 donation.
"Anybody who wants to can show up and march with the ladies," Taylor said. "Usually they're dressed in all white and wear a yellow sash or rose. It is all in honor of the women's right to vote."
'BIGGEST GARAGE SALE EVER'
After the parade, another "can't miss" part of the festival will be the "biggest garage sale you could ever imagine," said Taylor.
It will be held in the meeting area of the museum. Check out some of the items available for sale.
"We are accepting donations for the garage sale at this time, basically up until sale day. It's very important because we only have one day," Taylor said, referring to the abbreviated festival, "and all profits from that keep the doors open here."
Plenty of treasures have already rolled in. According to Taylor, it'll be a rummage sale with antique store flair.
"This year we're going to have a lot of vintage or antique items — a lot of glass, antique dolls, vintage clothing," she said. "It's definitely worth stopping by."
And the historical society will price items to sell. For instance, a Smith Corona typewriter is typically valued at $100, Taylor said, but the one at this garage sale will be marked $50.
"What we do is, we see if we can find something on Ebay or something like that, and then we discount it about 50 percent," she explained. "So people are getting a really good deal on this stuff."
Shoppers will even find some new, hand-painted statues donated by Judy Jones of Indianola, who worked as a painter for Sticks, an art boutique in West Des Moines, until retirement.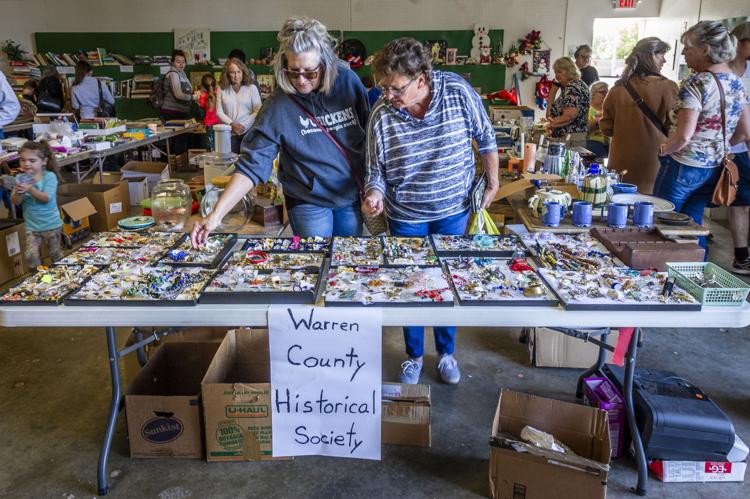 "They're probably 12 to 18 inches tall, and they've been coated so they can go outside. They are really unique. Each one is different," Taylor said.
There's still time to buy raffle tickets for another handmade piece: a quilt called "Sweet Liberty," created and donated by Deb Simpson. It measures 75 by 99 inches and features warm colors like red, coral and gold.
Tickets will cost $2 each, or 6 for $10, available now during the museum's usual hours, or through the website, http://www.warrencountyhistory.org.
Want to take a few photos as souvenirs? Taylor has made several wooden walls for photo ops—the sort with circles cut out to reveal people's faces in a unique scene. Porter called them "adorable," including an antique car with pumpkins piled in the backseat.
"They can peek through the painted plywood and look like they're doing something fun," Taylor said. "I just got those done, so that'll be new."
SWEETS FOR THE SCHOOLHOUSE
The pie auction will be on hiatus this year, thanks to the pandemic, but sweet treats will be available at a bake/craft sale by the General Joseph Warren Questers.
The local group focuses on preserving history and is spearheading renovations on the Mt. Hope School in the historical village.
According to the Questers, Mt. Hope opened in 1874 and was rebuilt once after fire destroyed the original structure. Kids in rural Warren County attended classes there until 1959, when they started attending school in town.
"Country schools were once ubiquitous across Iowa but have all but disappeared. … In 1967, Mt. Hope country school was moved to the Warren County Fairgrounds to preserve a vital piece of history," said the Questers in a press release.
The entire historical village, located behind the museum, will be open for tours. From the school to the log cabin that's the festival's namesake, it's a chance to walk through Warren County of yesteryear.
Volunteers would be welcome to help out with Log Cabin Day, but especially this part of it.
"Because we operate on a 100-percent volunteer basis and most of our volunteers are in the older age group, obviously with COVID, that's also a higher-risk group," Taylor explained. "If anyone would be willing to 'babysit' a building for the tour, that would be awesome."
A shift would only be a couple of hours, and the historical society would provide the volunteer with a brief history of the building, so that he or she could answer visitors' questions.
Meanwhile, a new book released to coincide with Log Cabin Day will provide a fresh look at Warren County's past. "Her Story" is the latest offering from Jerry and Linda Beatty, a celebration of women who shaped this area.
"I can't tell you how many women are included in it," Taylor said. "It's just awesome. And, you know, it's not just one particular thing. It's women who are significant in our history: painters, writers, actresses … hardworking women."
Taylor hopes to have copies available for purchase at the festival, or at least take orders.
You won't regret it, according to Porter. She has a copy of the couple's last book, "Warren County's Response to World War II" and cherishes its inclusion of her own parents' military service.
"If you pick up a book you'll know," she said, referring to how much effort went into it.
Visitors to the festival will find more old favorites, like the extensive model railroad set up in the museum's basement. All of the proceeds keep the lights on at the historical society.
"And, you know," Taylor said, "there's so much to see!"