Warren County tipped over into the red phase of the Harvard Global Health Institute's COVID-19 risk assessment dashboard on Saturday, the most recent day for which statistics are available.
The county is averaging 13.3 cases of the virus per day, and 25.8 cases per 100,000 people, according to the site. There are now 76 Iowa counties in red and 21 in orange. Two counties are in yellow and no counties are in green.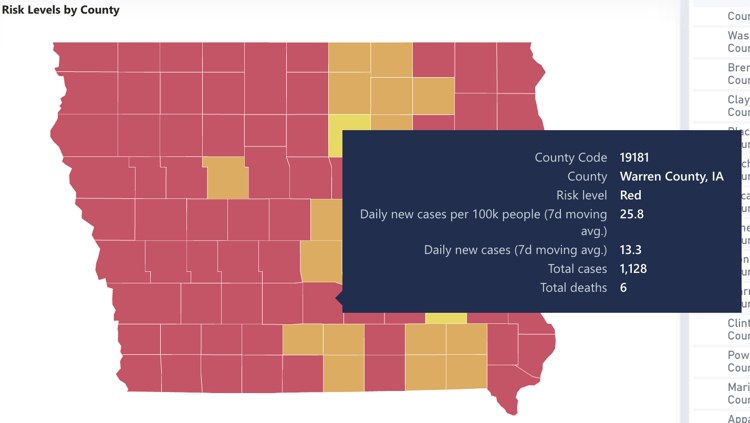 Warren County gained nine more cases of the virus, reported Warren County Sheriff Brian Vos early on Monday. Four of those were in Indianola and five were in areas of the county outside of Indianola, Norwalk and Carlisle. Indianola city manager Ryan Waller said Indianola has had 279 cases of the virus in the city limits since the pandemic began. There have been 81 cases in the city's fire district, said Waller.
The Iowa Department of Public Health COVID dashboard said the county has had 1,145 cases of the virus since the pandemic began. The rate of people testing positive for the virus now sits at 6.8 percent. The state requires schools to have some in-person education as long as the positivity rate remains below 15 percent.
Simpson College reported no new cases of the virus on Monday. The college reports 12 active cases of the virus on campus.