As a senior in high school, Maggie Staudacher missed out on some milestones this year, thanks to COVID-19. But showing pigs at the Warren County Fair wasn't one of them.
That turned out to be an especially good thing: For the second year in a row, Staudacher claimed the purple banner for grand champion market hog. She also exhibited the grand champion breeding gilt.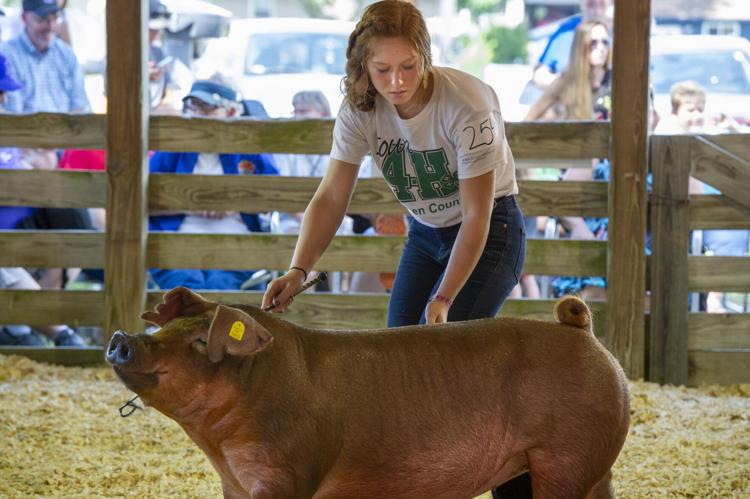 The swine show was held on Sunday, one of the 4-H and FFA shows the fair board opted to host without a public audience, out of health concerns. The rest of the fair was postponed until next summer.
Staudacher, who recently graduated from Indianola High School and is a member of the Indianola Thunder 4-H Club, expressed her gratitude for their decision.
"I was very glad about that, especially because it was my senior year," she said. "I've been doing 4-H since I was in fourth grade."
She won both grand champion honors with crossbred hogs. Although entry numbers were down, she still described it as a competitive show.
Warren County Fair Show: Swine show
"It was very competitive. A lot of people work hard," Staudacher said. "It really comes down to the judge's decision."
Her mom, Renee Staudacher, said the judge also commented on the quality of the pigs across the board.
"In general, he was encouraging to all the exhibitors," she said. "He thought there was a high level of quality for the hog show. He had just come off a jackpot show, and he said he thought that the pigs at Warren County certainly would've been able to participate at that level."
Renee said she'll be happy when the rest of the fair is able to return as usual, but the pig show itself felt like any year. She watched in suspense as Maggie walked her pig in the final drive.
"You know, you're just hoping, but you don't want to jinx it," Renee said. "Whatever decision is made is fine. But you hope for them because they worked hard."
"It was very exciting with all of the hard work I've been putting into it," said Maggie of the moment the judge gave her the nod. "Every day we walk them and then feed them, and work on their skin and hair, clean their pens."
This wasn't necessarily the end of Maggie working with livestock, though. She hopes to head to Iowa State University this fall to study animal science and minor in psychology.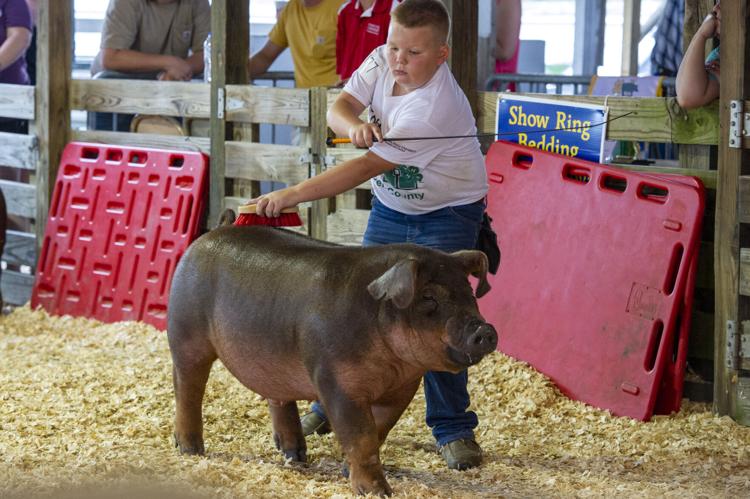 She might change her studies "a million times," she said with a chuckle, but right now she's eyeing a career as a veterinarian.
As for kids just starting their 4-H career, who perhaps look up to this year's grand champion exhibitors, Maggie had some simple advice:
"It's really fun to win, but that's doesn't always happen. But just being around the pigs and the people and getting them ready is a lot of fun. … Ask a lot of questions, and work hard."
4-H/FFA SWINE SHOW RESULTS
INDIVIDUAL CROSSBRED MARKET BARROW
Champion — Maggie Staudacher
Reserve Champion — Kade Bowlin
Warren County-Produced Champion — Aubrey Snuggs
INDIVIDUAL CROSSBRED MARKET GILT
Champion — Ella Clark
Reserve Champion — Maggie Staudacher
Warren County-Produced Champion — Mya Goodhue
INDIVIDUAL PUREBRED MARKET HOG
Champion — Lola Shriver
Reserve Champion — Sadie Fredricks
Warren County-Produced Champion — Sylvia Rainey
GRAND CHAMPION MARKET HOG
Grand Champion — Maggie Staudacher
Reserve Grand Champion — Kade Bowlin
Warren County-Produced Champion — Sylvia Rainey
CHAMPION CROSSBRED BREEDING GILT
Grand Champion — Maggie Staudacher
Reserve Champion — Dalton Spear
Warren County-Produced Champion — Easton McGraw
CHAMPION PUREBREED BREEDING GILT
Champion — Delanie Erwin
Reserve Champion — Easton McGraw
Warren County-Produced Champion — Delanie Erwin
GRAND CHAMPION BREEDING GILT
Champion — Maggie Staudacher
Reserve Champion — Dalton Spear
Warren County-Produced Champion — Delanie Erwin
SHOWMANSHIP
Senior Showmanship 10th, 11th, 12th — Sadie Fredricks
Intermediate Showmanship 7th, 8th, 9th — Suzi Fredricks
Junior Showmanship 4th, 5th, 6th — Dalton Spear