Plans for a 1,000-shot COVID-19 vaccine clinic in Indianola may have been "set in jello" — in the words of Indianola Police Lieutenant Rob Hawkins — as of Friday, but the event itself came off as smooth as silk on Wednesday, despite a last-minute location change.
"We haven't really had any lines all day and we expected lines," said Nate Fehl, store director at Indianola Hy-Vee, which partnered on the event with the city of Indianola and Simpson College. "Everybody's working really fast, really efficiently, with no issues."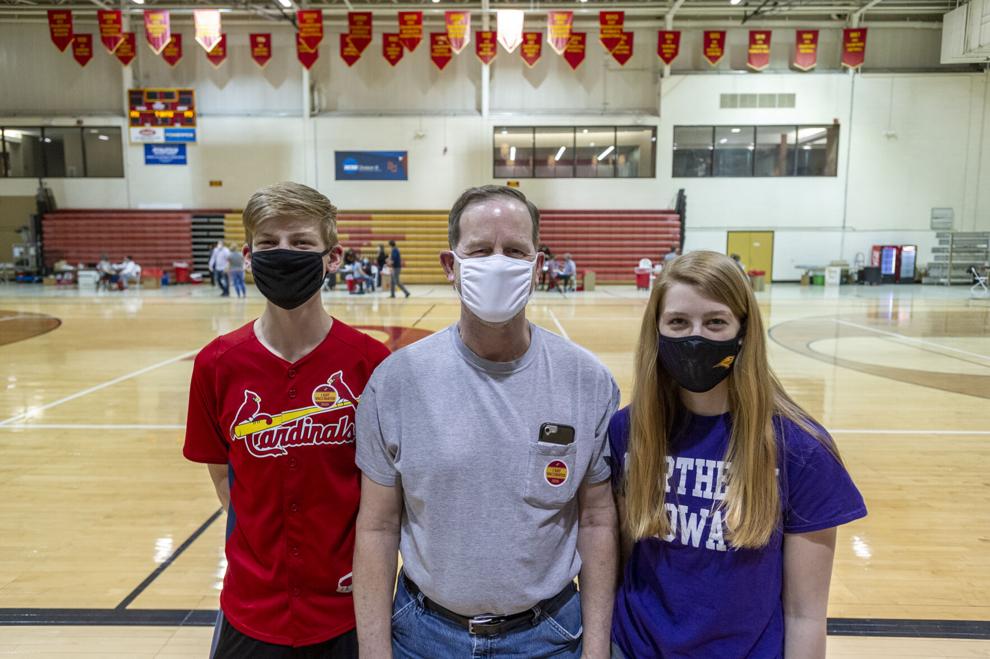 The clinic originally was to be held at Indianola's Memorial Park, but forecasts of storms on Wednesday led to the move to Cowles Center on the Simpson College campus.
"It was short notice, but it was easier to do indoors," said Fehl. "This worked out very well for us, so hopefully it worked out for everybody who showed up."
Fehl said about 40 people didn't keep their appointments throughout the day, which he said wasn't surprising. "Usually people sign up everywhere they can, because there's such a shortage people just are looking for the first one they can get to."
Any leftover shots will be put into the scheduler at the Indianola store, said Fehl.
Many of those at the event said they had been looking for shots.
"It's tough to get it at lots of locations," said Heather Hulen, executive director of the Indianola YMCA. The Y had held a previous clinic, but at the time, Hulen wasn't eligible to receive the shot. Now that Governor Kim Reynolds opened eligibility to all Iowans over the age of 16, she said she was glad to find it close to home. "It was really nice. just pulling right up and I knew almost everybody along the process. It kind of makes you feel better."
Katie Thessen drove from the University of Northern Iowa to join her dad, Greg, and her brother, Sam, of Indianola, at the clinic. She wasn't able to get a shot at school.
"It's nice to know that I can start doing more normal things now," she said. "It will definitely help us get closer to in person."
"We weren't going out a lot, so it wasn't an issue that we didn't have it," added Greg Thessen. "We just did it because it's the right thing to do and longer term, we'll be able to go and do other things."
Martin Thuo of Ames said the Indianola clinic was the only one available and getting the shot was important to him.
"If you've been anywhere close to someone who had corona, you'll get it," he said. "If you've seen it firsthand, you'll get it. If it has not affected you, a friend or family, it's easy to ignore."
Thuo, who teaches engineering at Iowa State University, said he is concerned about the long-term impact of the pandemic on young people.
"We won't see the full impact," he said. "You see it 10 years, 20 years later, when the teenagers are becoming adults and having issues.
"I have kids," he said. "The least I can do is be there for them."
Heidi Levine, vice president for student development and planning and chair of Simpson's crisis management team, said the college got involved for two reasons.
"It gives us an opportunity to help more of our students, faculty and staff get vaccinated. We want as many to get vaccinated as possible" she said. "It's also an opportunity for us to be a good partner, and offer support in terms of personnel, volunteers, and space."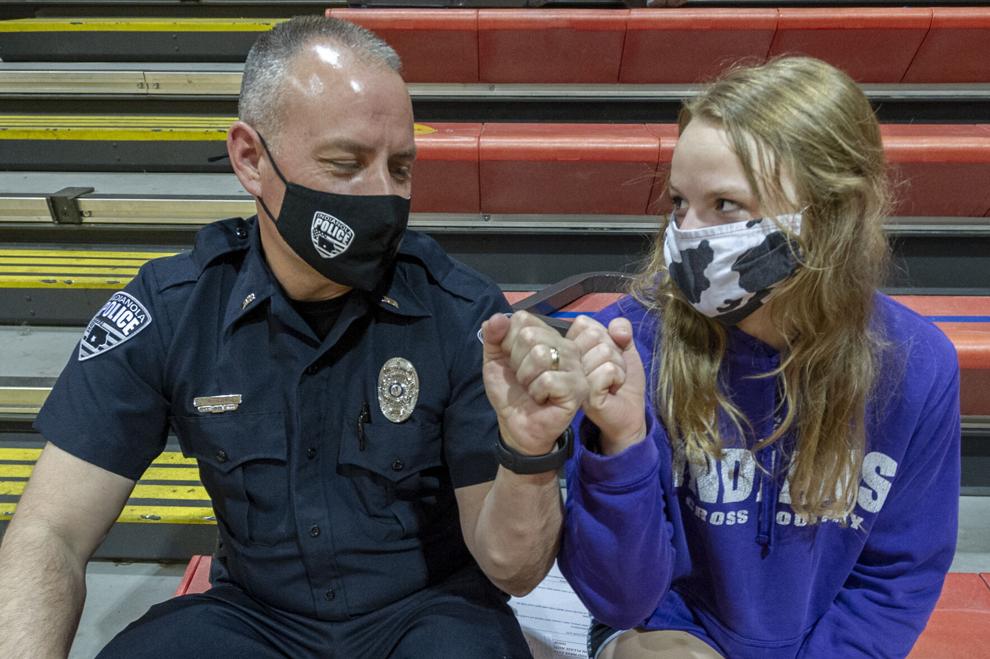 The college had hosted an earlier clinic that offered about 100 shots to people in the Simpson community, she said, but as of Monday, all Simpson students are eligible for the vaccine. Several came through Wednesday's clinic, she said. Those who didn't will have the opportunity at future clinics, although they may not be on the same scale.
"This was all about Hy-Vee being able to get the 1,000 doses," said Levine.
And that wasn't a sure thing, said Hy-Vee's Fehl. "We knew there was a big need," he said. "We begged our sources until we got more doses. We begged for 1,000, figuring they'd say no, but they came through."
There were four stations set up for people to get the injections, up from the three that had been planned outdoors, said Hawkins, which kept the lines moving quickly.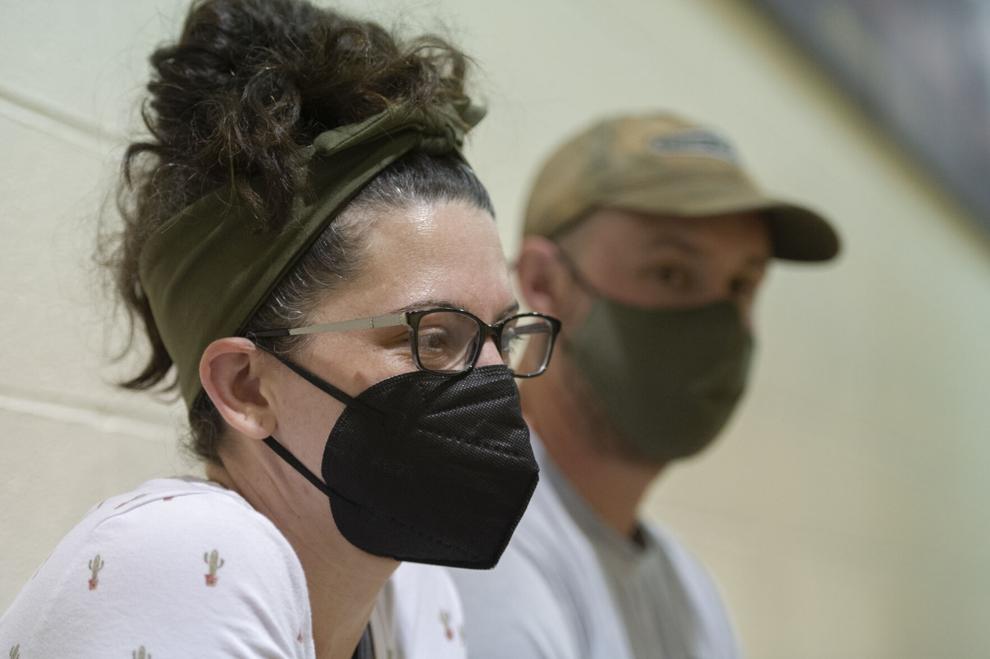 Fehl said he and Steve Sayler, the Hy-Vee pharmacist who helped put the event together, were nervous about how it would go throughout the quick planning process, but it was a "good" nervous, he said, when compared to the nerves they felt last year, watching the world shut down as the virus took hold. Putting a team together to hold the event was easy, said Fehl.
"Everybody wanted to help, Simpson, the city, everybody wanted to do this for the community," he said. "Once we started talking to each other, we never stopped. We had to do it and we had to do it right. "
Megan West drove from Beaverdale with her fiancée, Aaron Wilson-Crumb, to get their shots.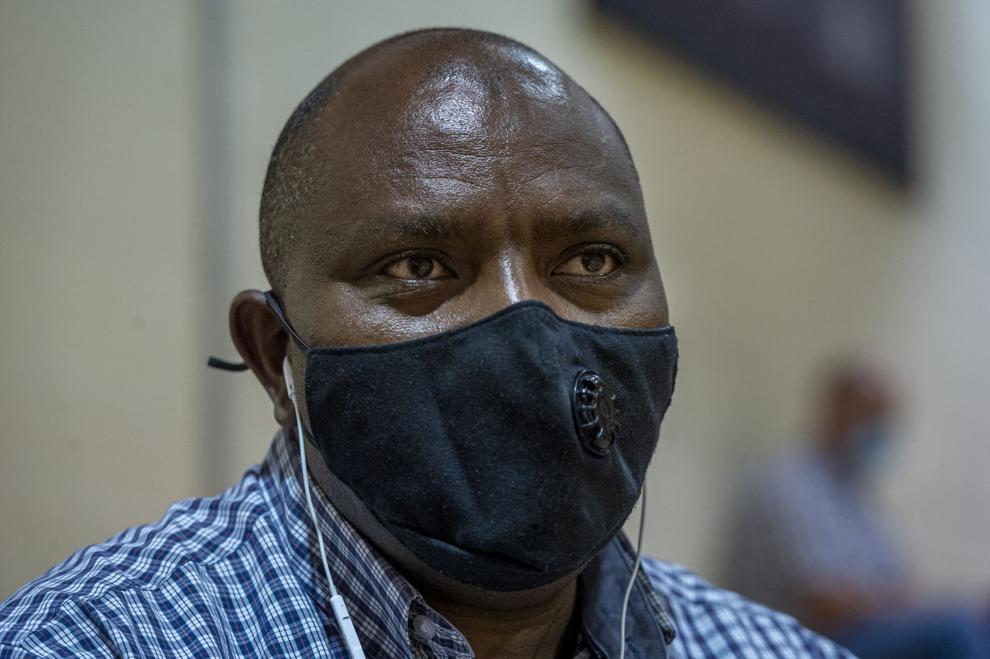 "Anything I can do to protect myself and help us get over the pandemic faster is good," she said. While the two will have to return for their second shot before they are fully immunized, they will celebrate early — with their wedding on Saturday.
For Thuo, who drove from Ames for the shot, the celebration will be a little more simple.
"I think I'll just go home, say a prayer, and thank God for the miracle of science," he said.