The number of positive COVID-19 cases in Warren County since the pandemic started jumped another 23 as of Friday night.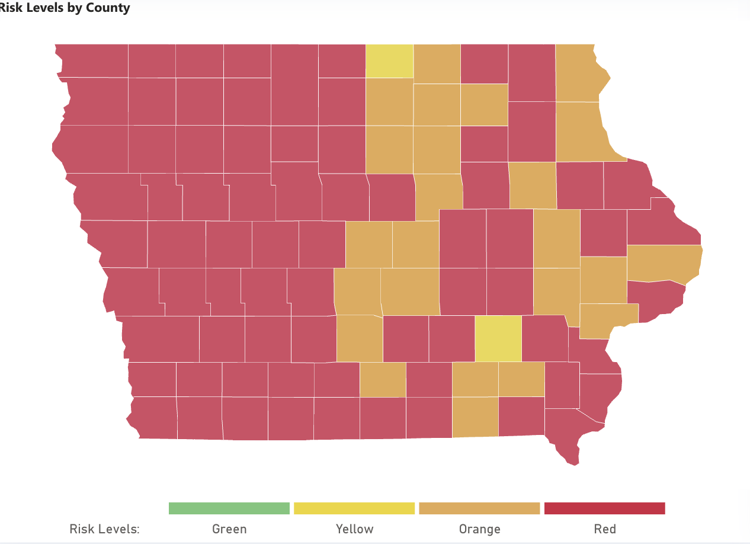 According to the Iowa Department of Public Health web site, the county has now had 1,125 cases of the virus since the pandemic began. The county now has 6.1 people out of every hundred testing positive, according to the site. Another 927 people have recovered from the virus.
Warren County Sheriff Brian Vos reported Friday morning that Indianola had added eight new cases, Norwalk had added five and Carlisle had added three. Areas of Warren County outside of those communities had one additional case.
Vos' numbers represent 17 of the additional cases. The difference between his number and the Department of Public Health is due to the delay between a case showing on the web site and being reported to local law enforcement.
Simpson College reported another four new cases on Friday, according to a Facebook post by the Simpsonian, the college's student newspaper. There are now 16 cases active on campus, with 41 students in quarantine, either on- or off-campus. The school has had 36 cases of the virus on campus since school started in August.
The college reported a total of nine new cases this week.
As of Wednesday, Warren County was averaging 10.6 new cases of the virus per day, with 20.5 people per 100,000 people testing positive, according to the Harvard Global Health Institute's risk assessment dashboard. The cutoff to move from the orange phase of the dashboard to red is 25 cases per 100,000 people over a seven-day rolling average.
Wednesday is the most recent day for which statistics were available.
Warren County is one of 24 counties in the orange phase. Two counties are in green and 73 are in red.