Santa is setting up a special drive-through event in Indianola this year. 
He will visit McCoy True Value from 10 a.m. to 1 p.m. Saturday, Dec. 5. 
For one day only, he'll be greeting children at Candy Cane Lane, which he's setting up in the parking lot of McCoy's at 216 N. Howard St. 
In order to keep all the children safe, the kids won't be able to sit on Santa's lap.
But, Santa himself has promised he will hand out candy canes, as per usual.
Last year, Santa said, he handed out between 700 to 800 candy canes, and he hopes to hand out just as many this year.
Santa also will be accepting letters. Anyone who wants a response is asked to help Santa out by putting their return address on their envelopes. 
Santa agreed it's been a hard year, but said anyone who's hoping to get a candy cane and to stay off the naughty list should "help mom and dad and just be good."
Guests are encouraged to wear their favorite holiday pajamas and bring hot chocolate as they discover Candy Cane Lane.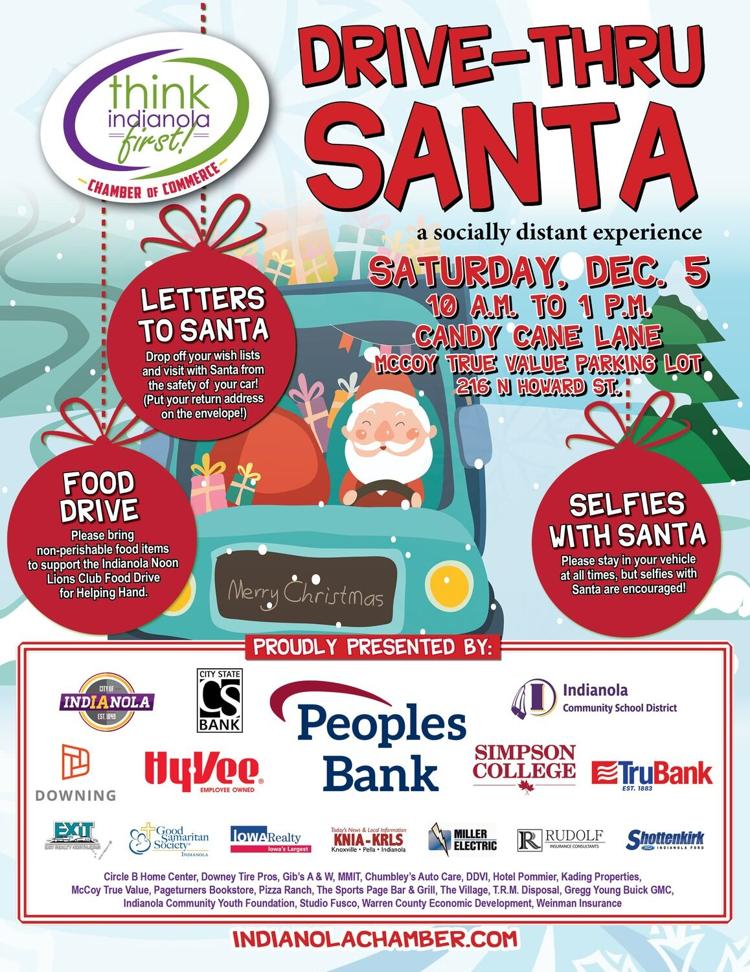 Santa said there's plenty of ways to have fun and to spread Christmas cheer this year, even if some traditions can't go on as usual.
"Sing a lot of Christmas carols and enjoy the season for what it is," Santa said. "If you have fun those around you will have fun, too." 
The Noon Lions Club also will be accepting food items for Helping Hand of Warren County during the event.
The Noon Lions Club and the Indianola Chamber of Commerce are helping Santa organize his big event.
President & CEO of the Indianola Chamber of Commerce, Brenda Easter, said it wouldn't be Christmas without a visit from Santa.
"We hope this event gives children a fun experience within the constraints of their cars, take a selfie with Santa Claus and deliver their letters to him personally," Easter said. "Our Chamber businesses didn't want this season to go on without an opportunity for kids to visit with Santa."