Warren County gained 25 additional cases of the COVID-19 virus between 6 p.m. Friday and 6 p.m. Sunday, according to the Iowa Department of Public Health web site Sunday.
Indianola went up by five cases over the weekend, Carlisle by three and Norwalk by four, according to an email Sunday morning from Warren County Sheriff Brian Vos. Areas of Warren County outside of those three communities increased by nine cases.
Not every case on the IDPH site is accounted for in Vos' numbers due to the time it takes for the department of public health to notify counties and law enforcement about positive tests in their communities.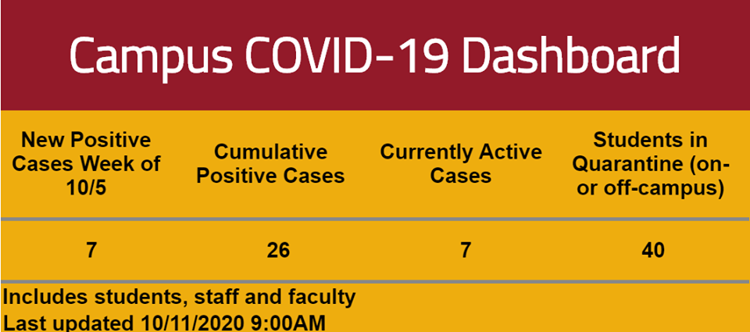 Simpson College jumped from two active cases of the virus on Friday to seven on Sunday for a total of 26 cases of the virus since school started in August. Forty students are now in quarantine on and off campus, according to social media posts by The Simpsonian, the school's student newspaper.
There were seven positive cases on the campus the week of Oct. 5, the largest weekly increase since classes started in August.
According to the IDPH web site, an additional 12 people in Warren County have recovered from the virus for a total of 908. It reported that 153 people were tested between 6 p.m. Friday and 6 p.m. Sunday. The rate of people in the county testing positive for the virus sits at 4.5 percent, according to the site. Iowa Governor Kim Reynolds has set a 15 percent positivity rate before schools can go to a fully online model.
Warren County is one of just six counties in the yellow phase of the Harvard Global Resource COVID-19 risk assessment map as of Friday, the most recent day for which statistics are available. There are 58 counties in the red phase and 35 in the orange, the Harvard site said. The county is teetering between yellow and orange phases with 9.2 people per 100,000 testing positive for the virus. The county is averaging 4.7 cases per day over the last seven days, according to the Harvard site.