Indianola city facilities, including the public library and Indianola activity center, will be closed to the public beginning Tuesday after the city reported 33 additional cases of the virus within the city limits over the weekend, said city manager Ryan Waller in an email.
The city gained nine cases of the virus in the city's fire district, which stretches beyond the city limits.
Cases within the Indianola city limits have gone from 322 within the city limits as of Nov. 2 to 476 Tuesday since the pandemic began. There have been an additional 133 cases in the fire district since the pandemic began.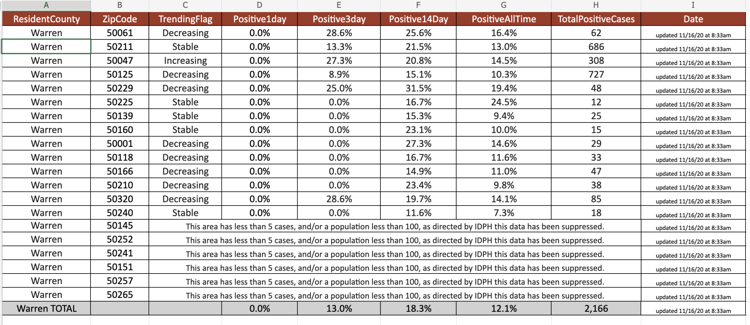 The 50125 zip code, which includes Indianola, gained 51 cases over the weekend — part of a 156 case increase across Warren County, according to information provided by the Warren County Department of Public Health.
Programs for both the public library and parks and recreation are cancelled, although the library will continue to offer curbside book pick-up.
The number of cases countywide has climbed by 720 since Nov. 2, when Warren County Public Health reported a total of 1,413 cases countywide since the pandemic began. On Monday, it reported a total of 2,133 cases countywide.
The county gained 129 cases over the weekend, with 100 reported between Friday night and Sunday night and another 56 reported by 5:30 p.m. Monday.
In addition to the 51 cases reported in the 50125 zip code, the 50211 zip code, which includes Norwalk, added 34 cases over the weekend while the 50047 zip code, which includes Carlisle, gained 24.
The 50229 zip code, including Prole, rose by five and the 50061 zi pcode, including Cumming climbed by four.
The 50320 zip code, which includes a portion of Des Moines in Warren County, went up by three while 50118/Hartford; 50001/Ackworth; 50210/New Virginia and 50240/St. Charles all got an additional two cases.
The 50229 zip code, including Prole, leads the county's 14-day positivity rate at 31.5 percent. The 50002 zip code, including Ackworth sits at 27.3 percent. Norwalk leads the largest communities with a 21.5 percent positivity rate, followed by Carlisle at 20.8 percent and Indianola at 15.1 percent.
The county as a whole has an 18.4 percent positivity rate, according to the Iowa Department of Public Health.
The Indianola school district's web site said on Friday that it had 10 cases among students and 13 among staff. The district is only allowed to report numbers when they are above five cases in either category. No update had been added as of 5:15 on Monday.