Indianola's hybrid learning model won't change any time soon. The district's approach to masks is another matter.
In a split decision on Monday, the Indianola School Board approved requiring masks of all students and staff in kindergarten through 12th grade, except in cases of documented exemptions for medical or religious reasons.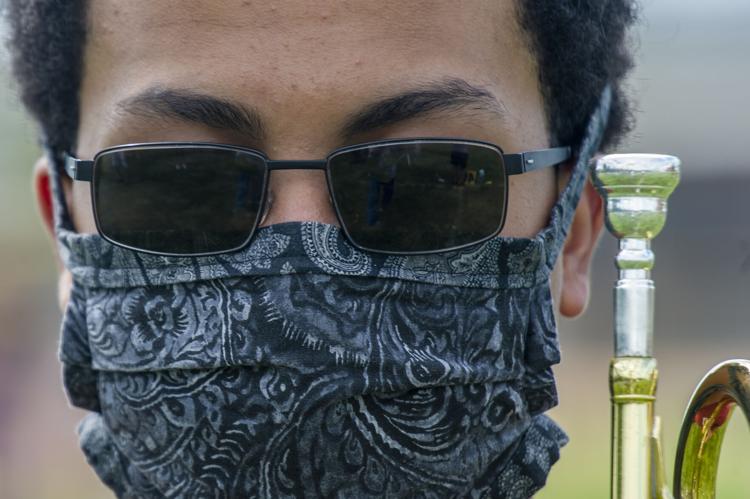 So far this school year, a face covering was required only of students and staff in the sixth grade and older. That approach had been approved by the school board in July.
Superintendent Art Sathoff explained to the board why it made sense to revisit the issue of masks now. First, he said, the American Academy of Pediatrics has strengthened its position and has "more clearly said that they should be worn."
The school board previously had taken its lead from the AAP, among other public health sources.
"Of course, the bigger and more recent one is the Iowa Department of Public Health and the governor," Sathoff said of revised recommendations. "They have released new contact tracing and quarantine guidelines for the state."
Now if a person tests positive, a quarantine isn't mandatory of someone who was in close contact, as long as both parties correctly wore a mask their entire time together and the exposed person shows no symptoms.
The new guidelines came late last month and could be a game changer as far as quarantines for staff and students exposed to COVID-19.
"It's important to note that we haven't had large outbreaks but, had this rule been in place during some earlier quarantine decisions, there would have been some more students able to stay in school," Sathoff said.
Even still, not everyone is eager to change the current plan. Danielle Burrows told the board of her concerns during the portion of the meeting open to public comment.
Burrows is president of the PTO at Irving Elementary and has a fifth grader and kindergartener at that school. Sourcing Johns Hopkins University, she read a list of requirements for wearing a mask properly.
They ranged from washing hands before donning a mask and only handling a mask by its ties, to washing a mask after every use.
"Who's going to be responsible for making sure that these students at these ages are doing that?" she asked. "If it is determined that the masks were not worn properly, will the students still be required to quarantine?
"To some," she continued, "this would seem like an unnecessary battle for the result to prove the same."
Burrows also doesn't want to burden elementary teachers with overseeing correct mask usage. Their days are already packed, she said, between fitting in lessons with daily early dismissals and teaching online as well under the hybrid model.
"We are already cut short in the school day because we're getting out at 1:30, and now you're going to expect these teachers to pay attention to students touching their masks — did they wear them properly when they were around this person who maybe had COVID?"
Sathoff clarified that the main requirement, as far as new contact tracing/quarantine guidelines go, is wearing a mask over one's nose and mouth. A face shield or gaiter now doesn't meet the state's standard.
At the board's request, he read off lists of which communities have district-wide mask mandates, along with those that don't. He compiled the information from the Heartland Area Education Agency.
"I would say, as a general statement, most small, rural districts do not have a mask mandate. Most larger metro-area districts do, and we're a little bit of a 'tweener' in a lot of ways," he said.
Central Iowa districts with mandates include Ames, Ankeny, Ballard, Baxter, Bondurant-Farrar, Boone, Carlisle, Colfax-Mingo, Dallas Center-Grimes, Earlham, I-35, Johnston, Knoxville, Madrid, Martensdale-St. Marys, Melcher-Dallas, Newton, North Polk, Norwalk, Pella, Saydel, Southeast Polk, Waukee, West Des Moines, and Woodward-Granger.
Those that don't include Audubon, Carroll, Lynnville-Sully, Nevada, Prairie City-Monroe, Roland-Story, Southeast Warren and Winterset.
Board member Ken Bresnan was in favor of requiring masks districtwide. Most parents seem to want their children to attend classes in person, he said, and wearing masks across the board would be a way to minimize quarantines.
"I don't ever want to limit or underestimate them," he added, referring to kids' ability to adapt. "I have grandchildren in other schools who have worn masks. They get it as time goes on."
Another board member, Donna Kreamer, said she'd consulted teachers in school districts with current mask mandates to see how it's gone.
"I talked to teachers in Ankeny and Waukee who have had it all year long," said Kreamer, herself a retired Indianola teacher. "They said, surprisingly, it's not been that difficult. Actually, it's worked much better than they ever thought it would, and they had the same concerns that Mrs. Burrows brought tonight."
Ultimately, the board entertained a motion that read, "Effective Nov. 2, amend district policy to require face masks for all K-12 students and faculty, with provisions for mask breaks and instructional use of face shields within physical distancing and direct contact guidelines. Gaiters are not acceptable face coverings per public health guidelines."
The clause regarding "instructional use of face shields" allows teachers to continue their use, since it can be helpful for students to read their lips during some lessons.
If they're mindful of staying six feet apart from students, or closer for less than 15 minutes, that still satisfies the provision in the original mask recommendation: "when physical distancing is not possible."
The same applies to students, Sathoff noted. Masks aren't necessarily required at recess, when students play outdoors in zones, or if classes are able to meet outside or spread well apart.
The revised mandate passed 4-3, with Bresnan, Kreamer, Carolyn Langenwalter and Ben Metzger voting in favor. Rob Keller, Sue Wilson and Laurie Abernathy opposed the measure.
Metzger admitted he didn't think his two sons at the elementary level would like the change, and Metzger himself isn't particularly worried about contracting the virus.
But "it's not about me or you or one person," he said. "It's about what's best for the majority of people. I think the advantages of this outweigh any negatives."