U.S. Representative Cindy Axne joined a virtual meeting Thursday with more than 20 restaurant owners and journalists from the 16 Iowa counties she represents.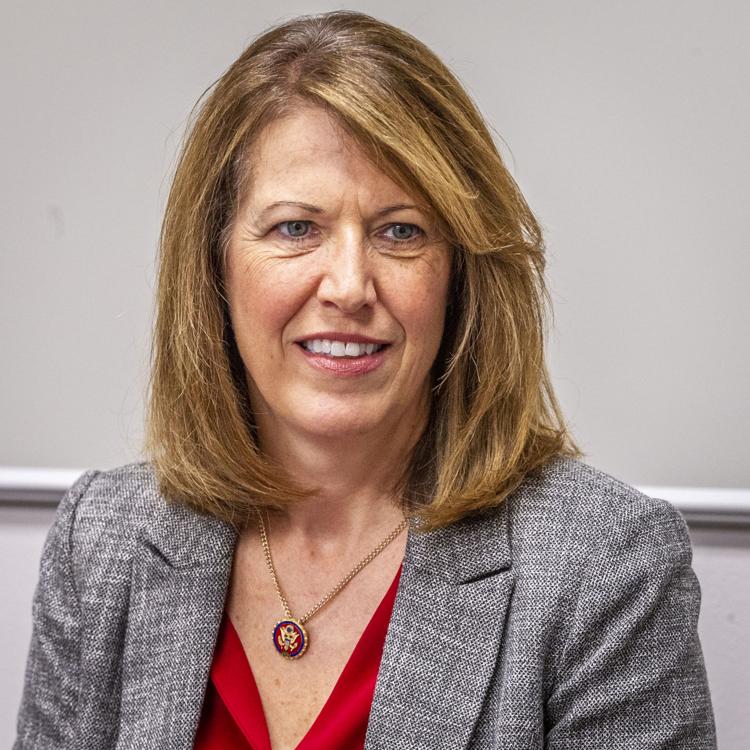 Restaurant owners told Axne about their struggles with everything from supply chain issues to the refusal of insurance companies to pay out business interruption and liability claims. 
Tam Kennedy, the owner of the Taco John's restaurant in Indianola, told Axne she couldn't get 6-inch flour tortillas at the beginning of the month, so she couldn't serve tacos on Cinco de Mayo. 
"I'm not in the restaurant business. I'm in the commodity business. That's how you have to look at it," Kennedy said. "I watched the futures on sugar — because we sell Pepsi. What happens in South America makes a difference to what my world is going to look like.
"We watched the grain market because we have tortillas. We watch the dairy market for the cheese and sour cream. And of course, the cattle and pork and chicken markets and futures are incredibly important to us," Kennedy continued. "The last week in January I paid $2.05 a pound for 80/20 fresh ground beef, and we only buy American beef in our chain. Right now I'm paying $3.10 a pound. On June 1, it is going to $4.50. That's a fact for me. And on July 1, we expect to see it hit $6 a pound for ground beef."
Kennedy also expressed concern over issues with her liability insurance.
"Everybody that's on this call has potential to be sued if any of our guests or employees feel that for some reason, somehow, they got sick by interacting with our business," Kennedy said. "That's really too bad. We know that there's already 1,000 cases — more than 1,000 cases — locked and loaded across this country coming after restaurants. That worries me more than probably anything."
She then mentioned she's paid more than $100,000 in her lifetime for business interruption service but "nobody will pay it. It doesn't matter who you are."
Joe Ripperger, the owner of a few Sports Page restaurants in central Iowa including the one in Indianola as well as Brick House Tavern, wasn't on the call but he later said he seemed to be seeing many of the same problems, including some issues with the food supply chain.
"In March, I think everybody stopped ordering. So they had to get rid of a whole bunch of food and then they never brought a bunch of food back because they didn't know who was going to order what and what was going to go through and so on," Ripperger said. "Well, then we all start firing back up, and the supply chain can't keep up like that. You know, that's probably been the biggest concern for us.
"There's certain things that I just got out of this this mess, and now it's like OK, there's this whole situation that's so new to everyone that nobody really knows exactly how to play it," he continued.
Ripperger said he does believe the supply chain issues are getting better.
"Three weeks ago we were having issues with a lot of things," he said. "Today, it's getting better."
He also mentioned there are still a lot of questions hanging out there.
"How long will it be 50-percent capacity?" Ripperger wondered. "How long will it be before we can have entertainment? Before we can turn our video games back on? There's a lot of questions and it's what's hard."
But, he said his number one concern right now is making sure everyone is safe. He said if there's a second round of closings in the fall he's not sure what will happen to his restaurants.
"The government can't do much more. They're tapping every asset they have right now and that scares me," Ripperger said. "That's a scary thought. We can't let ourselves get back there."
Ripperger said there are a few more things the government can do to help, including changing the rules for how the federal PPP money needs to be spent. He said he still has four weeks left to spend his money and he has quite a bit of that left because of restrictions on how it needs to be spent.
Business owners are supposed to spend 75 percent of the money they received on employees, but Ripperger said it wasn't really possible to do that for the first four weeks because the restaurant was operating at such a limited capacity.
He said it was interesting that Congress chose to recess today until June 1 without getting the rule changes passed.
"I know that breaks happen," Ripperger said. "But we've got to make some decisions and get them done before you take off because the people like us need to know what the long term effects is."
He said overall things are getting better for his restaurants.
"It's good to be getting things open this week," Ripperger said. "We started doing the 50 percent dine-in last night [Wednesday] and we'll do another set tonight. So that's positive anytime we have positive progress forward to maybe normal.
"We don't know what normal is, but I would say progress towards normal is a good thing," he said.
Ripperger said the pandemic has been hard on him, his staff and his family.
"You know, it consumes us. You can't get away from your phone," Ripperger said. We walk to the grocery store and it's like — you feel bad when you can tell people are concerned about it and worried about not only themselves, but then they see us and they know that we're the restaurant people in town and boy are they going be alright?"
Back on the phone call with Axne earlier in the day, the congresswoman did her best to assure the group of restaurant owners that she was doing everything she could for them.
"We've got a lot that we need to be doing for our restaurants for service industry in general and to ensure that you guys all stay afloat and I couldn't be more grateful for the services that you're already providing for people here in our state," Axne said. "I know so many people are using our restaurants as one of the bright spots in their days to have a break from cooking...
"And I know that it's one of the bright spots that that we have in making sure that Iowans are fed as well as have some sort of [way to] feel that things are somewhat normal," Axne said.
She said she is hoping a bill comes through on the flexibility of the  PPP rules sometime next week. 
"We're looking forward to making sure that we can get that bill passed so that we can help you all have better resources within this difficult time," Axne said.