PPE was an acronym no one regularly used until mid-March. Now, it's something we hear about each day.
Personal protective equipment is essential for area businesses as they reopen to the public, but getting the supplies hasn't been easy.
Two area businesses retooled their focus to assist others, giving businesses an avenue to support others locally.
Leslie Held of Bob's Custom Trophies said like most businesses, they wanted to stay relevant in the changing times.
"While recognition of achievement has become even more important, there's also the effect in our industry of canceled events," she said. "Our suppliers were on the ball securing materials to help us use our skills and equipment to produce products that are needed as businesses plan to reopen and as people consider their individual safely."
Loretta Burk, Norwalk-based regional manager of Indoff, said she's always provided janitorial and office supplies for business customers, but she quickly changed to selling PPE.
"We all received a quick education," Burk said. "I had some supplies I'd stocked up on for my customers. They didn't last as long as I thought they would. I'm lucky that I have a large supply chain – many manufacturers and distributors – that I can draw from."
Bob's Custom Trophies has worked with eight local businesses, supplying them with gaiters, masks, plexi-barriers, face shields and social distancing floor stickers.
"We started with inquiries from our regular customers," Held said. "Struthers Family Dentistry helped us to get the face shields just right. Peoples Bank helped us figure out the logistics of custom plexiglass barriers. Credenz Agriculture ordered the first large batch of gaiters. We appreciate their willingness to try our first products and give us feedback."
Gaiters are face coverings that don't hang on your ears.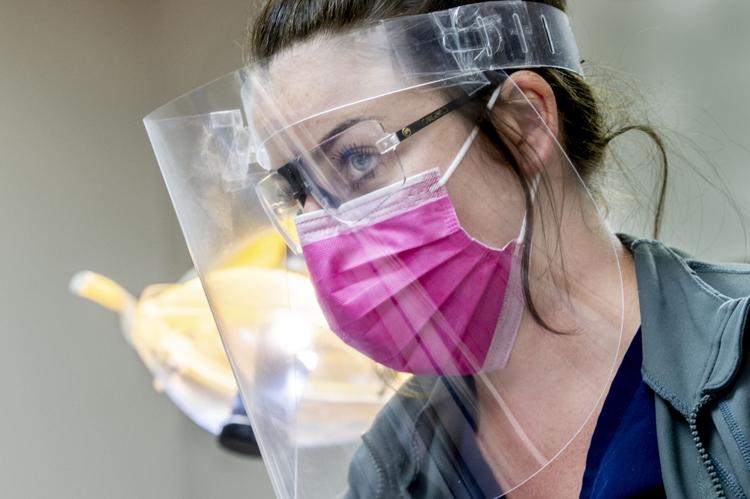 "Masks and gaiters, which are made with dri-wicking, will be cooler to wear in the summer months and include a custom design. You can incorporate a logo, a photo or a design, so the possibilities are limitless," Held said. "As long as you are wearing one, why not have some fun with it? A really cool mask may be the way you get your kids to wear one. Custom masks and gaiters are $15.50 and the price includes your design. Blank white is available for $7. Quantity pricing is available for 36 or more. "
So far, they've created a few fun designs.
"We made ones for a pilot with his balloon on it, the Indianola Trap Team did their logo on camouflage and we just had an inquiry about vampire teeth. Anything is possible with a little imagination," Held said.
Burk said PPE is getting more accessible.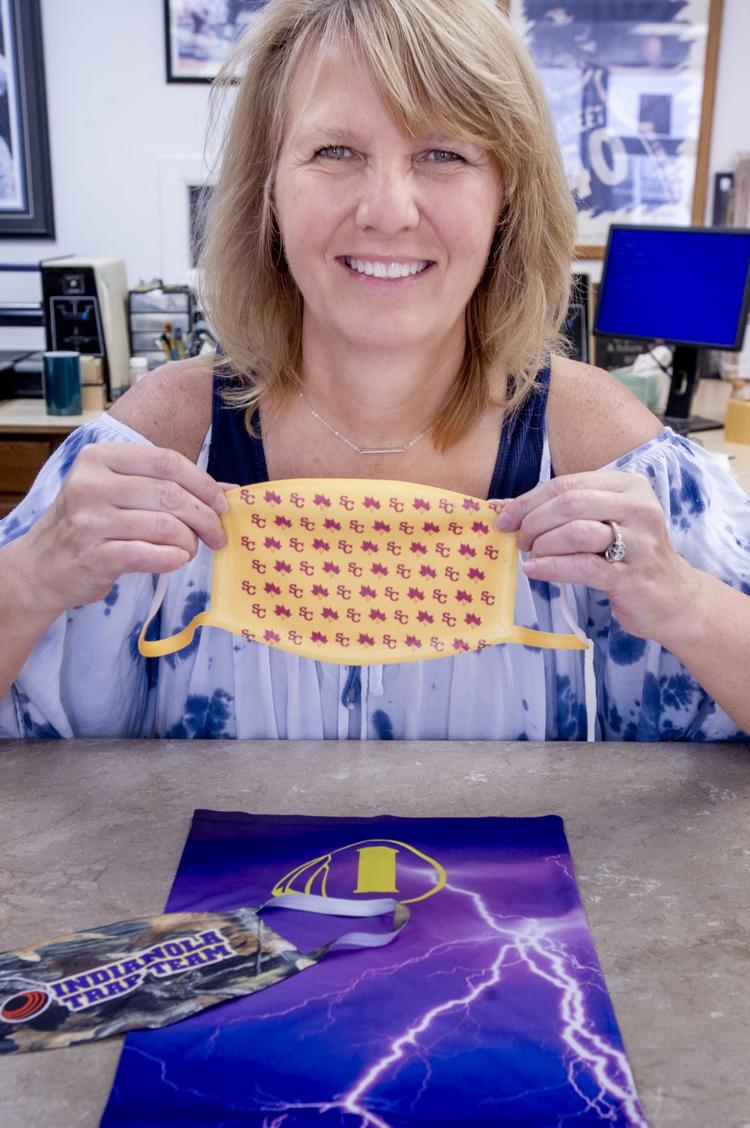 "Items will go in spurts," she said. "I keep a small supply and I have ample supply available to order and have within a week, which is much better. Gloves are still hard to find and can be a bit pricey from the suppliers right now. Aerosol disinfectant sprays are also very scarce."
Wipes are still not available, but she hopes they will be by July. "Luckily bathroom tissue and paper towels are back in stock," she said.
The most common purchases are KN95 masks, disposable masks, germ shield masks, sanitizer and gloves, in addition to anti-bacterial soaps, thermometers and disinfectant cleaners.
Both businesses – Bob's Custom Trophies and Indoff – are open for businesses and individual members of the public.
"Right now, we need everyone to have the supplies to make them comfortable to go out again," Burk said. "I don't have any minimums."
Held agreed, stressing the need to purchase locally.
"As members of the Indianola Chamber and active members of the Downtown Merchants, we encourage everyone to Think Indianola First as you make purchases," she said. "What you spend locally helps businesses recover some of their lost income, and recovered businesses can support our community. Let's pour all we can into our local economy. Eat here, shop here, do business here."