A first-time competitor at the Warren County Fair took top honors at the horse show Thursday.
Marin Janke of Martensdale claimed banners for grand champion halter horse, as well as grand champion halter pony and showmanship for grades 4, 5 and 6.
"I was really excited because I'm not usually the grand champion, because we go to our little saddle club shows. A lot of the people are adults," said Janke, who's heading into fifth grade and is a member of the Jackson Hilltoppers 4-H Club.
She said both her horse and pony are geldings. To prepare for the show ring, "you need to wash them and make sure they look clean, band their manes and then you can put a fake tail in. It just makes it look more full and puffy. And practice!"
Warren County Fair Show: horse show
Janke enjoys the competition aspect of the show, but pointed out that, in halter class, her animals are the ones in the spotlight.
"In halter, it's judged on the horse and what it looks like," she explained, adding that judges tend to look for the horse or pony that is a good example of its breed.
Janke won with a 14-year-old sorrel quarter horse and a 10-year-old leopard Pony of America (POA). She said that each have two names: one to be registered under, and one for the barn.
Her quarter horse formally goes by Positively Absolute, but answers to Brego at home. Janke's pony is registered as Santee Sanchem, but mostly goes by Patch, his moniker inspired by his spots.
Even though Janke was new to the Warren County Fair show ring, she's no stranger to horses and ponies.
"I started riding when I was 3," she said. "My mom would lead me."
Her mom, Lindsay Janke, had grown up showing in 4-H in Webster County. It was meaningful, she said, to watch Marin "take her first steps here in Warren County."
And even though halter class focuses on the animal's appearance, she said the younger Janke put in the work to make sure Brego and Patch were ready for their closeup. The judge also commented they were put together well.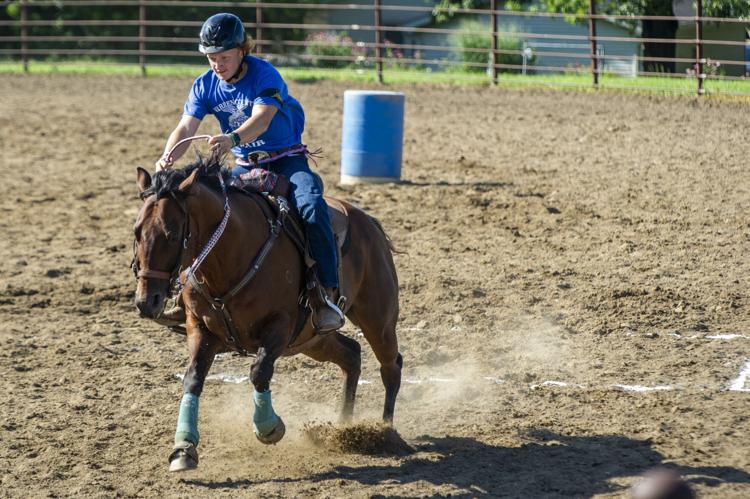 "She worked really hard to prepare and make sure her horses looked great," Lindsay said. "She went out there and showed them really well, so I was a proud parent."
Although COVID-19 limited the Warren County Fair to livestock shows only, and without a public in-person audience, Lindsay said the competition itself was able to go on as usual, albeit with fewer participants.
"It didn't change it," Lindsay said of COVID-19's impact on the contest itself. "There were less people there watching. The superintendent said that typically there are about 90 horses there, and this year there were 60."
So, where does Marin go from here, earning grand champion her first time out of the gate with her horses?
"Keeping it up!" she said.
As for Patch and Brego, there could be some extra treats, and attention, waiting for them at home.
"Carrot treats and apple treats. Sometimes Patch likes butterscotch treats," Marin said. "I really like being with them. I like showing them."
HORSE SHOW RESULTS
Grand champion pony — Marin Janke and Santee Sachem
Reserve grand champion pony — Elviia Papcun and Rooster
Champion horse — Marin Janke and Positively Absolute
Reserve grand champion horse — Ian Ackerson and Holly
Master horseman — Elivia Papcun and Vegas
Master equitation — Elvira Papcun and Vegas
Master showmanship — Elvira Papcun and Rooster
HALTER CLASSES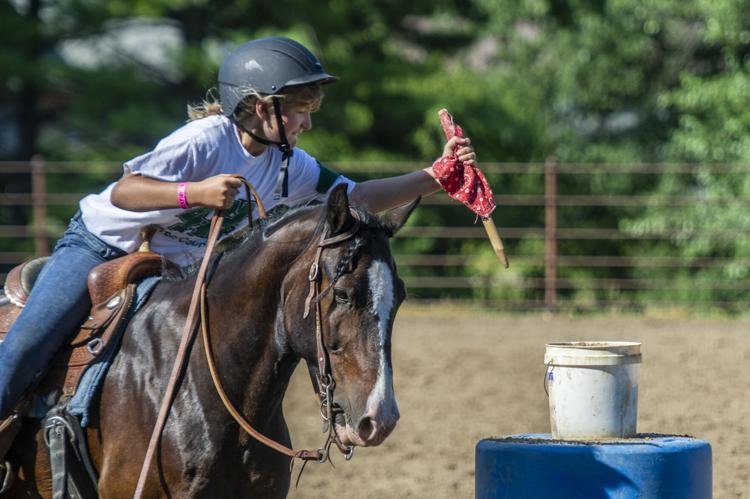 Four-Year-Old Ponies Gelding — Marin Janke
Foals — Elivia Papcun
Yearlings — Ellie Anderson
Four-Year-Olds and Older Mares — Taren Dierking
Four-Year-Olds and Older Gelding — Marin Janke
Horse, any age — Ian Ackerson
SHOWMANSHIP
Showmanship, 10, 11, 12 — Ellie Anderson
Showmanship 7, 8, 9 — Elivia Papcun
Showmanship 4, 5, 6 — Marin Janke
Driving Class — MaKenna Fetters
Senior English Pleasure — Anna Young
Junior/Intermediate English Pleasure — Elivia Papcun
Senior English Equitation — Anna Young
Junior/Intermediate English Equitation — Riley Sievers
Hunter Hack — Ellie Anderson
Novice-Walk-Trot Pleasure — Kaylee Dykstra
Pony Western Pleasure — Elivia Papcun
Ranch Horse Pleasure-Senior — Anna Young
Ranch Horse Pleasure-Intermediate — Abbey Peterson
Ranch Horse Pleasure -Junior — Kinsey Snuggs
Western Pleasure-Senior 14.1 Plus — Emilee Hintz
Western Pleasure Intermediate 14.1 Plus — Alaynah Perry
Western Pleasure Junior 14.1 Plus — Tucker Dierking
Western Horsemanship-Senior — Anna Young
Western Horsemanship-Intermediate — MaKenna Fetters
Western Horsemanship-Jr — Marin Janke
Reining-Any Age Exhibitor — Ellie Anderson
Trail Class-Senior — Ellie Anderson
Trail Class-Intermediate — Alaynah Perry
Trail Class-Junior — Kinsey Snuggs
Barrel Racing-Senior — Sierra Chittenden
Barrel Racing-Intermediate — Audrey Adams
Barrel Racing-Junior — Kaylee Dykstra
Flag Race-Senior — Emilee Hintz
Flag Race-Intermediate — Ian Hammond
Flag Race-Junior — Kaylee Dykstra
Handy Horse-Senior — Sierra Chittenden
Handy Horse-Intermediate — Riley Sievers
Keyhole-Senior — Erika Boies
Keyhole-Intermediate — Taylor Gibson
Jumping Figure Eights-Senior — Ellie Anderson
Jumping Figure Eights-Intermediate — Riley Sievers
Pole Bending-Senior — Mara Cosenza
Pole Bending-Intermediate — Audrey Adams
Pole Bending-Junior — Kaylee Dykstra