Hair and nail salons were allowed to open Friday after their COVID-19 enforced shut down, and the Indianola YMCA will open its doors on Monday, but it won't be business as usual for anyone.
Pure Salon planned to open back up at 9 a.m. Saturday, but things will look a little bit different than customers are used to.
The salon staff pulled workstations as far apart as they could and installed Plexiglass in between. It was a similar look at neighboring Tina's Nails, which was going full throttle Friday, but with fewer work stations, Plexiglass shields between clients and technicians providing manicures, and an empty chair between each occupied chair in the row of people getting pedicures.
"We try to make people feel safe, and keep as distant as we can," said Tina Nguyen Friday. "And we are appointment only for now."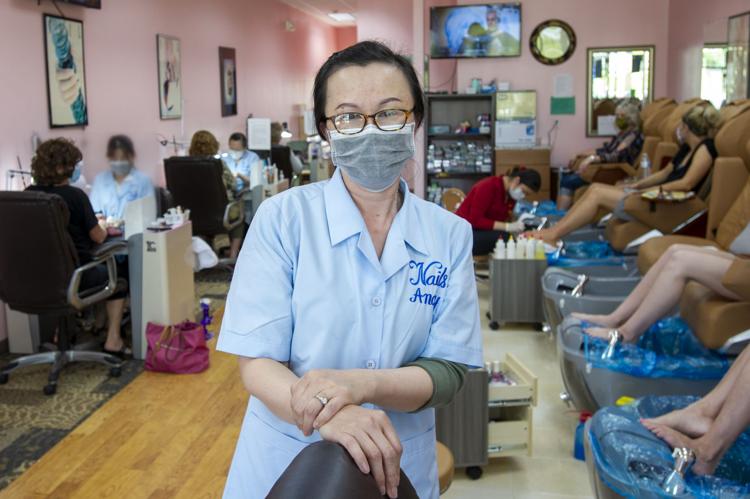 That didn't slow her business much on Friday.
"My phone was ringing off the hook when the governor said we can be open today," she said around 3 p.m. Friday. "We are booked up for the day and Monday and Tuesday.
Jill Modline Houle said said she had been waiting since March 17 to get her nails done.
"This was at the top of my priorities to get my nails done," she said. "Then hair is next. Nails are the most important part of our beauty. I feel like everything is back to normal, as much as we can."
Houle, who booked her appointment on Wednesday and took a half day off from work to get there, said she felt safe venturing out for her mani-pedi.
"They've taken some great precautions with the distancing of the chairs and the Plexiglass separations," she said.
Customers also are required to wear masks and there some were available to pick up. Customers were excited to be back, and said they felt safe and grateful for the services.
"To me it's totally about self- care," said Abby Kinsey of Indianola. "I feel so much better when my nails are done."
Her next big step outside the house might be a haircut, she said. Or maybe dinner with her family.
Customers at Pure are asked to wait in their cars before their appointments and Leah Moravac, salon owner, said there will be no blow dry services, which she said was a difficult decision.
"That's really hard for us because we put so much pride in how much we spoil our guests," Moravec said. "And obviously getting your hairstyle after a haircut service is very, very important, but the reason that we're eliminating the blow dry services is because technically this is an airborne virus.
"If somebody had the virus before they showed symptoms, we would just be pushing it all over the room," she continued. "So, we're emailing guests all of these protocols that we're doing, and we're telling them that this isn't permanent. This is not what you can expect from Pure in the future, but it is something that we have to do right now because we honestly care so much about their health and our staff's health."
Morgan Christowski of Copper & Fringe said Saturday will be her first day back in more ways than one. During the shutdown, the salon refurbished a new location at 124 W. Ashland Ave., so Saturday will be their first day open in eight weeks, and the first day at the new location.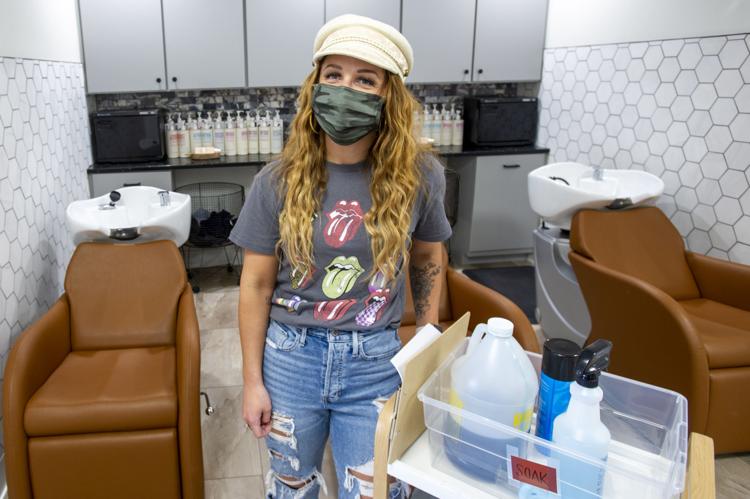 One of the big challenges facing salon owners is taking care of guests who were scheduled for services during the shutdown.
Christowski said guests who had appointments scheduled between March 18 and May 15 will have first pick at appointment times, and everyone else can schedule an appointment soon.
The Indianola YMCA will open Monday, but it will be to a very different world than members left behind, said Heather Hulen, executive director.
Locker rooms are closed, so members should come ready to work out, said Ruth Comer, executive vice president of marketing and communications for the Greater Des Moines YMCA, one of several Y staff from Des Moines helping out with media tours of the facility Friday.
"The first thing you'll do is make your way to a brief health screening," she said. After the screening, they can check in. The gym, classrooms and pool on the first floor are currently closed and tables and chairs used for social gatherings have been removed.
"We'll reopen things as it becomes feasible and safe to do so," said Comer.
Only one person is allowed on the stairs to the workout areas to maintain social distancing. Cardio and weights were two of the priorities for members who were surveyed about their wants and needs, said Comer.
Members are asked to wipe down equipment before and after using it, while employees will disinfect machines after them. "They'll get a double dose of cleaning and disinfecting," she said.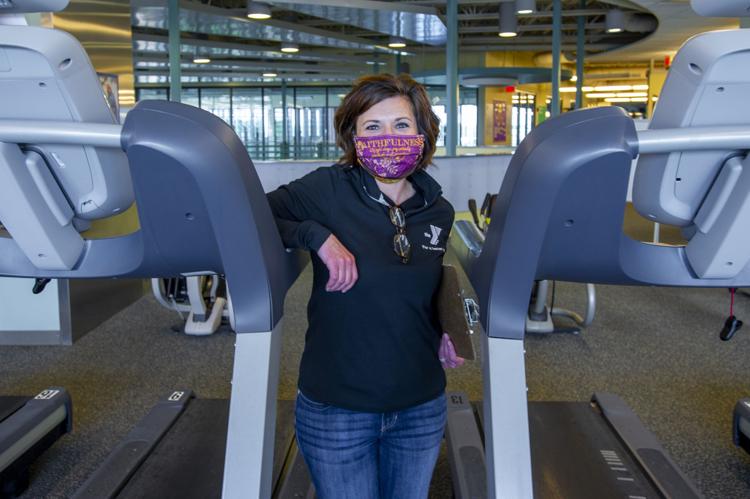 There also are limits on the number of people who can use each area of the Y, said Comer, with signs posted to remind people how many people can be in each area.
Classes will be added in the next phase, part of a five-phase plan to gradually reopen. One of the next phases could be the pool when Governor Kim Reynolds allows it to reopen. That likely will be by appointment only, said Hulen, with members escorted to their assigned lanes to swim laps during their specific time. When classes reopen they will be limited to nine participants and an instructor, she said.
Indianola is serving as something of a test run as the YMCA prepares to open its other facilities in the Des Moines area June 1.
Indianola COVID-19 openings
Salons and beauty shops opened on Friday, and Indianola residents were ready. The Indianola YMCA is slated to open on Monday, but it won't be business as usual for any of them.
Hulen said she is grateful that the facility will reopen soon. She has been working, mostly alone, in a facility that had most of its lights and other utilities shut down.
"It's great to be back and have the lights on," she said. And while preparing for the opening has been challenging, the biggest challenge will come Monday.
"I have to remember not to hug everybody," she said.