A group of Indianola teens should be packing their bags for Nashville. Instead, they're shaking off the disappointment of a cancelled international competition.
Nine students at Indianola High School qualified to compete at the International Career Development Conference April 29 through May 2. In light of the COVID-19 pandemic, the event has been called off outright.
"I think I definitely teared up," said junior Kira Matthias. "We all worked hard to get there this whole year, and so we were very disappointed. … But I know this is something bigger than us."
Indianola's teams, and their respective events, included freshmen Logan Piper and Maren Haynes, buying and merchandising operations research; sophomores Selia Becker, Lauren Blake and Kate Jordan, sports and entertainment operations research; juniors Karley Smith and Matthias, buying and merchandising role play; and seniors Tom Krapfl and Blake Kennedy, startup businesses.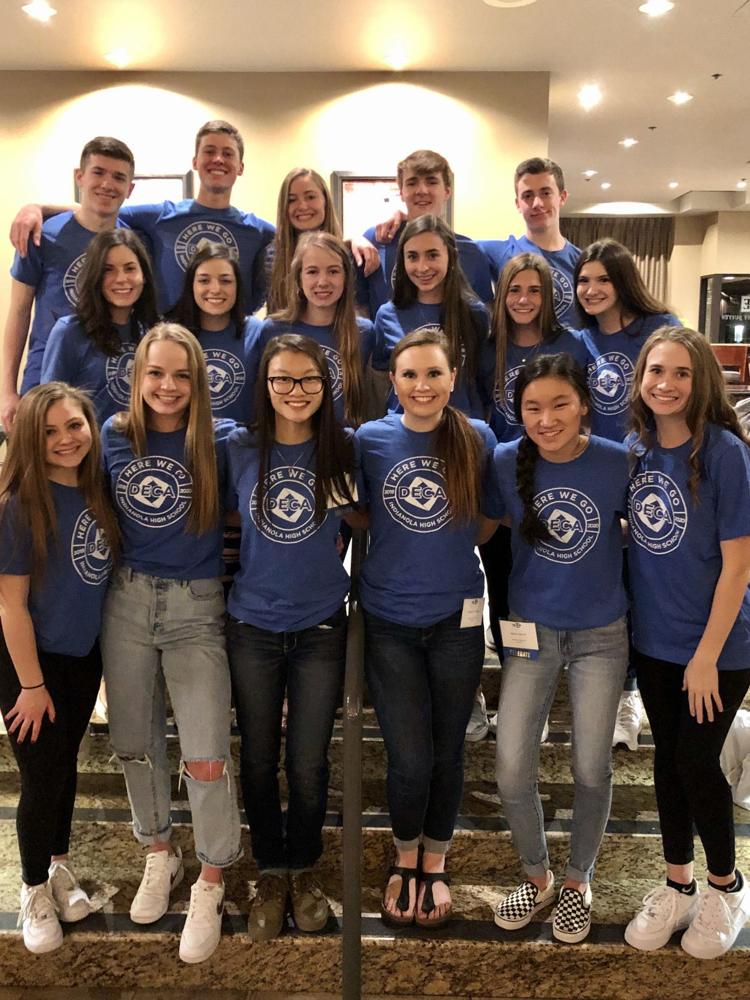 All of the students are members of IHS's business club, DECA, an affiliate of an international nonprofit organization of the same name. It was previously known as Distributive Educational Clubs of America.
"I think I described it to my parents as FFA, but business concepts," said advisor Jamie Busby, referring to Future Farmers of America. "You're competing and you're using real-world skills."
This was Busby's first year coaching the students, but it was familiar territory. She graduated from Indianola in 2009 and returned to teach business classes and also serve as the assistant girls basketball coach and head varsity boys tennis coach.
"Mrs. Busby wants us to shine in DECA and in our personal lives," Matthias said. "She has helped the club and myself by having study sessions every week for DECA projects, which helps immensely because those DECA tests are grueling."
The road to international competition began last fall, when the students formed teams of two or three and decided whether to take a 100-question exam or write a 20-page paper from one of 40 possible business categories.
Two of the groups even worked with "real world" Indianola businesses. The freshmen team wrote about how Lula Belle Designs, a clothing and accessories boutique at 1515 N. 1st St., could improve its online presence and reputation.
The sophomore team did the same for the Indianola Community Youth Foundation, a nonprofit focused on helping local kids. Blake said her team conducted a survey and met with ICYF leaders to glean information for their paper and presentation.
"DECA not only helps you become a better writer and speaker, but it teaches you the basic skills you will need in your job force," Blake said.
"These students just work so hard," Busby added. "To write a 20-page paper when you're 15 or 16 years old? They just put a ton of effort into doing that."
But writing and testing were just the beginning of what needed to be done ahead of state competition.
'I COULD'VE CRIED'
At the contest itself, held Feb. 23 at Southeast Polk High School, it was time to present papers or, if students opted for the exam, to perform a role play on a similar business theme.
It's a process, said Busby, aimed at cultivating important skills in tomorrow's business leaders: research, writing, critical thinking and public speaking.
"I heard one of the groups do their presentation the first time through, and it had a lot of things they could work on," she said of practices. "They presented it again to me right before state, and I could've cried. It was just amazing the improvement they made — their confidence and how they presented themselves."
And the stakes are high at state. DECA's competition sequence doesn't include districts or nationals, so when students perform for the first time at state, it's also their one shot at internationals.
Busby said there are usually about 20 teams in each category. Only the top two teams in each paper category and top three teams in each role play category advanced to Nashville. Indianola has had qualifiers before, but to have nine qualify was an "amazing" showing, she said.
But then, on March 11, waves of cancellations began — all connected to COVID-19.
"It was that day when the NBA cancelled, the MLB cancelled, and I just kind of got this feeling in my stomach: OK, I'm going to get an email soon," Busby recounted. "I'm going to have to break it to these students who worked so hard and were so excited."
Busby's gut feeling was right. Soon she found herself typing her own email to her students, explaining the situation but how she was so proud of them for qualifying. Even a pandemic couldn't rob them of that accomplishment.
And the students' reactions? They learned another important lesson, whether in business or life in general: Disappointment can be channeled into determination.
Blake said she was with her teammates when they read the message from Busby. They were "pretty crushed," she said, but now have their sights set on internationals in 2021.
"Because we made it this year, we have a good idea on how to qualify for next year," she said. "It's in California next year, so we are already looking forward to getting started."